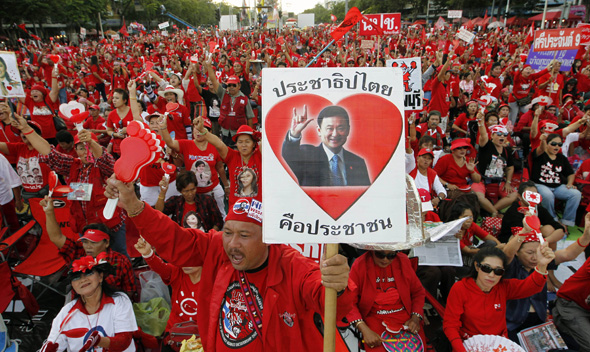 In recent weeks, leading members of the Puea Thai government have made it clear that, in terms of Thaksin Shinawatra returning to Thailand, the question is not if but when. The Nation reported last week that Deputy Prime Minister Yongyuth Wichaidit called the former Prime Minister's return "overdue" -- though he would not elaborate on how Thaksin would come back to the country, given that he is still wanted on criminal charges there. A blanket amnesty would be one way for the government to get Thaksin back. A recent reshuffle in the government, including in the Corrections Department, may be designed to smooth the way for either an amnesty or some kind of return in which Thaksin would not serve jail time.
Several factors are pushing for Thaksin's return. Though he publicly denies it, Thaksin himself clearly wants to return and to play a role in Thai politics from inside the country. He seems unable to contain himself from traveling around Asia and upstaging his sister Yingluck's government, showing that he still has a great desire to play a political role. He also surely wants to recover more of his assets taken following earlier court rulings. But the desire for return does not just stem from Thaksin, though some Democrat Party supporters believe that. Among the core of Puea Thai and red shirt supporters, many ardently want Thaksin to return home. To survive, Prime Minister Yingluck certainly needs to please those core supporters, who were critical not only to Puea Thai's electoral success in July but are also at the heart of those programs that deliver the party's message to grassroots, that run community radio stations, and that promote Yingluck on her trips outside Bangkok.
Most likely, it appears Thaksin will return as early as late 2011, in time for his daughter's wedding. Unfortunately, his return likely will only spark a renewed cycle of political warfare. Although the Democrat Party, now in opposition, could focus their efforts against Yingluck's policies, or on trying to revive their own grassroots organizations which failed badly before the July poll, Thaksin remains their most obvious target. He is the figure around which they can center all of their complaints about the government, and can stoke fear among the anti-Thaksin segments of the public. The atmosphere, then, will heat up throughout the Fall, as the Democrats are unlikely to turn their focus away from Thaksin. The opposition party will charge that Yingluck's government is focused solely on Thaksin's return and that ,when Thaksin returns, he will once again dominate Thai politics.  Thaksin is unlikely to back down. Some kind of clash seems inevitable.