Threatening to Destroy TSMC Is Unnecessary and Counterproductive
There is understandable fear about what might happen to TSMC should China invade Taiwan, but the United States can ensure China does not inherit the company without physically destroying it.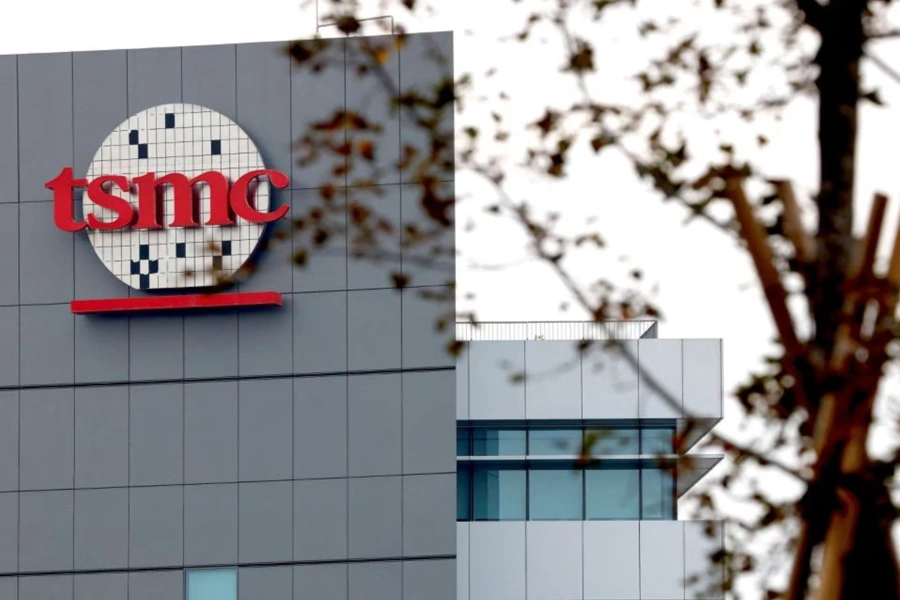 In recent years, some have advocated that the United States should plan to destroy Taiwan's semiconductor fabrication facilities (or "fabs" in industry speak) both to deter a Chinese assault and to ensure that China does not inherit Taiwan's semiconductor industry if deterrence fails and China successfully annexes Taiwan. Such an idea, however, overstates the importance of semiconductors in cross-strait dynamics and reveals a fundamental misunderstanding of the semiconductor industry. A policy of destroying the heart of Taiwan's economy would also help China sow distrust among Taiwanese people toward the United States and undermine Taiwan's will to resist Chinese aggression. 
Taiwan dominates the production of semiconductors, with its companies holding 68 percent of global market share, while Taiwan Semiconductor Manufacturing Company (TSMC) produces around 90 percent of the world's leading-edge semiconductors. These chips provide computing power for everything from smartphones to weapons and cars, many of which require thousands of chips to function. 
Although American companies design the world's leading chips, the United States lacks the capacity to produce cutting-edge chips and is dependent on chips manufactured in Taiwan. U.S. fabs produced 37 percent of the world's chips in 1990, but this number fell by nearly two-thirds to 13 percent by 2010. Losing access to Taiwanese chips would cause many of the biggest U.S. companies, from Apple to General Motors, to struggle to produce anything. 
To be sure, reliance on a single place (and in some instances even a single building) for computing needs is a significant vulnerability. That these fabs are located on an island prone to earthquakes, one that China has vowed to bring under its control, by force if necessary, is cause for concern. Some fear that if China were to annex Taiwan and take control of these fabs, it could cut off chip exports to the United States and use the world's most advanced chips to turbocharge its military modernization. 
Recognizing this vulnerability, the United States in recent years has taken steps to reshore some semiconductor manufacturing capacity: the Trump administration encouraged TSMC to open a fab in Arizona, while in 2022 Congress passed the CHIPS and Science Act, which provides $52.7 billion to jumpstart domestic semiconductor manufacturing.  
Some analysts believe this is still not enough: Taiwan's fabs are simply too important, they argue, to risk them falling into China's hands. Instead, the United States or Taiwan should make clear that they would destroy Taiwanese fabs during a conflict. A 2021 paper published in The U.S. Army War College Quarterly argued that the best way to deter Chinese aggression was for the United States and Taiwan to "lay plans for a targeted scorched-earth strategy that would render Taiwan not just unattractive if ever seized by force, but positively costly to maintain. This could be done most effectively by threatening to destroy facilities belonging to the Taiwan Semiconductor Manufacturing Company." Former U.S. national security advisor Robert O'Brien recently resurrected this line of thinking, advocating for destroying Taiwan's fabs and comparing such a move to Britain's decision to sink France's naval fleet after the country surrendered to Nazi Germany. 
Such analysis vastly overstates the importance of semiconductors to the decision-making of China's leadership. China's desire to control Taiwan predates semiconductors and its determination to achieve this political objective would be just as strong if Taiwan were a poor, agrarian society.  If China chooses to use force against Taiwan, it will do so having accepted the economic costs and consequences. Thus, the prospect of inheriting TSMC is unlikely to drive China to use force, while the prospect of taking over an island with a destroyed semiconductor industry is unlikely to restrain Beijing. A plan to eliminate Taiwan's fabs will not bolster deterrence.  
Second, discussion of destroying Taiwan's most famous industry and the source of much pride among Taiwanese is a gift to Chinese Communist Party propagandists, who have sought to weaponize this discourse. In February 2023, Chinese state media accounts began discussing the Biden administration's alleged "plan for the destruction of Taiwan." The following month, China's State Councilor and Foreign Minister Qin Gang rhetorically asked, "Why does the U.S. keep on professing the maintenance of regional peace and stability, while covertly formulating a 'plan for the destruction of Taiwan'?" After O'Brien made his comments and subsequently received an award from Taiwan's President Tsai Ing-wen, China's foreign ministry spokesperson commented, "Honoring such an individual shows that [Democratic Progressive Party] authorities do not mean it when they say they love Taiwan. The truth is they have been selling Taiwan away."  
China is using this opening to spread the narrative that the United States is not a trustworthy partner, that U.S. and Taiwanese interests are not aligned, and that the United States views Taiwan as a pawn in a larger geopolitical contest with China. This is a boon to Beijing's long-term strategy of chipping away at the confidence of the Taiwanese people, in the hope that the Taiwanese public will support political leaders who favor negotiated acquiescence to its political demands. The notion that one needs to destroy Taiwan in order to save it is also likely to undermine the willingness of Taiwanese people to resist. 
Third, and most importantly, destroying Taiwan's fabs is unnecessary because the United States could render them inoperable to the PRC without even using physical force. The facilities need continued access to U.S. and allied technologies and equipment to function, and if China were to gain control over Taiwan, the United States could simply bar U.S. companies from providing the necessary support. As Chris Miller details in Chip War, "U.S. companies like Applied Materials, Lam Research, and KLA are part of a small oligopoly of companies that produce irreplaceable machinery, like the tools that deposit microscopically thin layers of materials on silicon wafers or recognize nanometer-scale defects. Without this machinery—much of it still built in the U.S.—it's impossible to produce advanced semiconductors." Lacking access to U.S. machinery, the semiconductor firms China would inherit would be unable to maintain existing equipment, much less keep pace with their competitors in an industry characterized by rapid advances. 
Concern about over-reliance on Taiwan for the majority of the world's chips and nearly all of the most advanced chips is warranted. To address this vulnerability, the United States should do more to rebuild its domestic semiconductor industry: ensuring that the funds provided through the CHIPS Act are used effectively, reforming its immigration system to enable talented engineers to stay in the country, and building a pipeline of engineering talent that can work on semiconductor manufacturing. Planning to destroy Taiwan's fabs, however, is unnecessary, and discussing such a possibility is counterproductive.