Tokyo Condemns Putin's War, Aids Ukraine
In the wake of Russia's invasion of Ukraine, Japan shifts towards a more assertive foreign policy.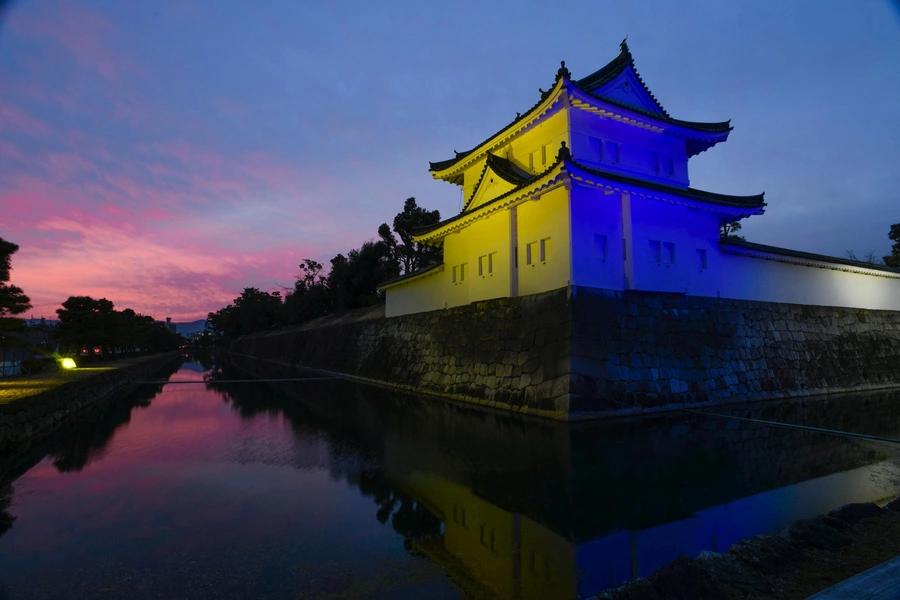 Japan's attempt to sway Russian President Vladimir Putin prior to his invasion of Ukraine was overshadowed by European and U.S. diplomacy, but once Russia initiated war, Tokyo's condemnation has been quick and conspicuous.  Prime Minister Fumio Kishida, embracing the idea that Japan had deep stakes in a global rules-based order, met the G-7 call for financial sanctions on Russia and on Russians who support Putin's war.  Not stopping there, Japan has offered financial, humanitarian, and material aid for President Zelensky.   
Over the past week, Tokyo has joined Europe and the United States in sanctioning Russia for its invasion of Ukraine. It has restricted transactions with Russia's central bank, frozen the assets of President Putin and Russian business oligarchs as well as seven Russian banks in Japan, excluded selected Russian banks from the SWIFT messaging system, and prohibited the issue or transaction of new Russian sovereign debt in the primary and secondary market.  In addition, Japan has restricted exports to Russian military-related entities of an internationally agreed-upon list of items including dual-use items such as semiconductors.  It has also sanctioned Belarus, identifying President Lukashenko and others supporting Putin's war.
Tokyo's aid to Ukraine has also been pathbreaking. Before the war began Japan's prime minister offered President Zelensky $100 million in loans should he need them.  Once the conflict began, Kishida added another $100 million in grants as assistance to the Ukrainian government.  The Japanese government also offered refuge to Ukrainians fleeing their war-torn country and, surprising many, similar refuge to Russian citizens who opposed their country's invasion of Ukraine.  On March 4, Kishida announced that Japan would send non-lethal equipment to the Ukrainians fighting to defend their country.  Japan's Self Defense Force gathered bulletproof vests and helmets, medical supplies, rations, and generators, and prepared to deliver them to Ukraine.
The Japanese people's overwhelming sympathy for Ukraine allowed their government latitude.  Public opinion polling has largely been supportive of the Prime Minister's forthright condemnation of Russia's invasion of Ukraine.  According to a March 7 poll by the Yomiuri Shimbun, 82% of Japanese support their government's response. Citizens have demonstrated in support of Ukrainians, and the colors of the Ukrainian flag have lit up the Tokyo Metropolitan Government building and numerous Japanese castles around the country.  Individual business leaders have joined in, most notably, Rakuten CEO Hiroshi Mikitani, who announced that his family was donating one billion yen ($8.7 million) to help Ukraine.
The costs to Japan will not be inconsequential.  Kishida set aside Japan's aspiration for a territorial settlement with Russia leading to a bilateral peace treaty.  Russia has put Japan on its list of countries that "have committed unfriendly acts" against it alongside the United States,  European nations, Canada, Taiwan, South Korea, and many others.  Japan will likely face greater Russian military pressure in and around its territory and a more formidable strategic partnership between Russian and Chinese forces, something that Japan's leaders have been trying to avoid. 
Like elsewhere, Japan's energy costs will rise.  Kishida's cabinet late last week addressed the rapid rise in crude oil prices and decided to implement emergency measures using 360.6 billion yen in Japan's reserves.  Russia provides around 9% of Japan's liquefied natural gas (LNG) imports and 4% of its crude oil imports.  Much of Japan's Russian LNG comes from the Sakhalin 2 project, and Shell's decision to withdraw from its Sakhalin operations left Japanese companies exposed and on their own.  Mitsui and Mitsubishi, two leading Japanese trading houses, have a 12.5% and 10% stake, respectively, in the consortium, and have been discussing the impact on Japan's energy supply with the Japanese government.  The Japanese government continues to consult with the United States and Europe on cutting Russian oil and gas supply. 
It is too early to foresee the end of this conflict and its consequences. Comparisons between what is happening in Ukraine with a possible Taiwan scenario in Northeast Asia seem premature and reductive. Too many variables make that a tricky analytical exercise at best, and a misleading analogy at worst.  Japanese officials, however, will pay close attention to the terms of any settlement between Ukraine and Russia. 
Two dimensions of Japan's foreign policy are already being affected by this war. The first is Japan's use of financial sanctions against individuals or corporations as leverage to change the behavior of other states.  To be sure, Tokyo has been a strong proponent of UN-led sanctions, particularly those against North Korea for its nuclear proliferation.  Japan also maintains unilateral sanctions against Pyongyang which it extended in April 2021 for another two years. Yet the use of financial sanctions has been unpopular in Japan, especially among Japanese multinationals who have had to contend with complex U.S. sanctions around the globe. There is growing interest, however, in Japan developing a more robust human rights diplomacy, and perhaps considering sanctions to go along with it.
Second, Russia's invasion will accelerate Japan's ongoing strategic review. Tokyo will be debating its own defense readiness this year, including the option of adding offensive strike capabilities to its arsenal, and will now take more of its cues from Europe when it comes to its military investments.  German Chancellor Olaf Scholtz's announcement of increased defense spending to 2% of GDP will be music to the ears of those in Tokyo who similarly aspire to dedicate a larger share of national income to their military.  Germany's decision likely makes the politics of this ambition more palatable in Japan. 
Ideas for more dramatic transformations of Japanese strategy, such as former Prime Minister Shinzo Abe's proposal of "nuclear sharing," are less likely to be accepted.  Prime Minister Kishida, a native of Hiroshima and strong proponent of nuclear disarmament, immediately rebuffed the idea of nuclear weapons on Japanese soil and stated that Japan has no interest in asking the United States to deploy nuclear weapons in Japan. Yet Sanae Takaichi, the head of the LDP's Policy Research Council, said Japan should reconsider at least one of its three non-nuclear principles, implying that she too supports allowing the U.S. to "introduce" nuclear weapons to Japan in case of a crisis. Many in Japan, the only country against which nuclear weapons have been used, will resist the idea that they should embrace the world's most destructive weapons.