Top Conflicts to Watch in 2020: An Armed Confrontation Between Iran and the United States
This year, an armed confrontation between Iran and the United States or one of its allies over Iran's involvement in regional conflicts and support of militant proxy groups was included as a top tier priority in the Center for Preventive Action's annual Preventive Priorities Survey.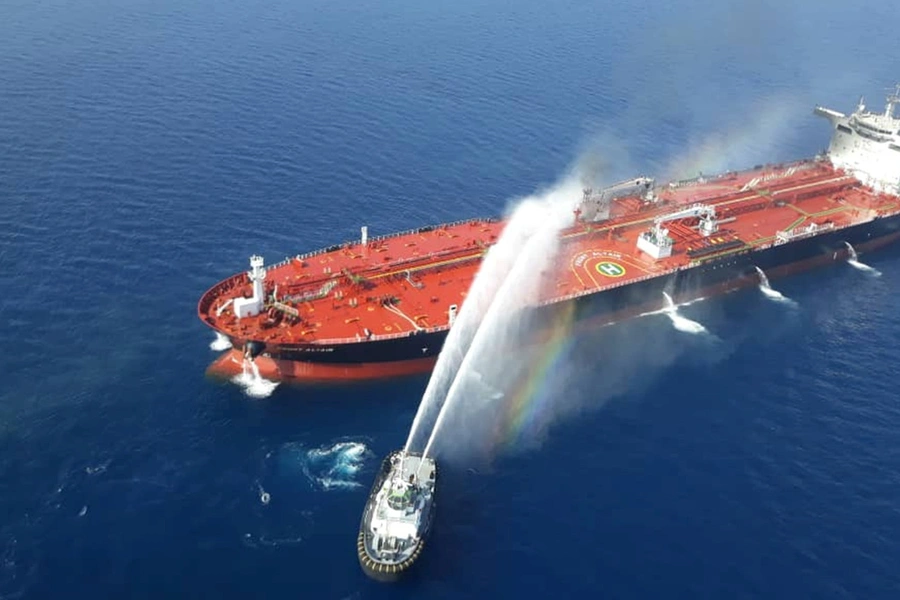 In this year's Preventive Priorities Survey, foreign policy experts ranked an armed confrontation between Iran and the United States or one of its allies over Iran's involvement in regional conflicts and support of militant proxy groups as one of the top conflicts to watch in 2020. The United States and Iran have been engaged in a low simmering conflict for four decades, and parties have relied on proxies to pressure the other. The United States has imposed a range of economic sanctions on Iran which have drained its treasury, while Iran has relied on its many regional proxies to wage violence against U.S. allies. The Donald J. Trump administration inherited this situation as well as an Iran nuclear deal that it felt was insufficient in terms of its restrictions and duration. The Trump administration has been attempting to curb Iran's malign activities in the region as well as pressure Iran to negotiate a new agreement through a strategy of applying maximum pressure that has imposed crippling sanctions on Iran.

In the past month, the tensions between the two sides have increased. Iran has tried to interfere with shipping in the Persian Gulf, attacked Saudi oil installations and orchestrated an assault on the U.S. embassy in Iraq. The administration responded by killing General Qasem Soleimani, the head of the Islamic Revolutionary Guard Corp's Quds Force that is responsible for much of Iran's violence beyond its borders. Iran responded with a rocket attack on two U.S. military bases in Iraq that caused no casualties. Both parties at this point are at ease with their narrative of success. Washington claims it demonstrated that the targeting of Americans by Iran's proxies will not be tolerated and the address for retaliation will be Iran itself. Tehran claims that it has directly attacked a U.S. military installation in a show of its own resolve. For now, both sides have stood down.

The United States has a stake in the stability of the Persian Gulf region. Energy independence has not exempted U.S. allies and the global economy from relying on Middle Eastern oil. Beyond the Gulf, the United States has critical alliances with both Arab states and Israel who have been the targets of Iranian ire. Terrorism is one side of the dangerous coin that Iran represents, the other is nuclear proliferation. As Iran resumes many of its nuclear activities it could trigger a cascade in the region as other nations try to obtain the bomb to deter Iran.

All this means that the United States needs to have a credible deterrent posture toward Iran. The logic of the Trump administration's policy is similar to all of its predecessors—maintain pressure on Iran until it arrives at the negotiating table prepared to make concessions. Thus, as this point, the administration has to sustain its pressure while preparing for any backlash that such a posture may provoke. The advantage that the United States has is that it is much stronger than Iran and can potentially succeed if it applies its policy with discipline and determination.

About the Preventive Priorities Survey
Since 2008, the Council on Foreign Relations' Center for Preventive Action (CPA) has conducted an annual survey of foreign policy experts for their collective assessments on contingencies that represent the greatest risk to U.S. interests. This year, CPA began soliciting contingencies in October 2019, narrowing down a list of possible conflicts from nearly one thousand suggestions to thirty contingencies deemed likely and potentially harmful to U.S. interests. In early November, CPA sent the survey to nearly six thousand experts and received about five hundred responses. The survey results were scored according to their rankings and the contingencies were sorted into one of three preventive priority tiers (I, II, III) according to their placement on CPA's risk assessment matrix.
The results reflect the expert opinion of respondents at that time. As such, it should be viewed as a snapshot assessment. Recognizing this, CPA tracks ongoing conflicts, including confrontation between the United States and Iran, with the Global Conflict Tracker.
View the full results of the Preventive Priorities Survey to see which other contingencies were deemed top tier priorities for 2020.