Tracking Eight Years of Airstrikes in Afghanistan
This blog post was coauthored with my research associate, Amelia M. Wolf.
On October 7, 2001, the United States and United Kingdom, as part of the military campaign to topple the Taliban, began conducting airstrikes in Afghanistan. The air attacks were carried out by five B-1 and ten B-52 bombers operating out of Diego Garcia, twenty-five F-14 and F-18 fighter aircraft launched from naval carriers in the Arabian Sea, two B-2 bombers from Whiteman air force base in Missouri, as well as some fifty cruise missiles fired from off shore. Those initial airstrikes were against thirty-one targets consisting of air defense radars, Taliban airfields and command-and-control facilities, and al-Qaeda training camps. After the Taliban was removed from power and remnants of concentrated al-Qaeda fighters had dispersed, airstrikes were significantly curtailed by the end of December 2001. According to the U.S. Air Force, during the initial 76 days of bombing, some 6,500 strike sorties were flown, with 17,500 munitions dropped on over 520 targets.
Over the next several years, U.S. and NATO airstrikes continued, but at a much reduced tempo. The total number of strikes and bombs dropped are unknown because they have not been presented in a comprehensive manner to the public. Beginning in 2006, however, the U.S. Air Force Central Command (AFCENT) made this information available on a month-by-month basis, which allows for a better understanding of the trends in the use of air power in Afghanistan. Over the previous eight years, the United States and, to a far lesser extent, its Western partners have conducted 16,541 strike sorties and dropped 36,791 bombs.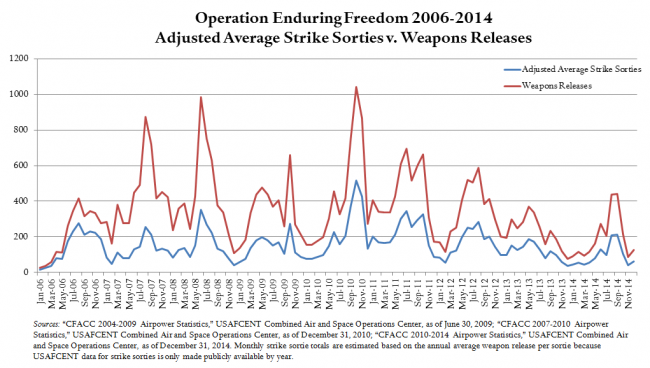 There also are no publicly available estimates of the number of suspected Taliban or al-Qaeda militants killed with these strikes, though there have been estimates of civilian casualties compiled by the United Nations Mission in Afghanistan. For example, in 2008 there were an estimated 552 civilian deaths as a result of airstrikes, and in 2014 (through November 15) there had been more than 78 civilian deaths. Although President Obama claimed two weeks ago that "the longest war in American history is coming to a responsible conclusion," U.S. airstrikes will continue, including for force protection and counterterrorism missions, and to provide close air support for Afghan forces.