Transsion: a Chinese Prodigy in Africa?
The Chinese company has dominated mobile phone markets in Africa, though not without courting controversy.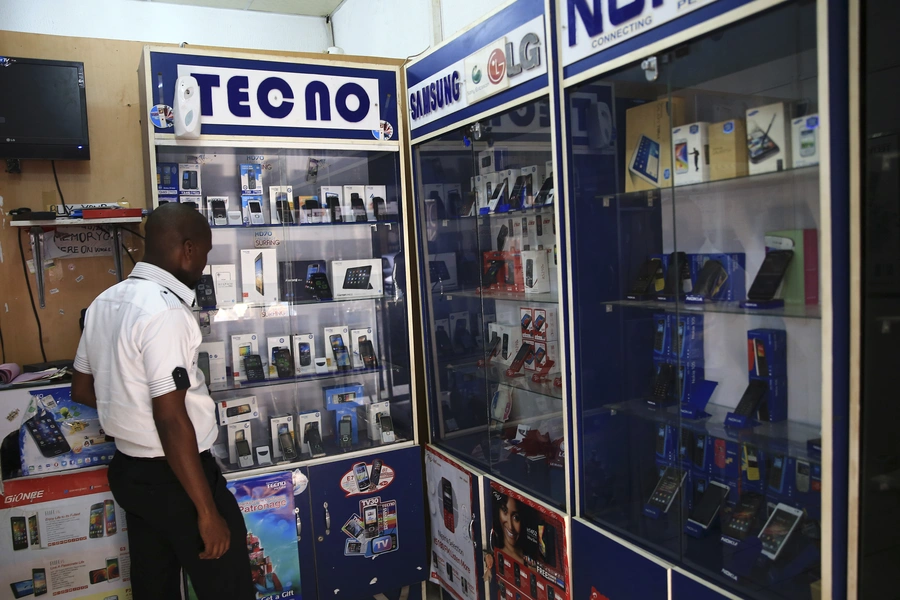 Connor Fairman is a research associate in the Digital and Cyberspace Policy program at the Council on Foreign Relations.
Until recently, Transsion, a Chinese mobile phone-maker, seemed untouchable in Africa. Since its founding in 2006 by the "reclusive" Zhu Zhaojiang, it had successfully grown to dominate the smartphone and feature phone markets in Africa without courting the controversy that has accompanied the other major Chinese tech companies operating on the continent like Huawei and ZTE. It is now the fourth-largest mobile phone-maker in the world and the only one to focus exclusively on low-income markets.
Transsion's success in Africa is a textbook case of superior marketing and understanding African consumers' needs. Their phones are cheaper than their competitors, including Samsung, which controls 19 percent of the African smartphone market. They have multiple SIM slots, allowing users to switch SIM cards depending on coverage and to take advantage of deals offered by the many competing telecommunications companies across Africa. The cameras are also designed to better capture darker skin tones. Moreover, Transsion's phones have a longer battery life than their competitors and were among the first to support keyboards for African languages. By designing their phones with African consumers in mind, Transsion has been able to capture 64 percent of the feature phone market and over 40 percent of the smartphone market in Africa.
Although Transsion was a privately held company before its IPO in September 2019, it received millions of dollars in Chinese government subsidies. CEO Zhu Zhaojiang has also publicly endorsed Beijing's Belt and Road Initiative (BRI) in the Global Times, a state-run newspaper, and company presentations. While this could seem to indicate a nexus between Transsion and the Chinese government, there are straightforward economic reasons why the company would support the sometimes-controversial initiative. Transsion, along with other phone-makers in Africa, has benefited from the Digital Silk Road (DSR) component of BRI. Investments of nearly $10 billion in ICT infrastructure in Africa by 2019 have greatly expanded mobile phone and internet service throughout the continent. In fact, the top five recipients of DSR funding are African countries, critical markets for Transsion. In addition, two of Transsion's biggest competitors in Africa are Huawei and Xiaomi. The company likely sees endorsing BRI as a form of risk-management to prevent Beijing from favoring one of its rivals.
Despite its vocal support for BRI, Transsion managed to avoid the negative publicity that has plagued many Chinese companies. It also countered the narrative of "China in Africa" that describes China as predatorial, BRI as dominated by giant infrastructure companies lacking understanding of local markets and customs, and Chinese tech products as low-quality knockoffs. Thus, the company's success was a rare soft power boost for China.
Nonetheless, after over a decade of success, Transsion suffered its first public setback this August when it was revealed that over 200,000 of its Tecno W2 smartphones had been pre-installed with malware. Triada, the malware detected, was developed in China, and secretly saps users' pre-purchased data, signing them up for subscription services, generating fake clicks, and downloading suspicious apps, all without the user's consent and knowledge.
Described by one expert as an example of "digital colonialism," the incident received highly negative coverage by Western outlets, which reported on Triada in the context of concerns about Beijing potentially using companies like Huawei and TikTok to spy on people worldwide. They also noted that pre-installed malware has been an ongoing issue in affordable mobile phones made by Chinese companies.
In response, Transsion blamed an unidentified vendor in its supply chain. This is a feasible explanation: using third-party vendors, which is more affordable than building a complete product in-house, leaves the company open to supply chain attacks by hackers. Moreover, Chinese hackers, who often enjoy impunity for their criminal activity in exchange for operating as proxies for Beijing, could feel safe targeting the supply chains of devices marketed to African consumers because they aren't targeting Chinese citizens.
Though this incident has tarnished Transsion's reputation, thereby weakening its ability to counter negative narratives about China and the BRI, it is unlikely that the company will lose its firm position in Africa. Africans' demand for phones is expected to continue to rise, and Transsion will still be the most attractive vendor as long as its devices meet consumers' needs.
The recent negative publicity focused on Transsion could tempt some in the United States to call for a new "clean-phone" line of effort conveniently tacked onto the Clean Network program to encourage countries to ban the company's devices. Instead, the United States should launch a broader effort led by the State Department focused on capacity building. This effort could leverage the expertise and advice of federal agencies like the Cybersecurity and Infrastructure Security Agency and private cybersecurity firms. This would demonstrate a genuine level of commitment to Africans that the United States has lacked, despite its loud uproar over the activities of Chinese tech companies in Africa.