The Trump Transition, the South Korean Leadership Quagmire, and North Korea's Opportunity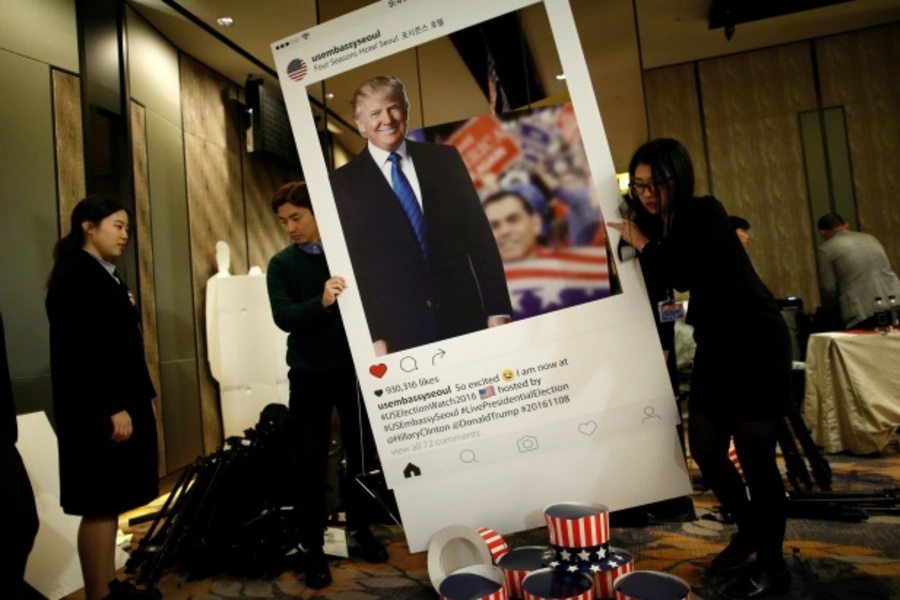 As a seemingly personality-driven, rather than policy-driven, Trump transition unfolds in the United States and Park Geun-hye's scandal-ridden political crisis deepens with no clear end in sight in South Korea, North Korea under Kim Jong Un is comparatively a bastion of stability and fixed strategic purpose. But Pyongyang may have far more capacity as a source of instability than as an exploiter of uncertainty in Washington and Seoul.
Indeed, North Korean efforts to exploit American and/or South Korean political weakness have often been the catalyst that has brought U.S.-South Korea alliance coordination back on track—or, as was the case with the Korean War—deepened U.S. involvement on the peninsula to a greater degree than then-President Harry Truman had intended months prior to the start of the war when his administration withdrew U.S. troops from the Korean peninsula.
President-elect Donald Trump affirmed in an early phone call to Park the U.S. commitment to the alliance and has denied he ever suggested during the election campaign that South Korea and Japan pursue nuclear self-defense. An early meeting and vote of confidence from Japan's Prime Minister Shinzo Abe has been another early step toward reaffirming U.S. defense commitments in Asia. The Trump transition has presumably been briefed regarding the seriousness of North Korea's sprint to obtain the capability to hit the United States, and the New York Times has analyzed that the urgent need for cooperation between Washington and Beijing will force President-elect to delay pledges to pursue a trade war with China.
How does Kim Jong Un exploit the bounty of a strategic environment in which many indicators are seemingly blowing in Pyongyang's favor? No doubt, North Korea's leadership is anxious to make itself a high priority on the agenda of a Trump administration, but the seeming absence of a guiding foreign policy framework for the administration should also give Pyongyang pause since the usual assumptions and constraints that shape U.S. policy formation may not hold. How would a Trump administration respond to a North Korean long-range missile launch or nuclear test? Can a politically paralyzed South Korea be a source of restraint against U.S. unilateral action? We do not know.
When will Trump get around to issuing his campaign invitation for a Kim Jong Un visit to the United States to discuss economic development of a nuclear North Korea? Trump's initial national security picks are unlikely to be predisposed to this option. It could be a long wait.
Given the strategic opportunity to exploit U.S. and South Korean political weakness, Kim Jong Un's best near-term course of action may indeed be the one that is most difficult for him to embrace: sit tight and be quiet.
Efforts to take advantage of South Korean political paralysis through aggression will surely invite a unified U.S.-South Korean response. Early tests of North Korean nuclear and missile capabilities may catch a new Trump administration unprepared and increase the likelihood of a unilateral U.S. response.
Neither outcome would likely benefit Kim Jong Un or help him achieve his strategic goals, but both responses are seemingly innate to North Korean thinking. Otherwise, Kim's failure to recognize and accept his good geostrategic fortune may lead to disastrous consequences for all concerned.
Read more about how the Trump administration should approach U.S. policy toward China (here and here), Japan, South Asia, and Southeast Asia.