Trump's China Deal is the Worst Ever
Accord focused on soybeans and gas does nothing about huge tech-sector challenges.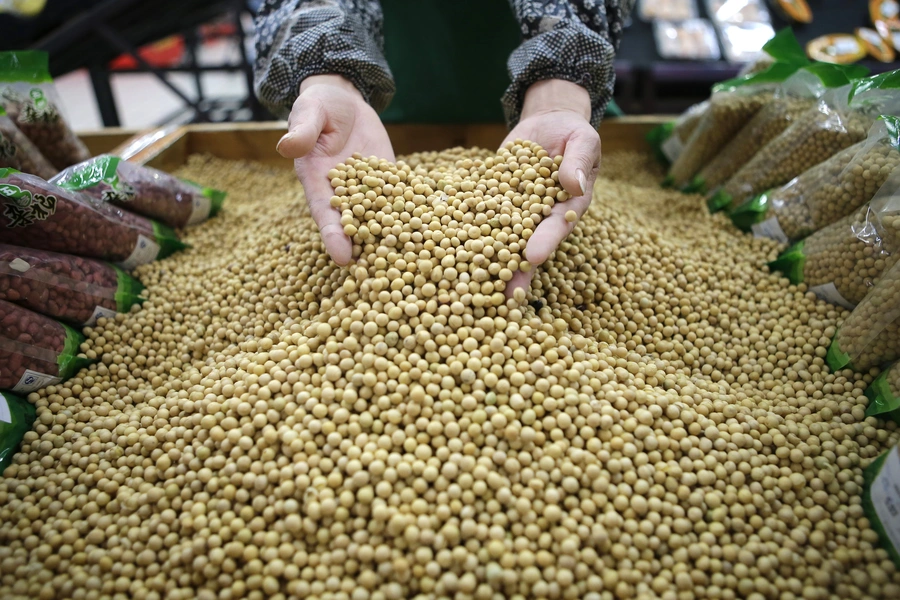 If nothing further is done, the U.S.-China trade deal reached this month will be remembered, to quote a phrase coined by the current president of the United States, as "the single worst trade deal" ever negotiated.
Instead of tackling Chinese industrial policy practices that have distorted many sectors of the global economy, Donald Trump has enthusiastically embraced a quick fix that economist Brad Setser, of the Council for Foreign Relations, has called nothing more than "a commitment on China's part to buy more of the things that it likely would buy more of no matter what: agricultural products and energy."
This deal will almost certainly not be the last between the Trump administration and China. But nearly 18 months into the Trump presidency, it highlights how little the U.S. has to show for its new approach on trade.
Trump marched into office promising that his threats and toughness would succeed where generations of "weak" U.S. negotiators had failed. Instead, he has so far been left all but empty-handed.
The Trump trade policy is now emerging as a cautionary lesson in the limits of economic coercion, even when carried out by the leader of the world's largest economy.
Trump's playbook on trade is nothing if not consistent—open with a series of threats, and then gamble that the prospect of U.S. trade sanctions will force countries to make concessions they would otherwise resist. He threatened to rip up the North American Free Trade Agreement with Canada and Mexico, threatened to impose tariffs on imported steel and aluminum, and threatened sanctions on as much as $150 billion in Chinese imports.
What does he have to show for those threats? The NAFTA negotiations have made little progress on any but the easiest issues, and Canada and Mexico are busy diversifying their trading partners to try to minimize U.S. leverage. Trump has so far exempted most countries from the steel and aluminum tariffs, hoping to use the threat as a bargaining chip, but major producers have instead warned that they would respond in kind if the US goes ahead with tariffs. Those few hit already by the tariffs—Japan in particular—are also moving to retaliate. And Japan has steadfastly refused Trump's demand to start bilateral trade negotiations.
The only country to make any real changes in the face of U.S. threats has been South Korea, which agreed to cut its exports of steel to the U.S. and revised some provisions on auto trade that will have little near-term impact. But South Korea is especially dependent on U.S. security guarantees and was willing to make modest trade concessions to maintain cooperation over North Korea.
China is by far the biggest test. Unlike the other trade fights, U.S. business has been encouraging President Trump, hoping that the new approach might persuade Beijing to tackle the growing problems they face in China over intellectual property, forced technology transfer, and investment restrictions. But the deal reached over the weekend addresses none of those issues; China's only tangible commitment was to offer "meaningful increases in U.S. agriculture and energy exports." So, more soybeans and gas. This is hardly the stuff of the high-tech economy.
Why has Trump's approach been so ineffective to date? First, the theory was likely flawed from the outset. The Trump model is the U.S.-Japan trade negotiations of the 1980s and early 1990s, a drama in which the current U.S. Trade Representative, Robert Lighthizer, played a bit part. The U.S. was able at times to use sanctions threats to persuade Japan to change its trading practices, most notably on semiconductors. But Japan was a close U.S. ally, and was willing to tolerate considerable economic pressure from the U.S. in the name of maintaining security ties. It is hard to see China—or even the EU—being similarly accommodating today.
Secondly, the trade pressure on Japan was hardly a roaring success. Trump's preference for bilateral deals is premised on a shallow reading of history. The U.S.-Japan trade balance deteriorated throughout this period, despite repeated "market-opening" deals, and many large sectors—from autos to telecommunications—remained largely closed to imports.
The limited progress made over years of bilateral U.S.-Japan talks was one of the big reasons the United States was willing to trade unilateral pressure for binding dispute settlement through the multilateral World Trade Organization, launched in 1995.
Finally, as the Trump administration is learning with the growing chorus of protests from U.S. manufacturers, it is almost impossible to target sanctions in a way that hurts foreign competitors without also harming the U.S. economy. Most manufacturing in the 1980s was still largely internal, with products assembled from domestically made components and then exported abroad. Today, most manufacturers are dependent on global supply chains, and even modest supply disruptions or cost increases can undermine competitiveness. The proposed U.S. list of China sanctions, for example, is mostly made up of intermediate goods, and would likely do as much harm to U.S. manufacturers as to any Chinese competitors.
All this leaves the president in an unenviable position. He can keep using his Twitter feed in the hopes of getting Americans to believe his negotiating failures are in fact huge successes. He can double-down on the threats, impose more tariffs and live with the political and economic consequences. Or he can try to educate himself and get down to the hard business of trade negotiating—doing tough-minded, incremental deals that move the ball in the right direction. This is especially true in the difficult areas of intellectual property, technology transfer, and international tech company competition. It turns out trade wars aren't so easy to win after all.
This article originally appeared on asia.nikkei.com.