Trump's No-Show May Lift Summit From Swamp
President Trump's no-show means less drama and more space at Summit of the Americas for the main theme of corruption.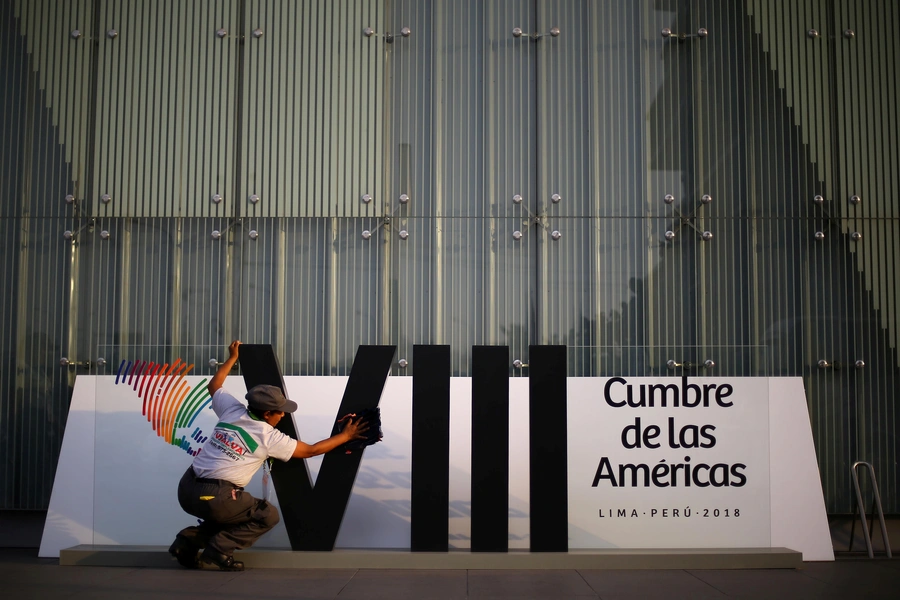 On Friday, the hemisphere's presidents come together at the eighth Summit of the Americas in Lima, Peru. Missing, however, will be President Donald Trump. While his absence may result in fewer headlines, it may also yield more progress on corruption, this summit's signature issue. Not only would Trump have come with his own personal baggage on that front, but his administration has also curtailed U.S. support for what has amounted to a historic shift in the region — a push, however uneven, toward true change.
To be sure, host Peru makes for a surreal backdrop for these discussions, embroiled in its own cascading scandals. The president recently had to step down on accusations of taking money from Brazilian construction behemoth Odebrecht SA and then buying votes to head off impeachment. Many of the attendees, including the presidents of Brazil and Mexico, are themselves shadowed by allegations of graft, obstruction of justice, and bribe-taking.
These cases involve just some of the tens of billions of dollars that move from public coffers to private hands each year across the region, representing big chunks of the federal budgets and overall GDP in Mexico, Brazil, Colombia and Peru, among others. More broadly, this public graft perverts incentives, leading governments to overinvest in infrastructure and underspend on education, health and other builders of human capital. It destroys the trust and social contract between citizens and government, and leads to tax evasion.
What's different today is that Latin American leaders are talking about corruption. And in some places, pushed by scholars, attorneys, activists and voters, governments are finally doing something about it.
The shift comes in large part from democracy's deepening. Freedom of information acts have proliferated -- passed in Mexico in 2002, in Brazil in 2011, and in Argentina in 2016, opening up once murky government books to public scrutiny. A freer press has in turn used these and other means to investigate and publicize wrongdoing: the $6 billion wasted by Reficar, a refining subsidiary of Colombia's state-owned Ecopetrol SA, the money laundering in hotels part-owned by Argentina's former president, the "phantom businesses" adeptly milking Mexican government coffers.
More effective judiciaries, too, have changed the score. In Brazil, the seemingly untouchable team of federal police, prosecutors, and Curitiba Judge Sergio Moro has brought down dozens of leaders and now former president Luiz Inacio Lula Da Silva. Colombia's attorney general Nestor Humberto Martinez has opened cases against more than 1,600 people on corruption charges, 500 of them public officials. The Guatemalan attorney general Thelma Aldana, working with a UN-backed anti-corruption body, uncovered a customs kickback scheme siphoning off tens of millions of dollars, leading to the arrest of Guatemala's president, vice president, and numerous other officials. In Peru, four past presidents have now been sentenced, jailed, or are on the lam for corruption and human rights abuses.
And it comes from overwhelming citizen pressure. In a year when two out of every three Latin Americans head to the presidential polls, corruption is high on the regional agenda, anger driving voters' electoral preferences.
The United States was part of this initial awakening. USAID worked with regional governments to reform and transform their justice systems. The Treasury Department devoted resources to trace dirty money moving north into or through the U.S. banking system. Department of Justice prosecutors closely collaborated with regional counterparts, notably against Odebrecht, resulting in $2.6 billion in fines and jailing of dozens of politicians and business leaders.
The U.S. likely won't play a big part in this next phase of the fight against graft. The Department of Justice and U.S. Securities and Exchange Commission have pulled back, resolving fewer Foreign Corrupt Practices Act cases over the last year than it did during President Barack Obama's last month. Within the State Department, eight of the 10 most relevant posts remain unfilled, and Trump proposed a budget chopping most anti-corruption initiatives. Republicans in Congress repealed Dodd-Frank rules designed to take on some of the most blatant forms of graft by requiring energy and mining companies to disclose payments to oil and mineral-rich governments. Earlier this week, summit attendees received a trenchant reminder of Trump's own conflicts of interest: lawyers for his family company asking Panama's president to intercede in a legal case involving a Trump hotel in Panama City.
Even if the U.S. role weren't on the wane, the summit promises to be longer on good words than good works. Its parting communique will ask governments to take steps to increase the autonomy and independence of prosecutors and judges, establish codes of conduct, protect watchdogs and whistleblowers, and use technology to make day-to-day operations more transparent and accountable.
But notwithstanding well-meaning calls to change the culture of corruption, few of the recommended steps will be widely embraced or quickly implemented. Some countries have yet to even start cleaning up the muck. In others a backlash against crusaders has begun, vested interests and guilty parties desperate to protect their advantages.
Real progress in the fight against corruption will thus depend mainly on voters. Elections may be a blunt tool, but for now they may be the only way to hold officials accountable and -- one day -- get them to live up to the summit's expansive commitments.