UN Peacekeeping: Challenges Loom Ahead of London Summit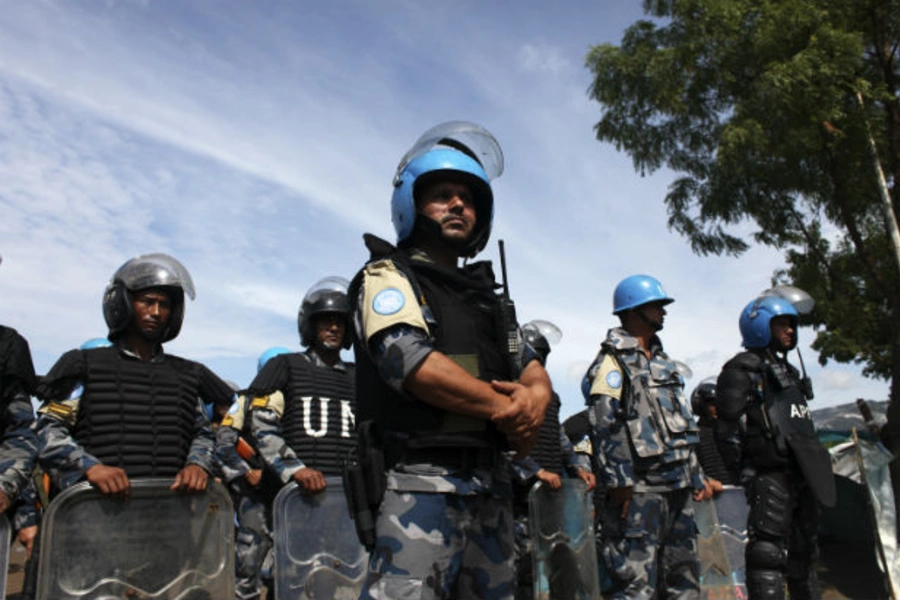 The following is a guest post by Megan Roberts, associate director of the International Institutions and Global Governance program at the Council on Foreign Relations.
Later this week, U.S. Secretary of Defense Ash Carter and his counterparts from around the world will gather in London to assess the state of UN peace operations. The meeting is a follow-up on a summit hosted by President Obama on the sidelines of the UN General Assembly in 2015. At that event, nearly fifty world leaders committed to modernizing UN peacekeeping, pledging over 40,000 troops as well as critical enablers such as helicopters and hospital units to missions around the world. Coming on the heels of a seminal review of UN peacekeeping, the conference also generated a new optimism that after years of inaction, member states were finally prepared to close the gap between the expanding mandates of and the resources and capabilities devoted to peace operations.
To ensure that countries made good on their pledges, then-UK Prime Minister David Cameron announced that Britain would host a follow-up ministerial meeting in September 2016. As with the 2015 summit, participating countries must offer tangible commitments to peacekeeping to earn a seat at the table. Much has happened over the intervening year, both within the UK—where the Brexit vote precipitated a change in government—and across the peacekeeping landscape. So where do things stand today?
The good news is that a surprising number of countries have lived up to their 2015 commitments. By June 2016, two-thirds of countries had delivered their pledged troops and assets, though a leaked internal UN report showed that several countries, including Brazil, Norway, Spain, and Vietnam, were dragging their feet. China, which stole the 2015 show by committing to develop an 8,000-strong standby capacity, is expected to announce its timetable for standing up that force. In the run up to the London meeting (and perhaps to boost its bid for an elected Security Council seat), Canada has announced its own intention to return to peacekeeping, pledging to make hundreds of troops and police available to UN missions.
The effort to mobilize contributions from a wider range of countries seeks to address the high tempo of contemporary peace operations—as well as allow the United Nations to be more selective about which contingents it deploys. As the scale of UN peacekeeping has grown—over 100,000 uniformed personnel are now deployed globally—the UN Department of Peacekeeping Operations had no alternative but to rely on the troops on offer, regardless of whether troop-contributing countries had provided them with appropriate training or equipment. This placed the UN in an awkward position when peacekeepers either failed to perform their duties, or worse, engaged in misconduct, including (most egregiously) abhorrent instances of sexual abuse and exploitation. Sending troops home risked drawing the ire of the relevant member state, which might then withdraw all of its personnel, leaving the United Nations even more desperate. By contrast, increasing the numbers of well-resourced and trained uniformed personnel would allow the United Nations to be picky about the troops it deploys—and to turn away undisciplined units.
Unfortunately, demand for peacekeeping over the past year has continued to outpace supply, suggesting that a focus on additional resources alone cannot overcome the challenges that plague peace operations.
Nowhere are these problems more evident than in South Sudan, where a tenuous peace agreement unraveled in early July as fighting erupted between forces loyal to President Salva Kiir and then-vice-president and opposition leader, Riek Machar. Amidst the violence, at least seventy-three civilians were killed and hundreds of women were raped, some just outside of UN protection camps. Peacekeepers in the UN Mission in South Sudan (UNMISS) were criticized for failing to implement their protection mandate. In at least one instance, UN troops reportedly looked on as a woman was dragged away. Foreign aid workers were also targeted and calls to UN peacekeepers for help went unanswered. Chinese, Ethiopian, and Nepalese quick-reaction forces all reportedly refused to intervene. Subsequently, the government of South Sudan resisted a U.S.-led effort to add a more robust protection unit to UNMISS, only agreeing to the new force during a rare Security Council visit to Juba. However, the government quickly announced additional restrictions on the force's deployment, suggesting that it may frustrate efforts to deploy the new peacekeepers.
The entire episode has laid bare inconvenient truths about UNMISS. Despite their mandate to protect civilians, peacekeepers proved unwilling to act in the face of violence. To be fair, the peacekeeping mission is operating in almost impossible circumstances, expected to shelter hundreds of thousands of civilians in protection camps in the face of restrictions on its actions by the South Sudanese government and aggression from government and rebel forces alike. Yet the protection mandate in and of itself is serving as a lowest common denominator form of intervention. In the absence of agreement among Security Council and regional powers on a political strategy for actually resolving the conflict, UNMISS reflects a minimalist approach, designed to keep the magnitude of violence contained. But even that mandate may exceed what UNMISS can deliver.
Sadly, the dynamics at play in the July violence were not a one-off. The UN's own investigation into a massacre in a UN camp in February faulted the mission for significant failures, including in protecting civilians. (The UN has since announced another independent investigation to look into the events in July.) A number of observers are beginning to ask if the UN should be more willing to withdraw from seemingly intractable situations—and whether that point had been reached in South Sudan.
While South Sudan may be the most difficult environment in which UN peacekeepers are currently deployed, missions elsewhere are also operating in more complex contexts, including increasingly insecure environments. Simultaneously, the UN's defensive reflex to recent scandals reveal what the New York Times and the Guardian have called "a culture of denial" that harms the credibility of the United Nations and its peacekeeping missions. An independent inquiry on the UN's handling of allegations of sexual abuse by peacekeepers judged the organization's response to this "gross institutional failure" to be "seriously flawed." In another blow to its reputation, not until last month did the United Nations admit that its peacekeepers had brought cholera to Haiti six years ago, sparking an  epidemic which has claimed ten thousand lives, infected more than 800,000 people, and shows no sign of abating.
To be sure, blame for peacekeeping's failures falls also at the feet of member states, who bear primary responsibility for failing to mobilize and equip sufficient numbers of troops and to discipline those contingents who have committed crimes. For instance, member states balked when Ban Ki-moon advanced proposals to strengthen peacekeeping capacities in line with recommendations from the 2015 high level review of peacekeeping. Meanwhile, it took over four months for member states to make the first deposit into a fund established to support the victims of sexual abuse by UN peacekeepers.
The nations assembled in London this week deserve a pat on the back for generating more funding, troops, and other assets for UN peacekeeping. That so many have stepped up to fulfill their pledges is a hopeful sign, as was the UN's repatriation of an entire contingent of peacekeepers from the Democratic Republic of the Congo after seven of its soldiers were implicated in sexual abuse in the Central African Republic. But these tentative steps in the right direction should not detract from the bigger issues laid bare over the past year. These include fundamental questions about whether the United Nations is capable of protecting civilians in dangerous environments, and, if not, what role peacekeepers can be expected to play in the world's most intractable conflicts. The status quo risks charging missions with impossible mandates that they will fail to implement, putting civilians in danger and further undermining the credibility of the United Nations.