The U.S.-ROK Alliance and Policy Coordination Toward China
The United States and South Korea should establish a regularized mechanism to enhance dialogue, coordination, and cooperation on policies and strategies related to China.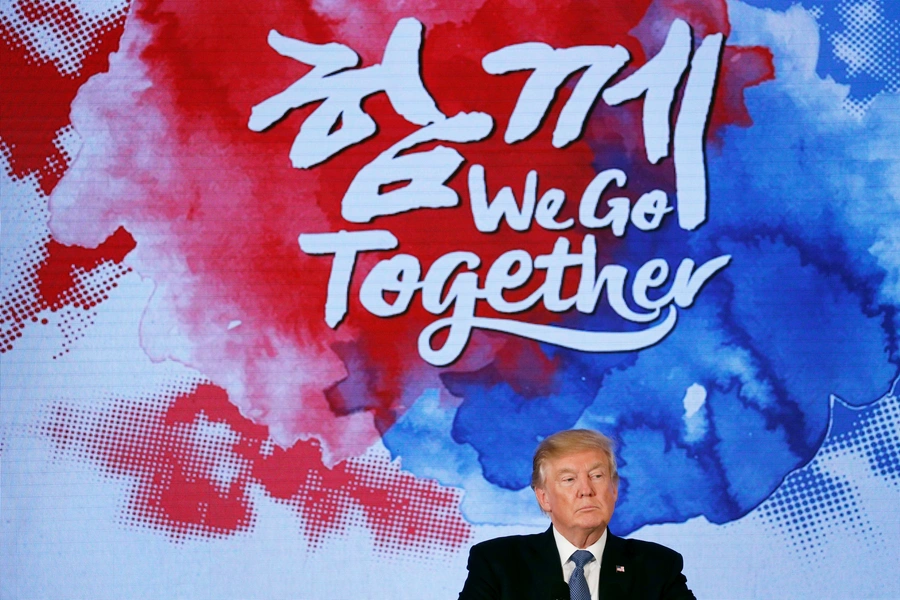 This post is authored by Abraham M. Denmark, director of the Asia program at the Woodrow Wilson International Center for Scholars. It is part of a project conducted by the program on U.S.-Korea policy at the Council on Foreign Relations, supported by the Korea Foundation and Smith Richardson Foundation, that analyzes prospects for U.S.-ROK strategic coordination on China and the broader Indo-Pacific region. 
For decades, the U.S.-ROK alliance has primarily focused on the threat posed by the Democratic People's Republic of Korea (DPRK). Yet as China's geopolitical importance has expanded, leaders in Seoul and Washington have been increasingly driven to consider the role Beijing will play in the strategic dynamics of the Korean Peninsula and broader Indo-Pacific. Indeed, there has recently been a growing focus within the ROK security community on the opportunities and challenges for South Korea in regions beyond North Korea, including China. Considering China's importance to both the ROK and the United States, the allies should establish a regularized mechanism to enhance dialogue, coordination, and cooperation on national policies and strategies related to China.
China's Growing Significance in Korea
Due to its geographic location as well as its sheer size, China has never been far from the forefront of the Korean Peninsula's strategic dynamics. For centuries, Korea paid tribute to Chinese emperors and served as the sad location for clashes between China and Japan for regional dominance. More recently, the Korean Peninsula was the stage for a direct military clash between China and the United States. But with the cessation of hostilities in 1953, as the United States focused its efforts on deterring and defending against another potential North Korean attack, the role of China in Korea gradually faded into the background. China's role in Korea was long seen by many Americans almost entirely through the lens of the North Korean nuclear issue.
Yet China's growing economic, political, and military power – both in the region, and for the United States – has made it impossible to ignore. China has the second-largest economy in the world, a large and sophisticated military, and expanding ambitions for geopolitical dominance in East Asia. For Korea, economic relations with China are critical: China is Korea's top trading partner at roughly $265 billion in 2018, $162 billion of which were exports. By way of comparison, U.S.-Korea trade in 2018 was about $130 billion and U.S.-China trade was over $600 billion.
Likewise, China's ability to utilize military power as a tool of statecraft has also expanded dramatically in recent years. China's military, the People's Liberation Army (PLA), has received decades of significant investment and is in the process of fielding advanced capabilities across all military domains. According to the U.S. Department of Defense, since at least 2004 "the PLA has sought to strengthen its ability to conduct joint operations near the Korean Peninsula, placing particular emphasis on border defense." The Pentagon further states that "the Northern Theater contains three group armies of approximately 170,000 soldiers, a naval fleet, two air force bases, one specialized air division, two naval aviation divisions, and People's Armed Police (PAP) units that conduct border defense operations." More recently, as tensions between North Korea and the United States intensified in 2017, China reportedly "bolster[ed] defenses along its 880-mile frontier with North Korea and realign[ed] forces in surrounding regions to prepare for a potential crisis across their border, including the possibility of a U.S. military strike."
These developments mean that China has an increasingly critical role to play on the Korean Peninsula. Both Seoul and Washington must take Beijing's foreign policy and security strategies into account, and the ROK is likely to feel pressure to maintain productive relations with China even as it continues to rely on the United States as its closest and most critical foreign relationship.
The ROK's former Defense Attaché to the United States (with whom I worked closely in the Pentagon) wrote convincingly about the looming importance of China for the U.S.-ROK Alliance. He describes China as a vast mountain that has been hidden by the North Korean boulder, and argues that Chinese and South Korean interests are likely to conflict even if the North Korean threat is removed. He assesses that South Korea will not have the resources to resist Chinese coercion on its own, and therefore should turn to the U.S.-ROK Alliance for support – even though Washington and Seoul may have differing assessments of China and the challenge it represents.
China Policy Coordination
Considering China's significance to the Korean Peninsula, Seoul and Washington should enhance bilateral discussions about China within the U.S.-ROK alliance by establishing a regular dialogue mechanism that enables the two allies to share their respective assessments, experiences, and policies related to China. Doing so would help Korea address the substantive challenges and opportunities posed by China's rise. Moreover, this would allow leaders in Seoul to remain aligned, or at least aware, of key U.S. priorities.
The creation of this mechanism would not be an effort to convince one ally to align its views on China with the other, but rather to help inform both Seoul and Washington about how the other views China and the role it plays in the Indo-Pacific. As discussions mature, allies may identify opportunities for policy coordination, or even cooperation, on a variety of issues related to China. Moreover, even though the dialogue mechanism may operate within the alliance, it should not be exclusively – or even primarily – focused on military affairs. Rather, it should provide a comprehensive review of China's economic, political, and military role on the Korean Peninsula and their impact on the ROK, United States, and interests of the alliance.
For example, such a mechanism would have been useful in the fallout of the alliance decision to deploy the Terminal High Altitude Area Defense (THAAD) missile system to Korea. China vociferously opposed the deployment and implemented unofficial economic sanctions against South Korea that cost billions of dollars. With a China consultation mechanism in place, the United States and ROK could have better anticipated China's reaction, understood the implications of this response, and considered policy options.
Similarly, the United States and ROK could share information and coordinate policies related to the ongoing U.S.-China trade war. Considering the close economic relationship both allies have with China, a specific mechanism to share ideas, plans, and concerns would be an especially effective way to enhance the effectiveness of both nation's policies while giving each side the opportunity to reassure the other of their strategic intentions and calculations.
Conclusion
For decades, the U.S.-ROK alliance has understandably focused on the threat posed by North Korea. Though that threat remains, the growing geopolitical significance of China demands that the alliance adopt a wider strategic aperture. The United States and ROK need not see China in the same way, and their policies do not always need to exactly match. Yet dialogue about China, at the very minimum, is becoming a strategic imperative for the alliance. Washington and Seoul can no longer focus only on the near-term challenge; the larger, long-term challenge on the horizon demands deep and regular consideration.