The U.S. Should Not Designate Nigeria's IPOB a Terrorist Group
The U.S. government should not repeat the mistake made by the Nigerian government of designating the Indigenous People of Biafra (IPOB) as a terrorist group.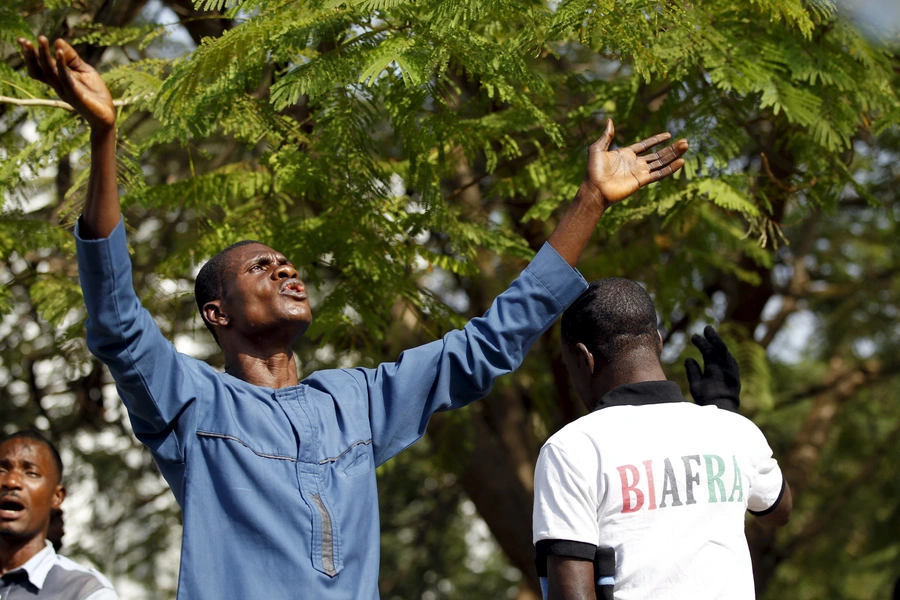 In October, an American scholar argued in a Washington Times op-ed that the United States should designate the Indigenous People of Biafra (IPOB), a secessionist group in Nigeria's South East region, as a terrorist group. To the casual onlooker, this could seem logical: IPOB has long been proscribed as a terrorist group by Nigeria's government, and it reportedly boasts a 50,000-strong army. But doing so would be a mistake that risks causing a massive human rights crisis in Nigeria and West Africa.
Were the United States to designate IPOB as a Foreign Terrorist Organization (FTO), it would do so based on criteria laid out in section 219 of the Immigration and Nationality Act. An essential criterion is that an FTO "threaten the security of U.S. nationals or the national security (national defense, foreign relations, or the economic interests) of the United States." IPOB, its current form, does not meet such parameters, and as such should not be designated by the United States.
To start, claims that IPOB has raised an army of 50,000 militants are implausible. In June 2021, a Nigerian news outlet reported the claim, quoting an unnamed military source who gave the figure as justification for a military offensive against IPOB in the South East. But an army of such strength cannot be hidden in the geographically small South East region and, if IPOB had such an army, the death toll from clashes with the military—which remains stationed in the South East—would have risen exponentially. At present, IPOB primarily relies upon shifting coalitions of local gangs, vigilante groups, and lightly armed supporters, numbering less than 5,000 at best. These "fighters" are better suited to isolated attacks on police stations and security checkpoints than to serving as an organized fighting force.
In October 2020, multiple UN Special Rapporteurs argued that the proscription of IPOB infringes on Biafra supporters' right to association and political expression. Even so, pro-Biafra sentiment is larger than—and should be seen as distinct from—IPOB and its leader Nnamdi Kanu. Biafra was the name of the breakaway state that seceded from Nigeria in 1967, only to be reincorporated into Nigeria in 1970 after its defeat in the Nigerian Civil War. But the Biafran name is still used—primarily by the Igbo, Nigeria's third largest ethnic group—to call for self-determination and respect. The name has become an Igbo cultural symbol, as can be seen in the regeneration of other Biafran movements such as Movement for the Actualization of the Sovereign State of Biafra (MASSOB) and the Biafran Zionist Movement. As long as they remain nonviolent, Biafran groups are legitimate expressions by a people that feels marginalized and wrongly treated by the Nigerian government.
Designating IPOB as a terrorist organization would embolden the Nigerian military, an institution with a terrible human rights record, to tar every Igbo person with the same brush as Kanu and his foot soldiers—a likely precursor to more atrocities being committed in the South East. Already, Nigeria's military has been accused of extrajudicial killings and forced disappearances; a prominent Nollywood actor was recently arrested for dressing up in clothes made out of the Biafran flag. This ruthless crackdown only worsens feelings of political marginalization that led to Biafran agitations in the first place. Furthermore, President Muhammadu Buhari has ramped up anti-Igbo rhetoric while in office, which IPOB continues to leverage to its advantage.
The upsurge in Biafran separatism and the government's response call for international concern, especially in West Africa. A full-blown insurgency in the South East would further test Nigeria's struggling democracy, which is supposed to elect President Buhari's successor next year. As West Africa faces a resurgence of coups, reinvigorated Nigerian democracy is sorely needed: Nigerian diplomacy under President Olusegun Obasanjo was crucial to pushing back on West African "coup culture." And a refugee crisis, a byproduct of any insurgency, is the last thing the region needs. Already, hundreds of thousands have been displaced by Anglophone separatists in nearby southwest Cameroon in what is considered the world's most neglected refugee crisis. Cooperation between Biafran and Anglophone separatists is worrying; a convergence of refugee crises would be disastrous.
The United States should focus its policy response on pushing the Nigerian government to adopt non-military means of addressing Igbo grievances. The federal government could be more equitable in its official appointments and investments in infrastructure. Yet even more important is the trial of Nnamdi Kanu. After Kanu was apparently abducted in Kenya and whisked back to Nigeria to face charges of terrorism and treason, he was denied access to his lawyers and journalists were kept from covering his trial. Signs that the government is not willing to conduct the trial in a transparent manner—and the recent addition of new charges—will only seem to legitimize IPOB propaganda that Kanu is being persecuted. A U.S. designation of IPOB, if anything, hands the group another ethnically targeted injustice to exploit collective grievances and encourage violence.
Attribution: Nkasi Wodu, a senior New Voices fellow at the Aspen Institute, is a lawyer, peacebuilding practitioner, and scholar of Global Governance and Human Security at the University of Massachusetts, Boston.