Vietnam: A Successful Battle Against the Virus
The country has kept its number of cases relatively low by reacting immediately, decisively, and with a degree of severity.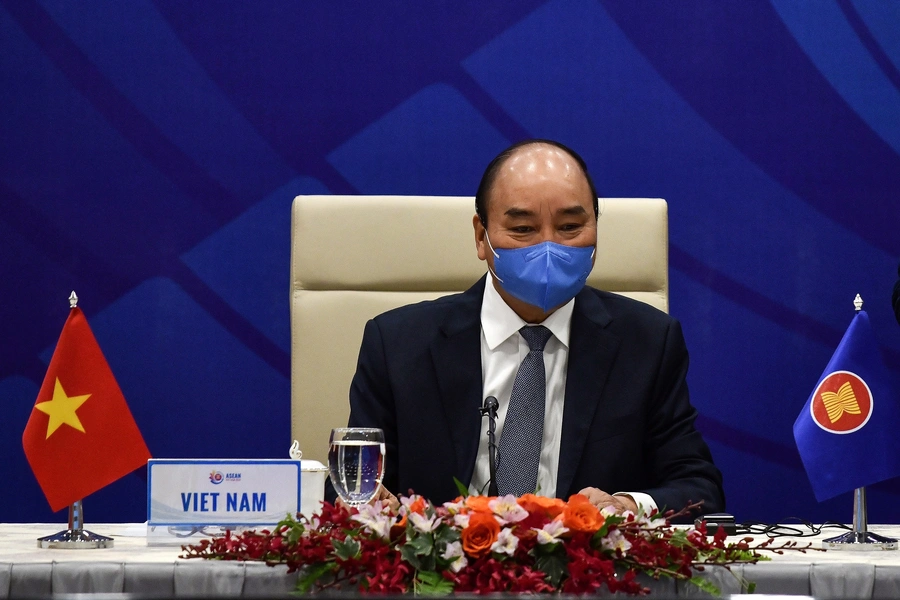 This post is part of a series from Asia Unbound. The post is authored by Huong Le Thu, senior analyst at the Australian Strategic Policy Institute. 
Vietnam's response to COVID-19 has been formidable, with reportedly zero deaths and under three hundred cases of COVID-19 nationwide, in a country of nearly one hundred million people. (To be fair, Vietnam is a one-party state, so naturally there would be doubts and questions about its reporting, but public health experts seem to believe its reporting.) With so few cases, and reportedly very few new cases, Vietnam eased its nationwide lockdown last week, making it one of the first countries to take this step.
Its response is especially impressive, given that it is a lower middle-income country, poorer than neighbors like Indonesia and the Philippines. Those countries face expanding outbreaks and do not seem to have gotten control on domestic transmission. Vietnam has a modest budget for health care and broader public health measures and cannot test as many people as wealthier countries. Vietnam also shares a border with China, where the pandemic originated, and Vietnam's economy is closely linked with that of China. Vietnam also was one the first countries to have a confirmed COVID-19 case outside of China.
How has Vietnam done it? Chastened by its experience with SARS, which hit China, Hong Kong, and Southeast Asia hard in 2003, Hanoi learned from SARS that it had to react quickly to any disease outbreaks and take tough initial measures. (Vietnam was the first country to successfully contain SARS.) So, with COVID-19, the Vietnamese authorities have reacted immediately, decisively, and with a degree of severity that proved to be a good judgment, albeit one that may not be replicable in freer countries.
For one, political leaders have emphasized solidarity in combating COVID-19. Prime Minister Nguyen Xuan Phuc has spoken about the virus as an enemy that the entire nation must unite to fight, talking about COVID-19 like a battle. Within Vietnam, it has become a matter of patriotism to wash one's hands and stay home—a message that has been successfully communicated through various forms of popular art and propaganda about COVID-19.
Vietnam also implemented tough controls on travel and on people who were potentially infected, very early on in the crisis, as other Southeast Asian states dithered; it also was quick to put lockdowns into place. Since the middle of February, Hanoi has been quarantining anyone coming into the country for fourteen days, and it stopped Chinese tour groups as well as direct business travel to and from China. It eventually closed all international flights on March 20, after a new wave of infections from European arrivals to Vietnam.
Vietnam also has used effective tracing methods, from much earlier on in the pandemic that many other countries. It has mobilized huge numbers of people to serve as tracers, making it possible to track down all or nearly all the contacts of infected people, and then to track down the contacts of those contacts, to ensure the virus did not spread. The fact that Vietnam has a pervasive security state, and can enlist the armed forces (as well as large numbers of civilians) makes it easier for Hanoi to do this kind of public health surveillance.
Government's competent leadership, and reliance on public health experts to guide it, has been the key factor in Vietnam's success so far, but the pandemic also has triggered a wave of impromptu domestic innovation. A Ho Chi Minh City-based businessperson invented rice "ATMs" to distribute rice to those in need, during the pandemic, while minimizing physical contact. Local hospitals and other scientists have invented affordable rapid testing kits.
As it seems to have gotten the virus under control, and is gradually easing social distancing restrictions, Vietnam is already thinking of the life after COVID-19, including scaling up production and export of masks and other forms of personal protective equipment (PPE). Vietnam, in fact, is exporting PPE to developed states.
The moment when developed states received COVID-19 tests, masks and other protective equipment made in Vietnam must have struck many who remember the war-torn impoverished country. How much the times have changed. April 30 marks the forty-fifth anniversary of Vietnamese forces takeover of Ho Chi Minh City, then Saigon. Vietnam emerged from the war, and the period after it, as one of the poorest countries in Asia. Now, it is exporting PPE and offering financial aid to countries like Romania.
Crises make or break leadership. COVID-19 could have curtailed Hanoi's foreign policy agenda and undermined its security, but the pandemic thus far has only strengthened Vietnam's international positioning and reputation, and boosted public confidence in the government. Crisis response during the pandemic has probably strengthened the legitimacy of the Vietnamese regime. The next challenges it faces will relate to longer-term economic recovery.