What Did Prime Minister Modi's State Visit Achieve?
Modi's state visit led to positive outcomes for both India and the United States, demonstrating how important the bilateral relationship has become to the two countries.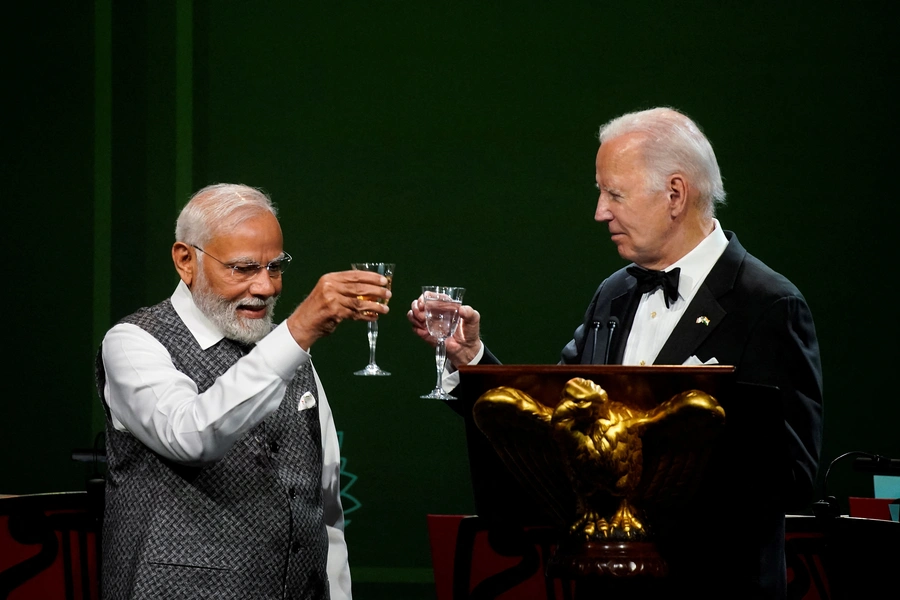 Last week Indian Prime Minister Narendra Modi completed a four-day state visit to the United States. Modi was not only feted with a welcome ceremony and state dinner, but was also invited to address Congress for the second time during his prime ministership. These high-profile events were intended to reflect the two countries' shared commitment to peace and prosperity in the Indo-Pacific region and signify that the United States sees India as a critical partner. Judging by the attention paid to Modi's arrival and the deals announced, both countries came away with winning outcomes, singly and jointly.
For India, the honors bestowed on Modi—a man who just a few years ago was denied entry to the United States for his role in the 2002 communal riots in Gujarat—showed to the world that far from being a pariah, he is now the powerful and accepted leader of a valued partner country. The United States also offered concrete wins. The Biden administration promised to help India increase production of electric vehicles and meet its goal of installing 500 gigawatts of wind, solar, and other renewable energy this decade. U.S. memory chip firm Micron Technology will invest up to $825 million in a new chip assembly and test plant in Gujarat, which will be its first factory in India. On immigration, which has been a thorny issue, the United States agreed to allow a small number of Indians on H-1B visas to renew them in the United States without traveling abroad.
The United States too made symbolic and material gains. In terms of symbolic wins, the United States was able to showcase its close partnership with India—a country that also shares its deep anxiety about the specter of a rising China—and highlight the exchange of effusive warm statements between President Biden and Prime Minister Modi a mere two days after the former labelled President of China Xi Jinping a "dictator." There were also material wins. Indian solar panel maker Vikram Solar Limited will invest up to $1.5 billion in the U.S. solar energy supply chain. India has also agreed to join the U.S.-led Artemis Accords on space exploration and will work with NASA on a joint mission to the International Space Station in 2024. In a huge political win for the Biden administration, India will remove retaliatory tariffs imposed on U.S. products such as chickpeas and apples without the expectation that the United States will remove its own tariffs on steel and aluminum imports that had initially led to these retaliatory tariffs.
Perhaps most importantly, both countries scored wins in their defense and strategic partnership. U.S. company General Electric has signed a memorandum of understanding with Hindustan Aeronautics Limited to produce fighter jet engines for the Indian Air Force. While the deal is subject to congressional approval, this is a huge step both for India, which can domestically manufacture fighter jets but not the engines to power them, and for the United States, which is very choosy about the sharing of military technology. Moreover, India's defense ministry has approved the purchase of armed MQ-9B SeaGuardian drones (a type of Predator drone) made by General Atomics, which will enhance the intelligence, surveillance, and reconnaissance capabilities of India's armed forces across domains. Currently, only some U.S. allies own Predator drones. The two countries also established a Joint Indo-U.S. Quantum Coordination Mechanism to facilitate joint research between public and private sectors and launched the INDUS-X partnership to expand their strategic technology and defense industrial cooperation. India also agreed to join the Minerals Security Partnership (MSP), a U.S.-led partnership with twelve other countries plus the European Union, to create critical energy minerals supply chains.
Finally, and significantly, Prime Minister Modi was also persuaded to take two questions in a joint press conference with President Biden. Although the two leaders sidestepped public critique and offered awkward answers to a U.S. reporter's question about democracy and human rights (the less-loaded second question from an Indian reporter was about climate change), the fact that Modi, who has not held a press conference in nearly a decade, agreed to respond to reporters at all was a further indication of how important the bilateral relationship has become for both nations.