What to Expect at India's G20 Summit
The G20 Leaders' Summit presents host India with a risk and an opportunity as it seeks to balance geopolitical tensions while trying to bolster its role as a voice for the Global South.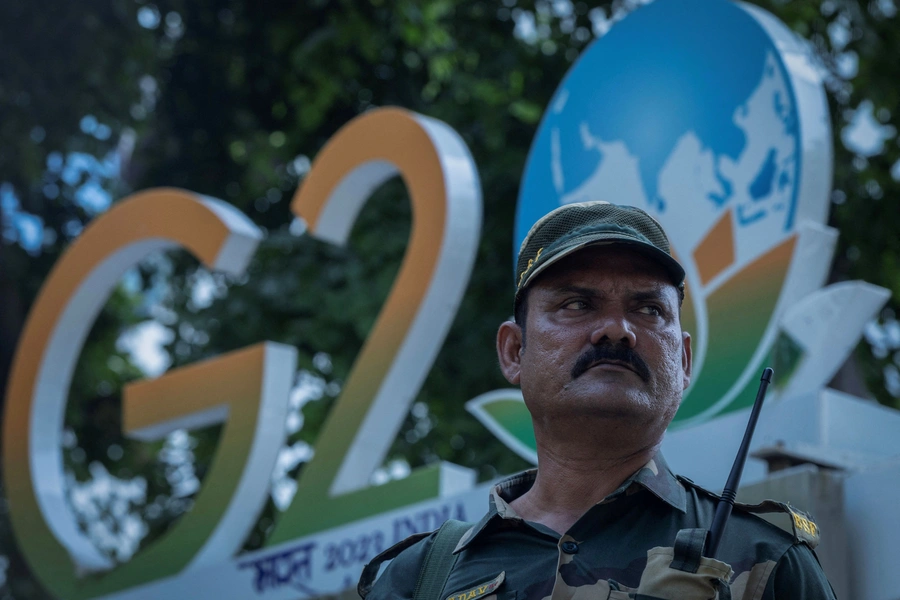 On September 9, members of the Group of 20 (G20), an intergovernmental forum of the world's largest economies that aims to address issues related to the global economy, will gather in New Delhi for their annual Leaders' Summit. As this year's G20 president and host, Indian Prime Minister Narendra Modi has been cannily using the events leading up to the summit both to promote India's position on the world stage and to increase his own domestic clout. Furthermore, Modi sees the G20 presidency as an opportunity to showcase India's credentials as a bridge between Global South countries and the West. The summit will therefore be the capstone to India's chairmanship this past year. But what is the G20, why is this year's summit important, and what should we expect from New Delhi?
The G20 was founded in 1999 in response to the Asian Financial Crisis. The crisis triggered the already-established Group of Seven (G7) to create a dialogue with other major economic powers that would address global economic challenges. The grouping initially began with 22 members in 1997, grew briefly to 33 in early 1999, and then assumed its final form comprised of 19 countries and the European Union in September of that year. Together, member nations now form about 80 percent of the world's economic output.
During the 2008 financial crisis, the G20 emerged as an institution that facilitated crucial cooperation between the central banks and finance ministers of member countries. Since then, the grouping has had limited success in accomplishing broad policy objectives such as trade liberalization, but more success in implementing microeconomic changes like strengthening domestic financial systems and combatting terrorist financing.
The G20 has been particularly interesting to watch this year. To begin with, Indian Prime Minister Narendra Modi has engaged in an extremely effective year-long marketing scheme of India's G20 presidency. Rather than treat the rotating and typically staid presidency as routine, Modi and his party, the ruling Bharatiya Janata Party (BJP), have used the position to showcase that India is now a global power with Modi at the helm. There were over 200 meetings planned in 56 cities; posters advertising the G20 alongside giant portraits of Modi's face were spread throughout the country; and mass education campaigns on India's presidency permeated the schools, including essay writing competitions and even courses offering certificates on G20 literacy. A U.S. official told me recently that he wished the United States had had the foresight to create this kind of buzz during its own chairmanship.
India has long-established ties to developing nations and more recently has been rapidly strengthening its partnerships with Western nations such as France, Australia, and the United States. Thus, it has used the G20 as a platform to advocate for itself as a voice for the Global South that is capable of playing a bridging role to convey needs of the developing world to Western leaders. Issues of interest to emerging economies have, consequently, populated the agenda. Agenda items focusing on development include climate financing, food security, and multilateral development bank reforms—for example, tripling sustainable lending to benefit poorer, developing countries. Moreover, India is proposing, apparently with German support, to give full G20 membership to all 55 African Union states.
But how successful next week's final summit will be remains to be seen. Will there be agreement on issues that India has been championing: boosting global trade by shoring up and mapping supply chains; forwarding the green development pact, which includes not just climate finance but also accessible digital public infrastructure and augmenting renewable energy sources; and improving sustainable agriculture and food security?
A large shadow looming over the G20 and complicating India's efforts is the war in Ukraine. Russia recently suspended participation in the Black Sea Grain Initiative, contributing to food insecurity and increasing worries among G20 developing countries. When the G20 finance ministers summit earlier this year proposed paragraphs that stated the Ukraine conflict was causing "immense human suffering" and "exacerbating existing fragilities in the global economy," China and Russia blocked them. Subsequently, no consensus statement was reached and only a Chair's summary of the meeting was issued.
It seems increasingly unlikely that India will be able to tread a delicate line and cajole G20 members into producing a consensus or joint communique at the summit. Russian President Vladimir Putin has already called Modi to inform him that he will not be attending due to Russia's "special military operation" in Ukraine—Russian Foreign Minister Sergey Lavrov will be attending in his place. Modi himself is not likely to be vocal about the war: India continues to buy cheap Russian oil and coal as well as rely on Russian weaponry and is continually worried about the growing closeness between China and Russia. India is thus hoping to avoid using the word "war" to describe the conflict in any official G20 pronouncement.
Meanwhile, France has already publicly refused to sign any joint statement that does not condemn Russia's invasion of Ukraine in the same way that the 2022 Bali statement did. The United States is looking for indications from India that dealing with the Russians will not be business as usual. President Biden is still planning to attend the summit, and after his administration went out of its way to publicly fete Prime Minister Modi during his visit to Washington this summer, the expectation of some reciprocity on India's part would not be out of place.
Complicating matters even more, China has indicated that Chinese President Xi Jinping, a regular G20 attendee, will not be present at this year's summit and that Chinese Premier Li Qiang will go in his stead. The summit was initially thought to present an opportunity for Modi and Xi to engage diplomatically. The two met briefly on the sidelines of the BRICS Summit in August, raising hopes that—given the need to lower the temperature on their ongoing border dispute—a one-on-one meeting would again take place on the fringes of the G20.
Thus, the G20 Leaders' Summit presents India with a risk and an opportunity. India will need to carefully navigate its existing partnerships in order to produce cooperation and any modicum of consensus on a diplomatic and development agenda that aligns with India's professed position as a mediator between the Global North and the Global South. If Modi can pull this off, it will certainly cement India's declared position. If not, India's claims may ring hollow in the future. After all, it is easier to achieve consensus in the absence of crisis. Doing so during conflict takes skillful leadership.