What Maneuvering Around the 2019 Elections Says About Indonesian Democracy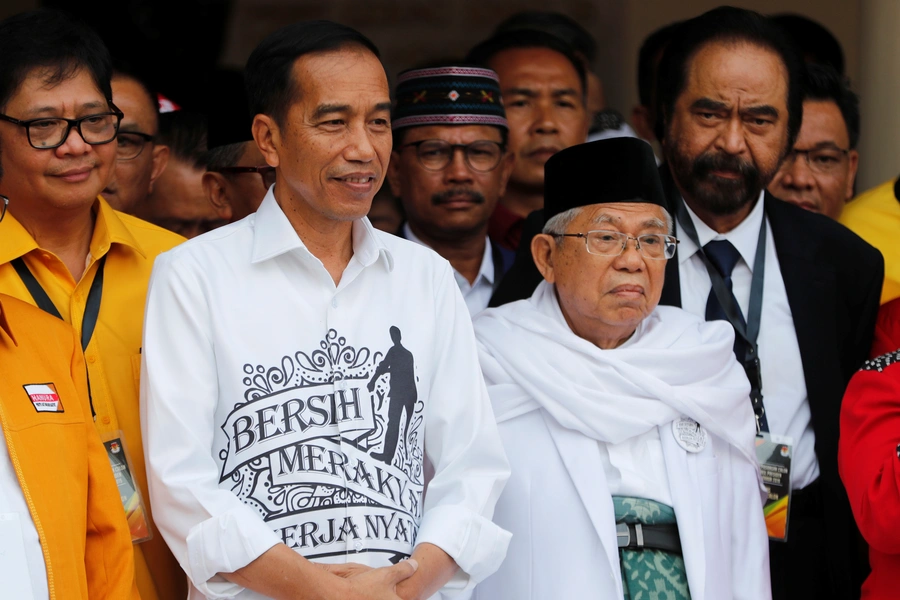 The past two weeks, both major contenders for the 2019 Indonesian presidential election took steps in advance of the contest next April, which almost surely will pit incumbent President Joko Widodo or Jokowi, against his rival from the last election, former lieutenant general and Gerindra party chief Prabowo Subianto. Jokowi picked his running mate, tapping Ma'ruf Amin, a cleric and head of Nahdlatul Ulama (NU), the mass movement that often claims it is the largest biggest Islamic organization in the world. Prabowo has chosen his running mate, the former deputy governor of Jakarta, Sandiaga Uno.

Jokowi is a heavy favorite; currently, most polls give him the lead over Prabowo, who was beaten decisively in 2014. Although Jokowi may not have lived up to his many promises from 2014—to clean up corruption, dramatically improve Indonesia's infrastructure, make government more "horizontal" and accountable to people, and promote rights and freedoms, among others—he retains a popular image as a down-to-earth politician. Jokowi also has fulfilled some of his promises to upgrade infrastructure and social welfare programs, and the economy has been growing by over 5 percent per year, though inequality remains stubbornly high. While democracy has regressed badly in recent years in much of Southeast Asia, from Cambodia's collapse into complete autocracy to the Philippines' turn toward illiberal populism, under Jokowi Indonesia has remained relatively free, despite some ominous political clouds that this presidential contest could exacerbate. Still, in June the country held peaceful—if relatively low-turnout—local and regional elections, with a wide range of offices up for grabs, a testimony to the massive decentralization process the country has undergone since the Suharto era.
Prabowo cannot be counted out, though; he is a savvy campaigner whose populist appeals have similarities to the campaign strategies of leaders like Philippine President Rodrigo Duterte. In the run-up to the election, political maneuvering by both Jokowi and Prabowo illustrate still-deep flaws in Indonesian democracy, and hint at the dangers to further political reforms. Jokowi could have picked a more qualified vice president; the current vice president, Jusuf Kalla, is a very seasoned politician who, in slightly different circumstances, could have been president himself. Jokowi reportedly was considering for the vice presidential post the highly respected and experienced finance minister, Sri Mulyani Indrawati, as well as Mahfud MD, a former head of the Constitutional Court and senior lawmaker. (Jusuf Kalla could not serve another term.)
 Instead, he picked a seventy-five-year old cleric who has relatively little legislative or executive experience, and who is less than a year younger than Jokowi's current vice president. More worryingly for Indonesia's democracy and history of secular government, although Jokowi's running mate headed up NU, which has built a reputation as a mainstream and moderate organization, he had become famous—or infamous—long before running NU for views that are relatively hardline and controversial. He has fanned flames of anger and official discrimination against religious minorities like Ahmadiyas, as well as against gay and lesbian Indonesians and other minorities.
Jokowi's vice presidential pick, then, clearly looks like a move by the Indonesian president to co-opt or head off increasingly vocal, and politically powerful Islamist groups. These groups have thrived in recent years, in part, as I noted earlier this year in a Council Special Report on Indonesia and the U.S.-Indonesia relationship, because of the country's political decentralization and growing social media landscape—decentralization has brought politics closer to people across the country, but Islamist groups also have proven capable organizers on local and regional levels.
In the 2017 Jakarta gubernatorial elections, Islamist groups, reportedly linked with Prabowo and Prabowo allies, used massive rallies and disinformation campaigns to turn public opinion against the then-incumbent Jakarta governor, Ahok, largely because of his Christian and Chinese background. By selecting Ma'ruf Amin, the president seems to be trying to launch a pre-emptive strike against powerful hardline groups, some of whom may respect Jokowi's vice presidential pick as one of them. (The cleric also notably can mobilize NU's tens of millions of members.) Even if some Islamists still do not consider the cleric hard-line enough, it now will become tougher for Islamist groups to attack Jokowi as un-Islamic, or at least not concerned enough about religious issues. Prabowo's campaign itself, in 2014, tried to cast doubt on Jokowi's commitment to Islamic issues, and the former lieutenant general certainly could have taken that tack again in this race.
But in picking the cleric, admittedly a move that could help Jokowi hold onto key blocks of religious and nationalist voters, Jokowi sets the stage for his own vice president to further inflame sentiments against minorities. Jokowi further suggests that his commitment to the liberal portion of liberal democracy—respect for the rule of law, equal protections, and the country's secular foundations—is weak.
Meanwhile, Prabowo has chosen as his vice president one of the richest politicians in the country, a man who also has little political experience—though his youth might be a winning contrast with Prabowo, who has been on the political scene for over two decades. Still, the fact that the former Jakarta deputy governor—he resigned the post this month to run as vice president—could potentially commit vast resources and fund-raising prowess to the presidential campaign likely was an enormous asset, in a country where campaign finance laws are ineffectual and vast sums are usually needed to run for higher office, to the detriment of democratic development.