Where Are the Women in Foreign Policy Today?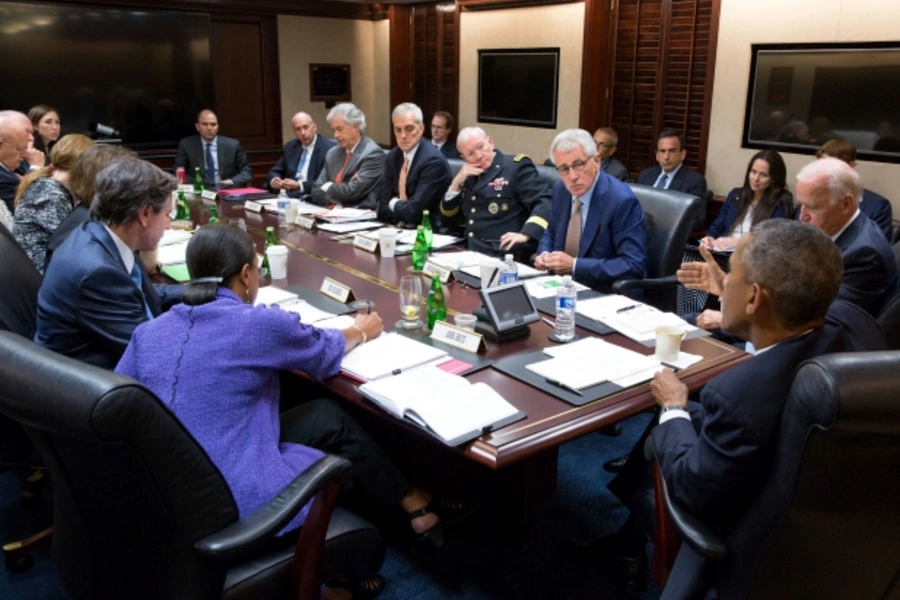 This blog post was coauthored with my research associate, Amelia M. Wolf.
If you follow the republican presidential race, you'll notice the feud brewing between candidates Donald Trump and Carly Fiorina. Remarking on Fiorina's capacity to be President, Trump said, "Look at that face! Would anyone vote for that?" Although Fiorina gave a cool-headed response by releasing an advertisement in which she says she is "proud of every year and every wrinkle," Trump further perpetuated his faux pas in last week's debate. "I think she's got a beautiful face and she's a beautiful woman."
As we argue in a ForeignPolicy.com article published today, "Leaning From Behind," it is gender-exclusive comments like Trump's that reinforce negative perceptions of, and harmful biases against, women. This subsequently limits their access to and empowerment in the foreign policy and national security worlds. Often times, women are defaulted to for "soft power" or "women's issues," and their expertise in other areas is subsequently disregarded, not sought out, or questioned. However, greater inclusion and empowerment of women in these fields would have significant benefits for effective policymaking, innovation, and combating gender-biases embedded in American culture.
Following up on research we published back in 2011, this piece looks at the current state of women in foreign policy and national security positions within the U.S. government. Unsurprisingly, the numbers are still poor—with women making up just 30 percent of State Department officials, 20 percent of senior Pentagon officials, 20 percent of Congressional members, and about 29 percent of congressional chiefs of staff.
Although benchmarks for women in government roles are important, the faces that the American public sees in the media have the strongest influence. We therefore gathered data from the top foreign policy think-tanks, which often supply the experts on political talk shows. As it turns out, women comprise just 24 percent of people working in policy-related positions at think-tanks, and 33 percent of total leadership staff. Since our analysis in 2011, the prevalence of women has increased by less than one percent annually.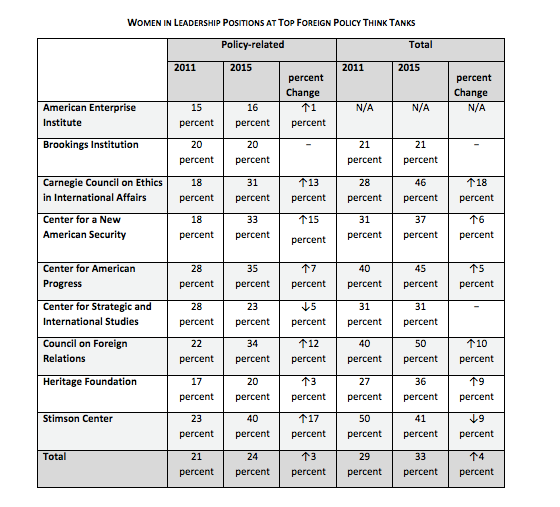 Worse, those experts who appear on televisions shows are overwhelmingly male. Men made up 75 percent of all guests and 87 percent of solo interviews on the top five Sunday morning political talk shows in 2014, and 75 percent of voices in the four major U.S. newspapers.
This matters because the foreign policy and national security communities are not only missing out on a wealth of expertise and alternative thinking, but also on proven benefits—from increased longevity of peace agreements, to lower levels of corruption, to greater economic competitiveness. Unconscious biases not only promote negative perceptions, but actually damage reputations. Importantly, the commentary on women in foreign policy is a double standard that is not applied to men, and perpetuates more broadly in American society.
Conveniently, our article also elaborates on what you—whether a government official, a think-tank expert, an editor, a producer, or just a daily news reader—can do to elevate the role of women and combat biases.
Read our article here: http://atfp.co/1KUIipV.