Who Controls the Tap? Addressing Water Security in Asia
The absence of a U.S. response to China's encroachment on Asia's rivers points to a failure to comprehend the regional implications of increased competition for water resources.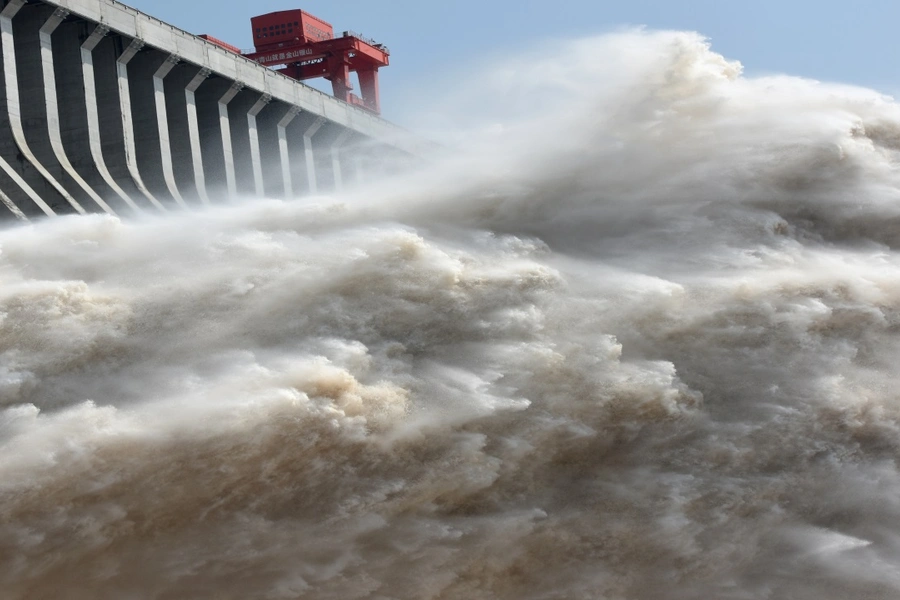 The following is a guest post from Sherri Goodman, senior fellow for the Environmental Change and Security Program and the Polar Initiative at the Wilson Center, and Zoe Dutton, intern at the Wilson Center. 
Growing global water scarcity threatens U.S. national security by undermining peace and stability around the world. Increased competition for water resources raises the stakes in regional power struggles, yet the United States' lackluster support for allies' water security points to a failure to comprehend this danger. 
Nowhere is the dynamic more apparent than in the absence of a U.S. response to China's encroachment on Asia's rivers. The future of the region's water—upon which about four billion people depend—rests almost entirely in China's hands. Through its presence in Tibet, China controls the headwaters of ten of the eleven major rivers of Asia. So far, China has taken a relatively cooperative approach to sharing water with its neighbors as part of the systematic consolidation of its "soft power" over downstream countries. But climate change and rapid growth are threatening to upset this delicate diplomatic balance. 
China faces serious constraints on, as well as deteriorating quality of, its water supply. These concerns have driven the development of dramatic water infrastructure projects, including the construction of a series of hydroelectric dams which have given China more control over the continent's rivers, with the added benefit of generating electricity. Chinese leadership has stated that its mega-dam projects will not encroach on the interests of downstream countries, but these infrastructure projects allow the Chinese government to bestow or withhold water as it sees fit, leaving downstream Chinese cities as well as other Asian countries vulnerable to Beijing's decisions. Within China's borders, the South-to-North Water Diversion Project, which plans to divert water from the Yangtze River to Chinese industry and cities in northern China, has thus far failed to address China's larger pollution problem and has effectively displaced more than 380,000 people. Regionally, Chinese hydroelectric dams along the Brahmaputra River, which flows through China, Bangladesh, and India, have become a source of friction with India, exacerbating long-simmering border disputes. China has also dammed and now controls the flow of the Mekong River, which flows through Cambodia, China, Myanmar, Laos, and Thailand; complaints about the Mekong have been muffled, partially because China has little to fear from these smaller countries.
While water is a source of soft power for China, it is also an existential concern. Right now, water is one more tool used in China's broader efforts to consolidate regional power. In ten years, when water has become even scarcer and demand is higher, the calculus will likely be less complex and even more ominous. While it might be in China's strategic interests to stay on friendly terms with its neighbors, the thirst of its own citizens will always come first.
China's pursuit of its strategic water interests could have far-ranging effects on stability and access to water for vulnerable populations across the region. Policymakers seeking to balance a rising China would do well to integrate this understanding into their management of U.S.-Sino relations. Japan, a critical U.S. ally in Asia, has repeatedly voiced its concern about diminished U.S. leadership on climate change. At a July 2018 conference held by the Japanese Ministry of Foreign Affairs, participants expressed concerns over the mixed signals from the United States and reliability of its support, and that U.S. withdrawal from leadership on climate issues could further erode U.S. influence in Asia. To prevent instability in the region, the United States will need to channel water security into key national security and foreign policy decision-making processes. 
The Senator Paul Simon Water for the World Act of 2014 mandated that the president of the United States issue a global water strategy in 2017. This strategy was the first of its kind in the U.S. government, and boosted the water activities of a number of agencies. Such steps are an encouraging start, but the United States must further include water security in its day-to-day diplomatic engagements as well as its long-term strategy if it is ever to permanently elevate water in global security arrangements. This means improving coordination between agencies, and capitalizing on the existing Interagency Water Working Group as an active vehicle for implementation. To enable such strategic direction on hydro-diplomacy, the president should establish a public-private Center for Water Conflict Prevention. This would mobilize a unified government approach while leveraging the private sector to harness the economic opportunities created. The proposed center would also align priorities and resources across multiple agencies with relevant missions in defense, development, diplomacy, intelligence, science, and technology. Its very establishment would create hope and potential opportunity for shifting the water-related balance of power in critical regions by using scientifically based diplomatic leverage in key regions. A U.S. Center for Water Conflict Prevention can also showcase areas where progress is being made in resolving conflicts in water-scarce regions and by attracting much needed investment capital, using information tools to reduce uncertainty and risk in decision processes.  
If left unchecked, the effects of climate change on Asia's water security could drive China's neighbors to align more closely with the country that controls the tap. This alignment could both undermine U.S. presence in the region and drive the region toward a multipolar leadership structure that favors China. Defense and security policymakers ignore the implications of water security in Asia at their peril.