Why Governance Matters in the Time of COVID-19
Transparency, accountability, and trust matter now more than ever.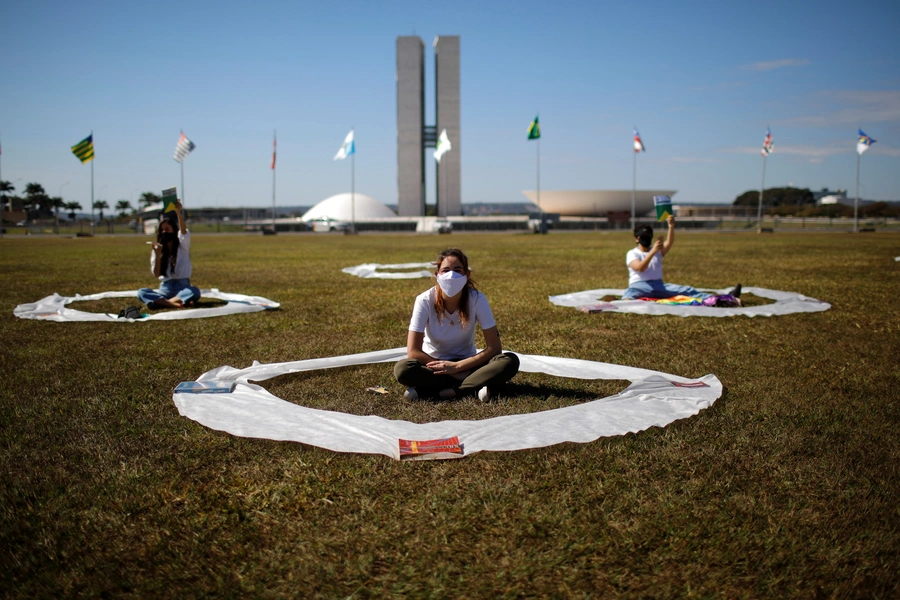 The following is a guest post by Michael Jarvis, executive director of the Transparency and Accountability Initiative.
As Latin America emerges as a global hotspot for the ongoing pandemic, we are witnessing a familiar trend. Columbia's Attorney General has announced that he is investigating fourteen governors and will charge ten mayors for fraud related to COVID-19 contracts. Brazil's government has launched investigations into more than four hundred emergency purchases made by government in the rush to prepare for the pandemic. Bolivian authorities have just arrested the nation's health minister.
Latin America is not unique. Authorities around the world are using the crisis as a pretext to enrich themselves or extend their power.
In Italy, a government contract that awarded an agricultural company, Biocrea, with a 32 million euro contract to produce face masks has prompted calls for an investigation. And in the United States, authorities have launched an investigation into a politically connected company, Blue Flame Medical, which won multi-million dollar contracts to deliver urgent medical supplies, but has not yet fulfilled those contracts. Last month, Kenyans took to tweeting "#money heists," after a government report revealed that the country used coronavirus funding from the World Bank to lease fifteen ambulances at inefficient rates, buy airtime despite the fact Safari.com had offered officials a free package, and spent nearly $40,000 on tea and snacks.
Hungary's government is just one of many to introduce gags on the media. The Philippines' leading broadcaster was forced off the air. Governments are delaying responses to information requests. These incidents come at a time when we can ill-afford disinformation campaigns that cloud the public's judgement about how to stay safe.
We do not yet know what medicinal cocktails can effectively combat the global coronavirus pandemic. But we do know what sort of governance is necessary. Governments with high accountability, transparency, and trust are proving to have more success responding credibly, responsibly, and effectively.
Those without this foundation may slide further away from democratic principles and human rights norms, see their precious resources and opportunities squandered, and watch as their citizenry disregard critical public health directives.
Governance, in other words, matters now more than ever.
Unfortunately, the current pandemic comes a time of rising authoritarianism and widespread threats to democracy and good governance, not least in Latin America. 
In light of these trends, the international response to the current pandemic should quickly pivot and expand beyond healthcare to include substantial investments in strengthening good governance and mitigating corruption risk.
Health crises often bring out snake oil salesmen, profiteers, and sticky fingers—even more so when trillions of dollars are being rapidly dispersed to respond to the crisis. As a report by U4 Anti-Corruption Resource Centre explains, "What we do know from previous epidemics and global crises is that they provide a perfect environment for corruption to flourish and that this guarantees further loss of life, depreciation in public trust, and dysfunction in society that persists much longer than the crisis itself."
Governments, civil society, and their partners have a wealth of tools at their disposal to help strengthen good governance and increase transparency and accountability.
The open contracting community has recommendations on how governments can implement protocols that allow them to buy the emergency equipment they need fast and fairly. The Open Government Partnership has a list of 200+ crowd-sourced examples and a guide for open government reformers looking for practical ideas, tools, and resources to help strengthen governance during the crisis.
Businesses can commit to fair dealing, exhibiting transparency and accountability themselves.
Around the world, civil society organizations are adapting to new roles, from creating mutual aid networks to tracking crisis related regulations to defending government whistleblowers. The Accountability Lab is debunking rumors and validating coronavirus information for citizens. Fact-checking journalists from over seventy countries are monitoring pandemic responses and flagging abuses.
Funders must support this critical work. Given the high stakes and the global nature of this challenge, the members of my organization, the Transparency and Accountability Initiative, are adopting a new strategy to strengthen trust and good governance across sectors and regions—including Latin America. A growing list of funders—including the Ford Foundation, William and Flora Hewlett Foundation, MacArthur Foundation, Open Society Foundations, Chandler Foundation, Luminate, and UK Department for International Development (set to merge into a combined Foreign, Commonwealth and Development Office in September)—has joined the initiative.
It has never been more important for the public to be well-informed and empowered to hold their government accountable. We can keep governments honest, make our public health dollars stretch further, assure data-driven responses, and save lives.
Together, we must ensure that transparency, accountability, and civil society are not among the victims of today's pandemic.