Will China's Reliance on Taiwanese Chips Prevent a War?
U.S. reliance on Taiwanese chips gives it a major stake in preserving peace in the Taiwan Strait but does not make a war between China and Taiwan less likely.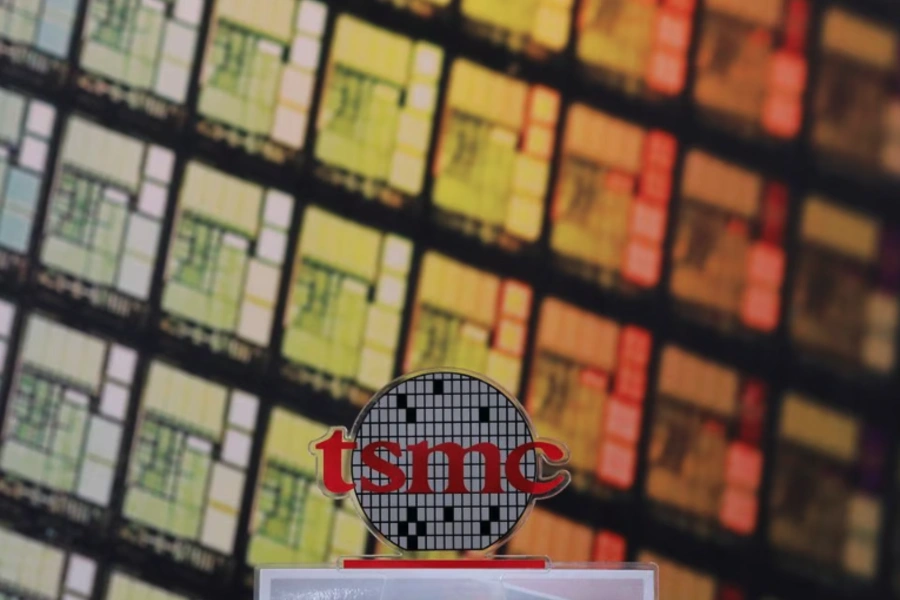 Semiconductors enable modern life by providing the computing power for everything from phones to cars, televisions, washing machines, and microwaves. Although these small chips were invented in the United States, the world's leading chips are still designed domestically, and U.S. companies continue to produce specialized tools needed to manufacture semiconductors, Taiwan occupies a dominant position in semiconductor manufacturing. 
As our recent CFR-sponsored Independent Task Force report on Taiwan explains, it is difficult to overstate the critical role that Taiwan plays in the global semiconductor market. Taiwanese companies hold a 68 percent market share in the manufacture of semiconductors. Taiwan Semiconductor Manufacturing Company (TSMC) is the world's largest contract chipmaker and produces around 90 percent of the world's leading-edge semiconductors that are used for artificial intelligence (AI) and quantum computing applications. No other company can produce chips at scale as sophisticated as those manufactured by TSMC. 
While Taiwan has consolidated a leading position in the production of semiconductors, U.S. companies have largely exited this market. U.S. fabrication facilities (or "fabs" in industry speak) produced 37 percent of the world's chips in 1990 but only 13 percent by 2010. As a result, the United States is highly reliant on semiconductors produced in Taiwan (and to a far lesser extent South Korea). For instance, Apple's most advanced semiconductors, which contain billions of transistors, can only be produced in a single building within TSMC's sprawling campus in Taiwan. 
China, for its part, has spent billions of dollars trying to catch up to Taiwan but has struggled to produce a serious competitor. Despite explicitly setting a target of reaching 40 percent self-sufficiency in chips by 2020 and 70 percent by 2025, China reportedly has a self-sufficiency that is closer to 16 percent and still imports over $400 billion worth of semiconductors. 
Export controls imposed by the Biden administration in 2022 are likely to hamper China's efforts to build an indigenous chip industry. These measures place severe restrictions on the ability of both U.S. and foreign companies to sell advanced chips and equipment used to manufacture them to China and bar U.S. persons from providing services to Chinese semiconductor firms. China's semiconductor firms remain reliant on foreign technology and equipment, which are almost entirely produced by the United States or its close allies and are covered by U.S. restrictions. The United States is reportedly considering further tightening export controls to place additional limits on China's access to critical technologies. 
Will chips prevent a war? 
With China struggling to replicate Taiwan's success in semiconductor manufacturing, some argue that Beijing could be tempted to use force against Taiwan because seizing these foundries could immediately solve China's domestic chip production problem. China's desire to achieve unification with Taiwan, however, predates the semiconductor industry and should not be ascribed to the latter's chipmaking prowess. In addition, even if China seized Taiwan, it would be incapable of operating Taiwan's fabs. These facilities require continued access to U.S. and allied technologies and equipment to function, and the United States would presumably refuse to provide any support to China in this case. 
Some analysts take the opposite stance, arguing that China's reliance on chips manufactured in Taiwan is so great that it makes an attack less likely, as destruction or inoperability of Taiwan's foundries would devastate China's economy. While Taiwan's dominance of semiconductor production acts as a brake to hostilities by raising the cost to China of using force, it does not diminish China's desire to gain control over Taiwan and is unlikely to act as a "silicon shield." Rather, China's interest in ensuring that unification can occur at some point in the future outweighs such economic considerations. Thus, if Taiwan were to formally declare independence, China would almost certainly attack regardless of the economic fallout, having accepted the enormous cost of doing so.  
While it is debatable what, if any, role Taiwan's semiconductor manufacturing prowess plays in deterrence, what is not debatable is how devastating an attack on Taiwan would be for the global economy. A Chinese blockade or invasion of Taiwan would force supply chains around the world to grind to a halt, shaving trillions of dollars off economic output and plunging the world into an economic depression. Many of the biggest U.S. companies, from Apple to General Motors, would struggle to produce anything, and replacing lost Taiwanese capacity would take years. 
What can and should the United States do? 
The potential economic fallout of a Chinese attack on Taiwan underscores the importance of maintaining peace and stability in the Taiwan Strait and increasing the resiliency of this critical supply chain. To that end, last year Congress passed the CHIPS and Science Act, which provides $52.7 billion to jumpstart domestic semiconductor manufacturing, research and development, and workforce development. Since 2020, more than three dozen U.S. companies, including industry giants Intel and Micron Technology, have pledged to invest nearly $200 billion in semiconductor manufacturing in the United States. In addition, with significant U.S. encouragement, TSMC committed to building a semiconductor manufacturing facility in Arizona and later tripled its planned investment to $40 billion and added a second facility. 
This is a good start, but these bets will only pay off if the United States pursues complementary policies that enable semiconductor companies to succeed in the United States. This means reforming immigration policies to attract and retain engineers, providing more federal funding for basic research and development, and backing educational initiatives that train the types of workers that are needed to operate these fabs. 
The United States will need to focus not just on attracting the fabs themselves but on building a supporting ecosystem of suppliers that provide critical inputs such as specialized gases. It will also need to undertake significant statutory, regulatory, and permitting reform while thinking more broadly about which companies should be entitled to CHIPS funds. 
Even if the United States is able to reshore some semiconductor manufacturing, it will likely continue to rely on Taiwan for decades for its computing needs. Companies with billions of dollars at their disposal have thus far failed to catch TSMC, which continues to invest over $30 billion annually into its business. TSMC has also stated it has no intention of moving research and development or its most advanced chipmaking capabilities from Taiwan. As a result, the United States will continue to have a massive economic, as well as a strategic, stake in preserving peace in the Taiwan Strait. 
To learn more about Taiwan's role in the semiconductor industry and U.S.-Taiwan relations, read the full Task Force report from the Council on Foreign Relations, U.S.-Taiwan Relations in a New Era: Responding to a More Assertive China.
For more background on this topic, listen to David Sacks on CFR podcast Why It Matters:
A small island one hundred miles off the coast of China could be the flashpoint that determines the future of great-power competition. Experts increasingly warn that a Chinese invasion of Taiwan would be globally catastrophic, regardless of its success or if the United States intervenes. How concerned should Americans be?
July 12, 2023 — 36:09 min