A Woman on the Moon and Equality on Earth
As we approach the 50th anniversary of the Apollo 11 moon landing and push toward a new frontier in space exploration, it is time to ensure women are equal partners in STEM and space.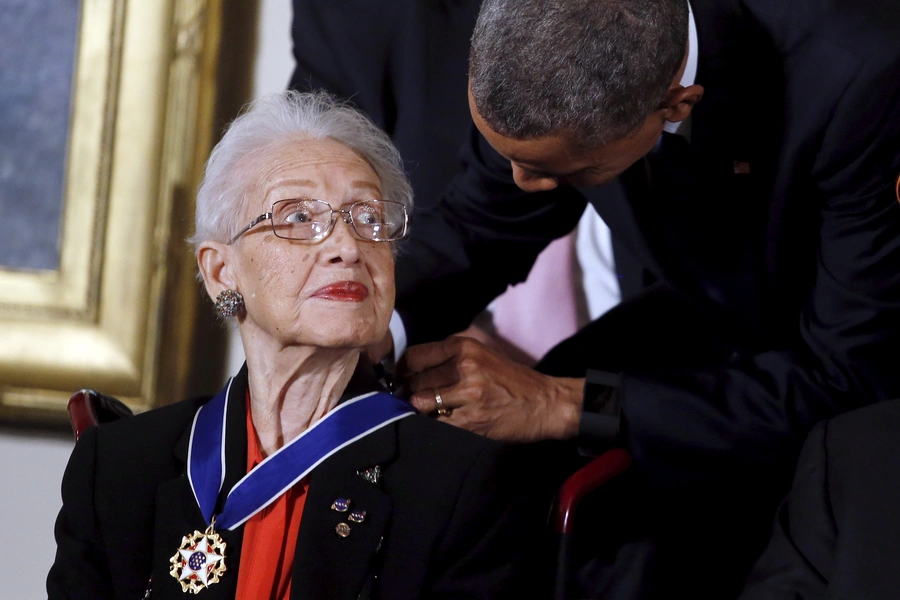 The following is a guest post by Rebecca Hughes, research associate, Women and Foreign Policy program, and Rebecca Turkington, assistant director, Women and Foreign Policy program, at the Council on Foreign Relations.
This Sunday marks the 50th anniversary of the Apollo 11 moon landing, not only a crowning scientific achievement of the 20th century, but a critical milestone in American foreign policy.
Neil Armstrong's "giant leap for mankind" was the most watched event in television history, and projected American power, ingenuity, and culture to a global audience. Though women remained invisible in the iconic images of the Mercury Seven astronauts and in the mission control room, they contributed in innumerable ways to the immense feat of engineering that made the landing possible, and to the public diplomacy efforts that boosted an image of the American way during the Cold War. 
Scientific Underpinnings
In archival photos of the firing room at the Kennedy Space Center during the moon landing, only a single woman is present—a break in a wall of button-up shirts and ties. This was JoAnn Morgan, the mission's instrumentation controller, who later became the Space Center's first female executive. Though few are as visible in historical images, thousands of women were working on the Apollo missions for NASA in the 1960s. Behind the scenes, they contributed to wide-ranging projects as chemists, coders, mathematicians, technicians, and even welders. 
For years, all-female calculating teams provided the mathematical computations for everything from rocket trajectories to propellants and engine performance. As NASA began using computers, women textile workers at Raytheon manually hardwired the code into copper ring and wire "core ropes." Much of the code they meticulously translated into hardware was written by Margaret Hamilton, who directed the team in charge of the onboard flight software. Hamilton's software allowed the Lunar Module computer to override the alarms that nearly derailed its landing, ensuring a safe return. Katharine Johnson—whose career was immortalized in 'Hidden Figures'—worked on the calculations that synched Project Apollo's Lunar Lander with the moon-orbiting Command and Service Module. A more tangible contribution came from Margaret Brennecke, who joined NASA as a welding expert and helped determine the materials used for the Saturn V rocket, as well as crafting its cryogenic fuel tanks. Many of these pioneering women had decades-long careers with NASA, and continued to break barriers as they rose through the ranks.  
Astronauts and Astrowives as Ambassadors 
While some women were hidden during the space race, others were thrust into the limelight. Women were critical to NASA's public relations campaign and the U.S. government's ability to project strength, prosperity, and stability during the Cold War. 
At a press conference in Washington, DC on April 9, 1951, NASA introduced the Mercury Seven, America's first class of astronauts, to the world. The seven men selected were all military pilots, former eagle scouts, and reportedly possessed genius-level intellects. They were instant celebrities—the press photographed them tinkering with their corvettes and sailing with their children, and the public embraced them as models of courage, integrity, and manliness. The Mercury Seven were not only expected to be astronauts, they were also conscripted to serve as ambassadors of the American way.  
If the astronauts were proof of American masculinity, then their wives were offered up as what international relations theorist Cynthia Enloe terms, "models of self-sacrificing feminized patriotism." NASA enlisted Life magazine to the tune of $500,000 to showcase the "proud, thrilled, and happy" astronaut wives. The magazine was given exclusive access to the women and their families and reporters were embedded in their homes. The wives were given family cars, instructed to cook breakfast for their husbands, and advised to get dogs. The State Department organized a world tour for the astronaut families, and the crew and their wives traveled to 24 countries in an effort to showcase American democracy and culture. Piece by painstaking piece, an image of the all-American family was constructed and the wives were expected to maintain it. 
Women as Astronauts? A History of Exclusion
Despite the prominent public face of the astronauts' wives, there were no women among Apollo crew members, or indeed any of the astronauts selected by NASA for Project Mercury. The 508 initial candidates were drawn from a pool of active duty military test pilots—an unattainable qualification for women, who were still barred from Air Force training schools.
Though women were excluded from NASA's program from the outset, the doctor managing the psychological and physical tests for Project Mercury privately tested female pilots as well. And on average, they performed better than the astronaut class on the same rigorous fitness trials. Jerrie Cobb—the first to pass all three phases of examinations—called the group the "First Lady Astronaut Trainees." When NASA declined to continue the tests, Cobb flew to Washington to lobby Congress to resume the program. In July 1962, a special Subcommittee of the House Committee on Science and Astronautics hearing invited participants to testify. At the hearing, John Glenn admitted that NASA recruitment requirements effectively barred women from qualifying, but the hearing occurred two years before the 1964 Civil Rights Act banned this type of employment discrimination, and no action followed.
In 1963, Soviet astronaut Valentina Tereshkova became the first women in space, making many of NASA's arguments against female astronauts seem hollow. Former Republican Congresswoman Clare Boothe Luce noted matter-of-factly in a 1964 editorial: "The U.S. could have been first to put a woman up in space simply by deciding to do so." Instead, it would be two more decades before an American woman would go into orbit. 
NASA's Gender Gap
The early exclusion of women from the space program led to a legacy of under representation in space policy, security, and exploration that still colors the sector. Today, NASA's Astronaut Class is 50 percent women, but the space program still shows signs of its male-dominated history. In March, NASA announced that the first all-female spacewalk on the International Space Station was cancelled. The reason? There was only one medium-sized spacesuit available.
According to Dr. Joan Johnson-Freese, a leading expert in space security and a professor of national security affairs at the U.S. Naval War College, the spacesuit incident perfectly illustrates the need to address the gender gap not only in space policy and exploration, but also in science, technology, engineering, and mathematics (STEM) fields. "It likely simply didn't even occur to whoever orders the space suits that a smaller one would be needed," said Johnson-Freese. "While most of the structural issues that long kept women out of STEM fields have been removed, there are still many cultural ones to overcome."
What could would more women mean for STEM and space programs? "Women bring two important considerations to any field, STEM or otherwise, but in STEM it is particularly important because the fields have been so male-dominated," Johnson-Freese explains. "First, they bring a different perspective," she reflects,"Second, women address conflict management differently. [...] More women in STEM fields and space policy in general would allow more attention to solving problems and maintaining the sustainability of the space environment, without looking to military solutions first." 
Woman on the Moon
As we approach the 50th anniversary of Apollo 11's moon landing NASA has launched Artemis. The program aims to return astronauts to the lunar surface by 2024 and put a woman on the moon. Yet, as past space programs have demonstrated, overcoming gravity is nothing compared to overcoming inequality. As we push into a new era of exploration, the challenge for NASA and Americans will be to ensure that women are included as equal partners and acknowledged for their contributions.