Women This Week: Equality in Ethiopian Cabinet
Welcome to "Women Around the World: This Week," a series that highlights noteworthy news related to women and U.S. foreign policy. This week's post, covering October 7 to October 16, was compiled with support from Rebecca Turkington and Ao Yin.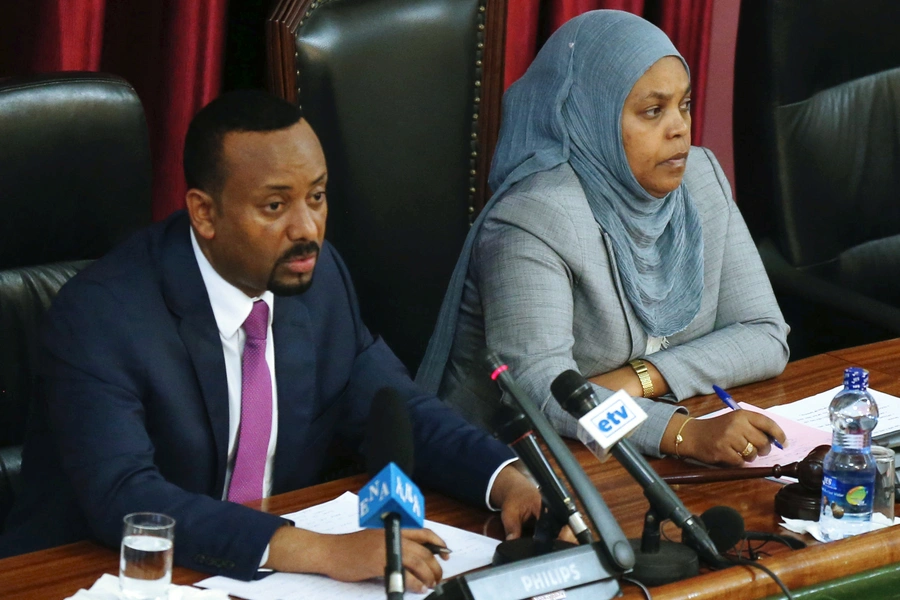 New Ethiopian Cabinet Is Half Women
In a cabinet reshuffle this week, Ethiopia's Prime Minister Abiy Ahmed appointed ten ministers who are women, rendering the cabinet 50 percent female for the first time. Women hold key portfolios, including trade, transport, and—in a first for Ethiopia—defense. The cabinet includes a newly-created Ministry of Peace—also led by a woman, former House speaker Muferiat Kamil—that will oversee intelligence and security agencies, part of Abiy's efforts to rein in the powerful security sector and take steps toward reconciliation. "Our women ministers will disprove the old adage that women can't lead," said Abiy. Ethiopia joins only a handful of other countries where women hold at least half of ministerial posts, including Canada, France and Spain.
Nobel Awarded to Leaders Combating Sexual Violence in War
The 2018 Nobel Peace Prize was awarded to Yazidi human rights activist Nadia Murad and Congolese doctor Denis Mukwege for their work to address sexual violence as a weapon of war. Despite international recognition of this devastating abuse as a security threat and crime against humanity, sexual violence continues to plague conflicts around the world.  In the Democratic Republic of Congo (DRC), Dr. Mukwege founded the Panzi Hospital to support women survivors of wartime rape. Since escaping from enslavement by the Islamic State, Nadia Murad—now the United Nations Goodwill Ambassador for the Dignity of Survivors of Human Trafficking—has been a powerful advocate for survivors. "A more peaceful world can only be achieved if women and their fundamental rights and security are recognized and protected in war," reflected the Nobel Committee in its prize announcement.
#MeToo Takes Off in India
One year after #MeToo went viral in the United States, the movement has gained traction in India, with a growing number of Indian women naming their harassers on social media and seeking consequences. This recent wave was sparked in the entertainment industry by former Bollywood actress Tanushree Dutta, who filed a complaint repeating her charge that actor Nana Patekar had harassed her on a film set in 2008. Inspired by Dutta, dozens of women in journalism spoke out a range of inappropriate behavior by male reporters and editors at some of India's biggest news organizations. Within a few days, accusations ousted several powerful men from leadership positions, including Hindustan Times journalist Prashant Jha, Bollywood director Vikas Bahl, and MJ Akbar, Minister for State for External Affairs. "Until now, we have seen consequences only on the women who complained," lawyer Vrinda Grover told the New York Times. "This time, the consequences are for those who have committed the misconduct."