Women This Week: Muslim Students Protest Hijab Ban in Karnataka, India
Welcome to "Women Around the World: This Week," a series that highlights noteworthy news related to women and U.S. foreign policy. This week's post covers February 5 to February 11.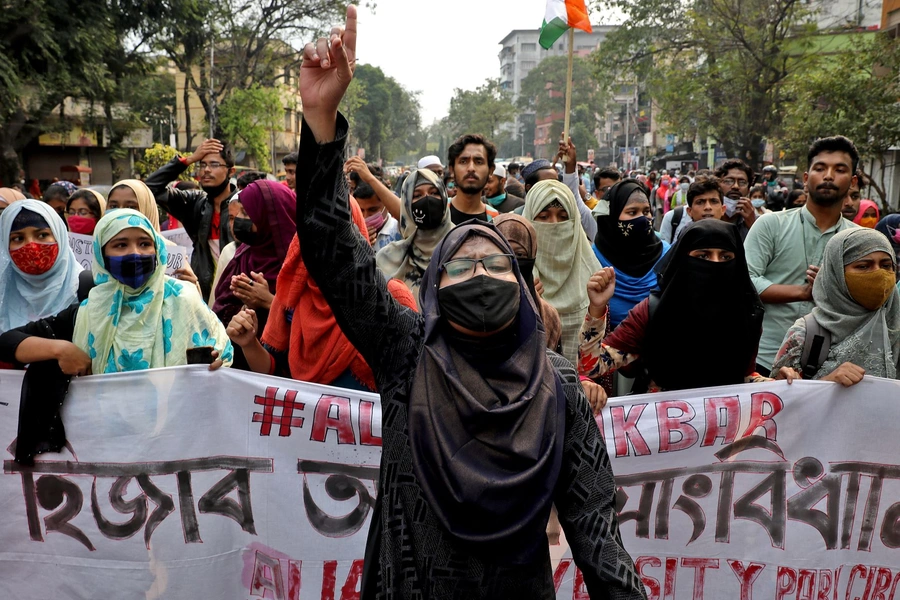 Tensions Rise Over Hijab Ban in High Schools in Karnataka, India
In India's Karnataka state, Muslim female students have protested recent bans on wearing the hijab in some high school classes. After being prevented from attending classes while wearing their hijabs, six students instead studied outside of their classrooms, garnering support from Malala Yousafzai as well as the Pakistani government. Meanwhile, a video showing a group of Hindu men harassing a Muslim college student wearing a hijab went viral; other videos showed tense arguments between students wearing hijabs and Hindu students wearing saffron shawls—a symbol of Hindu nationalist groups. The fallout from the hijab ban comes amid an escalation of hate speech and calls for a genocide of Muslims from Hindu extremists.
Prominent Sudanese Women's Rights Activist Released From Detention
Amira Osman, a high-profile women's rights activist in Sudan, was released following two weeks of being held incommunicado by Sudanese security forces. According to Osman's sister, armed, unidentified men took Osman from her home in the middle of the night. Osman had participated in protests against the Sudanese military coup in October of last year. The United Nations called for Osman's release last month, condemning "a pattern of violence against women's rights activists." Another women's rights activist, Eman Mirghani, is still missing after she was allegedly taken by unidentified security forces.
Peruvian Prime Minister Resigns Over Domestic Violence Allegations  
Peruvian Prime Minister Hector Valer resigned after four days in office due to allegations of domestic violence. Just hours after Peruvian President Pedro Castillo announced Valer's appointment, media reports emerged detailing police reports that Valer physically abused his wife and daughter. Former neighbors of Valer also spoke to the press about Valer's alleged domestic abuse. Valer has denied all allegations. Women's rights activists and some of Castillo's allies have criticized Castillo for a series of controversial ministerial appointments. Valer's successor will be the fourth prime minister since July of last year.