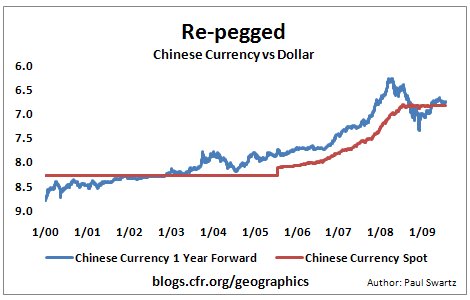 China has long pegged its currency to the Dollar.  After the USD started to depreciate against many currencies in 2002, expectations emerged that China would move away from a tight dollar peg.  Following China's reforms in 2005, the Yuan appreciated by over 20% against the dollar.  However, since July 2008, the Yuan has been stable against the dollar, leading to expectations, illustrated by the forward price, that China's repeg will persist.
Delaney, Christie: U.S. Assures 'Concerned' China It Will Shrink Deficit
Economist: China, America, and the Yuan
Guha, Beattie: U.S. Retreats from Yuan Manipulation Claims
To Rein: The BIS publishes a set of real exchange rates which capture the economic appreciation rather than simply the dollar (policy) perspective.