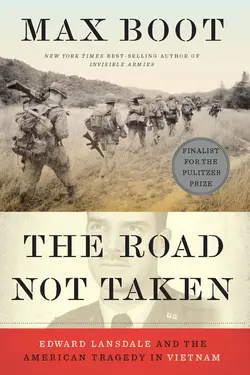 The Road Not Taken
Edward Lansdale and the American Tragedy in Vietnam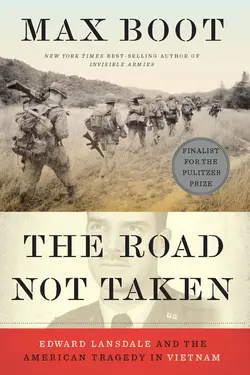 In chronicling the adventurous life of legendary CIA operative Edward Lansdale, The Road Not Taken definitively reframes our understanding of the Vietnam War.
Book

Foreign policy analyses written by CFR fellows and published by the trade presses, academic presses, or the Council on Foreign Relations Press.
2019 Pulitzer Prize Finalist
Read an excerpt from The Road Not Taken.
The Vietnam War "might have taken a very different course—one that was less costly and potentially more successful—if the counsel of this CIA operative and Air Force officer had been followed," writes Max Boot in The Road Not Taken: Edward Lansdale and the American Tragedy in Vietnam. Amazon has selected the biography as one of its Best Books of January 2018 and has said it "reads like a novel."
Boot, the Jeane J. Kirkpatrick Senior Fellow for National Security Studies at the Council on Foreign Relations, presents a groundbreaking biography of Edward Lansdale, the legendary covert operative—the purported model for Graham Greene's The Quiet American—who pioneered a "hearts and minds" approach to wars in the Philippines and Vietnam.
Lansdale advocated a visionary policy that, contends Boot, was ultimately crushed by America's giant military bureaucracy, steered by elitist generals and patrician diplomats who favored troop buildups and napalm bombs over winning the trust of the people. Through dozens of interviews and access to never-before-seen documents—including long-hidden love letters—Boot recasts this cautionary American story, tracing the bold rise and crashing fall of the roguish "T.E. Lawrence of Asia," from the battle of Dien Bien Phu to the humiliating American evacuation in 1975.
"[Lansdale] argued that the American emphasis should be on building up legitimate, democratic, and accountable South Vietnamese institutions that could command the loyalty of the people, and he thought that sending large formations of American ground troops was a distraction from, indeed a hindrance to, achieving that all-important objective," explains Boot. Lansdale recognized the need "both for tough military action against insurgents and for political and social action designed to address the roots of an uprising."
Boot asserts that Lansdale's legacy "stands as a rebuke both to anti-interventionists who assume that fragile states should stand or fall on their own and to arch-hawks who believe that massive commitments of American military forces are necessary to win any war." He further suggests that Lansdale's mastery of political warfare and propaganda and his "tactics in fighting global communism" could "usefully be studied by officials today fighting global jihadism" in U.S. involvements in Afghanistan and Iraq.
A Council on Foreign Relations Book
Educators: Access Teaching Notes for The Road Not Taken.
Reviews and Endorsements
A New York Times Best Seller
A New York Times Editors' Choice
One of the Best Biographies of the Year (Amazon)
Superb biography.

Mark Bowden, New York Times
The Road Not Taken is an impressive work, an epic and elegant biography based on voluminous archival sources. . . . Mr. Boot's full-bodied biography does not ignore Lansdale's failures and shortcomings—not least his difficult relations with his family—but it properly concentrates on his ideas and his attempts to apply them in Southeast Asia. . . . The Road Not Taken gives a vivid portrait of a remarkable man and intelligently challenges the lazy assumption that failed wars are destined to fail or that failure, if it comes, cannot be saved from the worst possible outcome.

Robert D. Kaplan, Wall Street Journal
In this fine portrait of Edward Lansdale, Max Boot adds to his well-deserved reputation as being among the most insightful and productive of contemporary historians. This is a superb book. Diligently researched and gracefully written, it builds on a comprehensive analysis of Lansdale's triumphs in the post–World War II Philippines to provide much new material, and expose old myths, about one of the most fascinating, and in many ways ultimately saddest, members of the supporting cast in the later war in Vietnam.

Lewis Sorley, National Review
The Road Not Taken . . . is expansive and detailed, it is well written, and it sheds light on a good deal about U.S. covert activities in postwar Southeast Asia. . . . [Boot] believes that Lansdale's approach was the wiser one, but he is cautious in his analysis of what went wrong. . . . A lot of his book is committed to restoring a sense of proportion to his subject's image as a political Svengali, or 'Lawrence of Asia.'

Louis Menand, New Yorker
An Amazon Best Book of January 2018: Boot's research is deep and seemingly impeccable; the material is complex and dense, but it reads like a novel; and maybe most importantly, Boot . . . refuses to bind himself with ideological constraints, opening nuanced pathways for reassessing this difficult history, especially in the context of current and looming conflicts.

Amazon Book Review
Judicious and absorbing. . . . Boot, a senior fellow at the Council on Foreign Relations, brings solid credentials to this enterprise, having written well-received histories of guerrilla warfare and America's 'small wars.' Here he draws on a range of material, official and personal. . . . What emerges is a picture of a man who from an early point possessed an unusual ability to relate to other people, a stereotypically American can-do optimism, an impatience with bureaucracy and a fascination with psychological warfare.

Fredrik Logevall, New York Times Book Review
In The Road Not Taken: Edward Lansdale and the American Tragedy in Vietnam, Max Boot capably and readably tracks the fascinating but ultimately depressing trajectory of this shadowy figure, who, as a murky undercover operative and a literary and cinematic avatar, looms over or lurks behind some of the crucial moments in U.S. foreign policy in the decades following World War II, culminating in its greatest disaster. . . . Boot clearly admires Lansdale, both his idealism and his strategy, and believes, not unreasonably, that the United States and Vietnam might have been better off and that the death tolls from the war—than more than 58,000 Americans and 3 million Vietnamese—would have been far lower had Washington chosen his approach over McNamara's, which relied on heavy firepower and advanced weaponry to produce the highest possible body count and kill ratio statistics. However, Boot judiciously refrains from contending that Lansdale's route would have yielded a materially different outcome.

James G. Hershberg, Washington Post
Deeply researched and evenhanded, The Road Not Taken: Edward Lansdale and the American Tragedy in Vietnam is a superb scholarly achievement. Boot, a historian and columnist for Foreign Policy, comes at Lansdale having already written two major books on small wars and counterinsurgency, a solid foundation that he takes to a new level here with rigorous research and dogged investigation into little-known corners of Lansdale's life. . . . The thrust of Boot's argument is that the United States missed an opportunity for a less traumatic outcome in Vietnam, and again in today's long wars, by neglecting Lansdale's example. Eschewing Lansdale's deep local knowledge, trust with leaders, and skepticism of the value of large numbers of troops on the ground is, for Boot, the 'road not taken.' The argument is relevant both for America's revisiting of Vietnam and for how it handles strategy today.

Carter Malkasian, Foreign Policy
A massive, grippingly written narrative. [Boot] has delved into the archives, talked to living participants in his hero's life, and walked the crowded streets and hamlets, the mountains and rice paddies where it took place. The Road Not Taken is a marvelous as well as an important read. . . . The United States is not done with unconventional war in fragmented societies and chaotic states, and whether Lansdale provides the model or not, anyone who takes that policy problem seriously has to read this exceptionally fine and engrossing biography.

Eliot Cohen, Commentary
Sympathetic and revealing.

Lawrence Freedman, Foreign Affairs
The product of serious scholarship, not ideology. Boot has scoured the archives and found intriguing new material. . . . The Road Not Taken is an admiring but also critical biography; it invites many quibbles but rewards the reader with an engrossing portrait of a unique figure who defied the bureaucratic values of the institutions in which he served.

Robert G. Kaiser, New York Review of Books
[An] impressive, extremely well-researched biography. . . . A remarkably level-headed and astute account of how U.S. foreign policy went wrong.

Asia Sentinel
A brilliant biography of the life—and a riveting description of the times—of Edward Lansdale, one of the most significant figures in post-WWII Philippines and then Vietnam. Just as Neil Sheehan did in A Bright Shining Lie and David Halberstam did in The Best and the Brightest, Max Boot uses superb storytelling skills to cast new light on America's agonizing involvement in Vietnam. The Road Not Taken not only tells Edward Lansdale's story with novelistic verve but also situates it wonderfully in the context of his tumultuous experiences—and offers important lessons for the present day.

General David Petraeus (U.S. Army, Ret.), former director of the CIA and commander of the surge in Iraq
Edward Lansdale is probably the greatest cold warrior that most Americans have never heard of. Max Boot has written a fascinating account of how this California college humorist, frat boy and advertising executive evolved into a counterinsurgency expert before the term was even coined. . . . Max Boot has become one of the master chroniclers of American counterinsurgency efforts, and his biography of Mr. Lansdale is a tribute to a guy who recognized the threat of insurgency in a post-World War II environment where most American leaders saw only brute force as a solution to any political-military problem. . . . This book should be read in Baghdad and Kabul, not only by Americans, but by local leaders.

Gary Anderson, Washington Times
The Road Not Taken . . . is a brilliant, extremely well-written book about a forgotten figure who was one of the most extraordinary and utterly unorthodox espionage agents in history.

Steve Forbes, Forbes magazine
I couldn't stop reading this engrossing biography of Edward Lansdale, a man who loved his country's ideals and who secretly fought for them in the Philippines, Vietnam, and Washington, DC. Lansdale's story is relevant today because he was a key figure in the debate over how and how not to use military force to achieve American foreign policy aims. Through Lansdale's efforts we got it right in the Philippines, but no one listened to him in Vietnam. He was forgotten by the time we moved into Afghanistan and Iraq. I fervently hope our policymakers read this book.

Karl Marlantes, author of Matterhorn: A Novel of the Vietnam War
A capacious biography. . . . The book is chock-full of operational information on Lansdale's deeds, both quiet and ugly. . . . This book might work as a star vehicle for Tom Hanks or Matt Damon. . . . A useful addition to the literature on U.S. foreign policy during the half century bracketed by the U.S. occupation of the Philippines and the disastrous 2003 intervention in Iraq.

John Reed, Financial Times
There are several outstanding books combined into one here. . . . This is a superb history of the Vietnam conflict and includes fascinating military detail and a firm grasp of both American and Vietnamese politics. . . . Boot's expertise in counterinsurgency makes his arguments compelling, and his rich portrait of Lansdale as a creative if unpredictable maverick adds a new level of understanding not only to Lansdale himself, but also to the entire Vietnam era. This important book—substantially enhanced by excerpts from Lansdale's own writing and augmented by outstanding maps—deserves to be read alongside Neil Sheehan's award-winning A Bright Shining Lie (1988).

Booklist (starred review)
An exceptionally well-written, captivating tale of one of the most distinctive characters in American Cold War history. . . . The Road Not Taken is highly recommended reading for historians of the Cold War and military leaders, Foreign Service officers, and intelligence personnel wrestling with America's current challenges in the small wars of the 21st century, as well as general readers looking for an exhilarating story of a fascinating character in American history.

Peter Mansoor, Journal of American Greatness
Max Boot, one of the premier military historians writing today, has created a fascinating portrait of Edward Lansdale, a maverick in the mold of T. E. Lawrence. But The Road Not Taken is much more than a biography, begging comparison with monumental narratives like Neil Sheehan's A Bright Shining Lie. With superb clarity, Boot gives us a compelling look back on the Vietnam tragedy, showing that it was by no means the inevitable result of forces beyond the control of our political and military leaders. Reading this book, I was reminded of Edward Gibbons's comment that history is little more than 'the register of the crimes, follies, and misfortunes of mankind,' emphasis on follies.

Philip Caputo, author of A Rumor of War
A probing, timely study of wrong turns in the American conduct of the Vietnam War. A historian of America's 'small wars' with a keen eye for the nuances of counterinsurgency, Council on Foreign Relations senior fellow Boot (Invisible Armies: An Epic History of Guerrilla Warfare from Ancient Times to the Present, 2013, etc.) finds a perfect personification of America's Vietnam in Edward Lansdale. . . . Essential reading for students of military policy and the Vietnam conflict.

Kirkus Reviews (starred review)
Boot outshines everything ever written about the legendary CIA operative Edward Lansdale (1908-1987), in this exhaustive, fact-filled and analytical biography. . . . This is a detailed, warts-and-all examination of Lansdale's complex professional and personal lives.

Publishers Weekly
Boot marshals sharp, devastating anecdotes to show how Lansdale's ideas were dismissed or misunderstood by his contemporaries. He also honestly situates Lansdale amid the racial prejudice of his colleagues, who close the Manila embassy coffee shop to Filipinos and cause his lover to fear for her acceptance in the United States. And this work is unlike any piece of military history I know in cataloging its protagonists' sexual misdeeds. . . . The stories this volume tells about voluntary isolation and lack of knowledge, vision, or respect for anything outside U.S. security culture, in all its violent, self-reinforcing whiteness and maleness, have a terrible timelessness to them. . . . We are in his debt for writing a book about another time that challenges us to raise those questions in ours.

Heather Hurlburt, Washington Monthly
[A] mammoth, landmark biography . . . that outshines by far anything ever written about the man Boot calls 'a visionary,' a 'renowned counterinsurgency strategist,' and an 'idealist and realist both.' . . . Max Boot sheds new light on . . . the American war in Vietnam in The Road Not Taken.

Marc Leepson, VVA Veteran
The Road Not Taken is comprehensively researched and insightfully written—Boot is, as always, an extremely talented writer.

Christian Science Monitor
As one of the last few links to Lansdale, who was also one of his closest on-the-ground collaborators, I can attest that this biography of him is the best, most accurate, revealing and complete portrait yet produced. Even with all I knew, I learned a great deal more that was new, which broadened my understanding of this extraordinary man. The very human way he helped the Filipino and Vietnamese people defend their inalienable rights is a shining model to be followed by current and future generations of Americans assigned abroad to assist fragile nations.

Rufus Phillips, author of Why Vietnam Matters: An Eyewitness Account of Lessons Not Learned
A remarkable piece of work, superbly researched and documented. In an ideal world, it would be required reading for all senior American diplomats being posted to underdeveloped nations. Having worked with Lansdale during an important period in his career, I particularly noted how Max Boot skillfully dissected his modus operandi.

Lieutenant General (Ret.) Samuel V. Wilson, former director, Defense Intelligence Agency
Preeminent military historian Max Boot's forthcoming biography of counterinsurgency expert Edward Lansdale—a true forgotten man—is a compelling life story well told and one with a great impact on U.S. military strategy lasting to this day.

Octavian Report