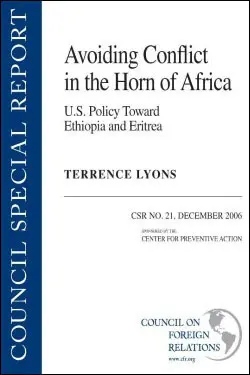 Avoiding Conflict in the Horn of Africa
U.S. Policy Toward Ethiopia and Eritrea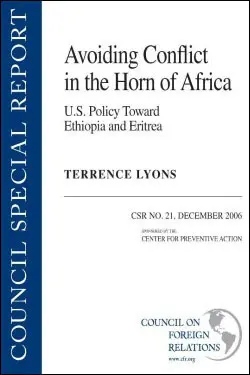 Council Special Report

Concise policy briefs that provide timely responses to developing crises or contributions to current policy dilemmas.
Overview
The greater Horn of Africa—including Djibouti, Eritrea, Ethiopia, Kenya, Somalia, Sudan, and Uganda—is a region of strategic importance. It is also a region in crisis.
Avoiding Conflict in the Horn of Africa: U.S. Policy Toward Ethiopia and Eritrea, commissioned by the Council's Center for Preventive Action and written by George Mason University's Terrence Lyons, presents a comprehensive picture of this neglected part of the world and suggests what the United States can do to address the multiple challenges to stability and peace.
Major change has taken place in Somalia since the release of this report in December 2006. The Transitional Federal Government (TFG) of Somalia, backed by Ethiopian troops and air power, completely and swiftly dislodged the Islamic Courts movement from power in the capital, Mogadishu, and in Kismayo, the second major city. As a result, the dangers of a "proxy" war between Ethiopia and Eritrea in Somalia and that of a larger regional war, as discussed in the report, seem to have receded.
The defeat of the Islamic Courts has focused attention on international efforts to stabilize Somalia, including increased economic support and development assistance for the country and the introduction of an African peacekeeping force to replace Ethiopian troops.
The United States should vigorously support both increased aid and a regional military presence to promote order in Somalia, which has suffered nearly two decades of anarchy.
The dramatic turn of events in Somalia creates opportunities to reduce the ongoing conflict between Ethiopia and Eritrea and avoid renewed warfare between them.
Equally important is the internal political dynamics in both countries. Their conflict has fed authoritarian tendencies in each country. Ethiopia continues to experience a tense stand-off between the government and leaders of the opposition, several of whom are in prison charged with treason. Eritrea has become increasingly despotic.
The United States will need to move quickly to implement a new strategy for resolving, or at least reducing, the Ethiopia-Eritrea tensions.