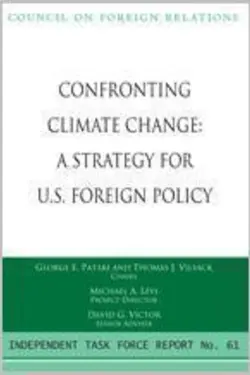 Confronting Climate Change
A Strategy for U.S. Foreign Policy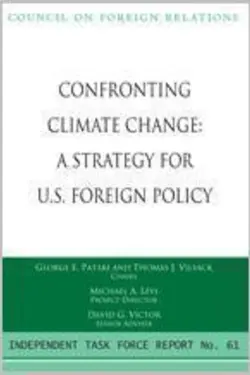 Task Force Report

Analysis and policy prescriptions of major foreign policy issues facing the United States, developed through private deliberations among a diverse and distinguished group of experts.
Against the backdrop of increasing attention to energy and climate change in the presidential campaigns, recent failure of the Senate to advance the Lieberman-Warner climate bill, and preparations for this summer's G8 summit, a CFR-sponsored Independent Task Force recommends an overhaul of U.S. domestic and foreign policy to confront the challenge.
Chaired by former New York governor George E. Pataki and former Iowa governor Thomas J. Vilsack, the Task Force says that the United States must leverage ambitious, comprehensive, and equitable action at home to advance an effective policy abroad. It lays out a U.S. negotiating strategy for a global climate accord, outlining what the United States should be willing to offer and what it should expect others, including the rapidly emerging economies, to do in return.
The Task Force cautions, however, that a comprehensive post-Kyoto climate deal will not be easy to conclude, noting: "Even as the United States pursues ambitious and mandatory policies at home, it should not sign on to an emissions cap as part of any global deal that does not include strong commitments to actions from the major emerging economies."
Even with an agreement, the Task Force concludes that "ensuring that the biggest emitters meet their commitments would still be a monumental task." It thus recommends creating a Partnership for Climate Cooperation that would focus the world's largest emitters, including India and China, on implementing aggressive emissions reductions. The partnership would complement efforts in the United Nations to get a global treaty.
The Task Force urges policymakers to not ignore the important economic challenges involved in reducing emissions, noting that near-term costs "matter because they affect the livelihood of Americans." It argues, though, that a "properly designed and executed domestic policy ... can avoid unacceptable shocks or disruptions and smooth the transition to a low-carbon economy." It also says that climate policy "presents opportunities to strengthen important parts of the economy and create jobs, to rebuild U.S. partnerships and alliances, and to bolster energy security."
The Task Force, Confronting Climate Change: A Strategy for U.S. Foreign Policy, is directed by David M. Rubenstein Senior Fellow for Energy and Environment Michael A. Levi and advised by Adjunct Senior Fellow David G. Victor. It comprises a coalition of twenty-nine prominent individuals from business, the environmental community, industry, labor, and academia and includes prominent officials from the Bush and Clinton administrations who have long been on opposing sides of the climate change debate.