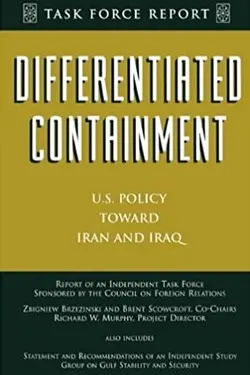 Differentiated Containment
U.S. Policy Toward Iran and Iraq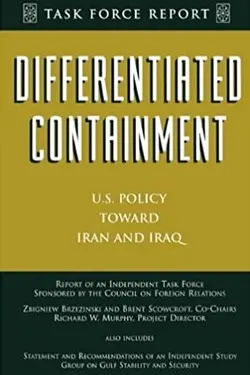 Task Force Report

Analysis and policy prescriptions of major foreign policy issues facing the United States, developed through private deliberations among a diverse and distinguished group of experts.
Since World War II, the United States has identified the security and stability of the Gulf region as a vital national interest. This publication presents two documents. The first, Differentiated Containment: U.S. Policy Toward Iran and Iraq, is the report of the Co-chairs of an Independent Task Force sponsored by the Council on Foreign Relations. The report, by Zbigniew Brzezinski and Brent Scowcroft, serves as the Statement of the Task Force and also appeared in the May/June 1997 issue of Foreign Affairs. The second document, Gulf Stability and Security and Its Implications for U.S. Foreign Policy, contains the Statement and Recommendations of an Independent Study Group also sponsored by the Council. As defined in these two documents, the Gulf region includes Iran, Iraq, and the members states of the Gulf Cooperation Council—Bahrain, Kuwait, Oman, Qatar, Saudi Arabia, and the United Arab Emirates.
The Task Force met four times in 1996–97. Its Co-chairs traveled to the region in March 1997 to make their first-hand review of the situation. The Study Group met seven times in 1996, and its deliberations were summarized in a report drafted by Dr. Shibley Telhami of Cornell University. Neither group achieved a full consensus on how the United States might better assist in maintaining Gulf security and stability, and some significant dissenting opinions have been noted. The groups' reports provide a number of recommendations for Washington's consideration that we hope will receive serious attention.
For those interested in examining the context of current U.S. policy toward the Gulf, the Background Materials section of this publication provides a variety of primary sources. They include official documents and statements of the UN Security Council and the U.S. government; a Foreign Affairs article by Anthony Lake, assistant to the president for national security affairs from 1993 to 1997; an article on Iran by an Israeli defense analyst; a press interview with the German foreign minister concerning the German court verdict in the so-called Mykonos case; excerpts from the March 1997 communique, of the foreign ministers of the Gulf Cooperation Council; and a summary of a recent conference on Gulf security held in Abu Dhabi.