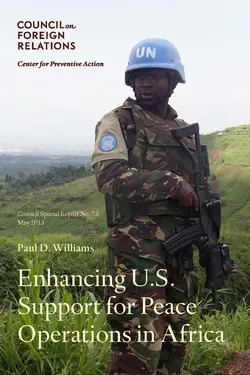 Enhancing U.S. Support for Peace Operations in Africa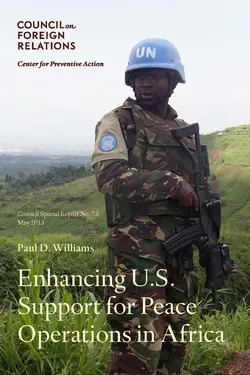 Council Special Report

Concise policy briefs that provide timely responses to developing crises or contributions to current policy dilemmas.
Overview
The number of UN peacekeepers is at a record high, with nearly 110,000 uniformed deployed "blue helmets" worldwide, most of them in Africa. But the status quo is "untenable," warns Paul D. Williams, author and associate professor of international affairs at George Washington University, in a new Council Special Report, Enhancing U.S. Support for Peace Operations in Africa. Unrealistic mandates, unsustainable supplies of personnel, hostile host governments, and mission creep have undermined peace operations, Williams writes. "Given the growing interest in fostering a stable and prosperous Africa, the United States should wield its political influence to address these challenges."
In advance of the release of recommendations from the UN High-Level Independent Panel on Peace Operations later this month, the report from CFR's Center for Preventive Action identifies four main areas that would benefit from changes in U.S. policy:
Personnel: With only forty-two uniformed U.S. personnel in UN peacekeeping missions in Africa, Washington's "limited deployments" not only impede U.S. government awareness of the continent's unstable areas, but undermine its attempts to lead on this issue, Williams notes. Increasing the number of U.S. blue helmets in combat service and support roles would boost American leadership credentials and help to "build a cadre of troops with distinct working knowledge of the UN peacekeeping system" and provide "firsthand knowledge of operational realities in African crisis zones." Furthermore, "deployment would demonstrate Washington's commitment to the idea that UN peacekeeping is a global responsibility."
Finance: "The United States is the single largest financial supporter of UN and African peace operations in Africa," with voluntary contributions to the African Union (AU) and direct support to countries involved in peace operations. Although international treaty obligations mandate contributions, a 1994 congressional cap on financial support makes it difficult for any administration to pay its dues in full and on time. "The cap," Williams argues, "is shortsighted, counterproductive, and breaches U.S. obligations under the UN charter." Williams recommends removing the cap, clearing "the backlog of arrears," and establishing a new, predictable funding mechanism that supports the AU directly—an equivalent to the European Union's African Peace Facility, which provides financial support for the EU's joint strategy with the AU.
Assistance: The United States has trained over 250,000 African peacekeepers and provided nearly $1 billion to support peacekeeping activities. However, these programs provide a "broad rather than deep approach to training African peacekeepers" and "have trouble encouraging African contributors to become self-sufficient." In addition, Williams maintains that the focus of U.S. assistance programs "should shift from training and equipping peacekeepers to building sustainable national peacekeeping institutions."
Policy: Because the last presidential policy directive was written over two decades ago, Williams urges Washington to adopt a new directive that outlines the administration's strategic approach to peace operations in a single document. "Without a clear intellectual foundation, U.S. policy on peace operations will continue to lurch from crisis to crisis in an ad hoc manner," he points out.
Rather than working with individual countries—some with poor governance records—Williams suggests increasing the number of U.S. personnel deployed to the U.S. Mission to the AU, which would strengthen the AU and help to "assess, plan, manage, and evaluate missions."
Download maps for Enhancing U.S. Support for Peace Operations in Africa [PDF].