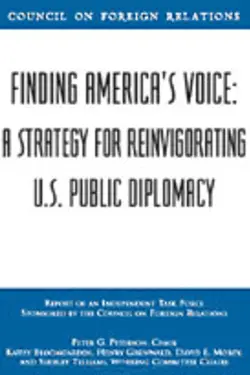 Finding America's Voice
A Strategy for Reinvigorating U.S. Public Diplomacy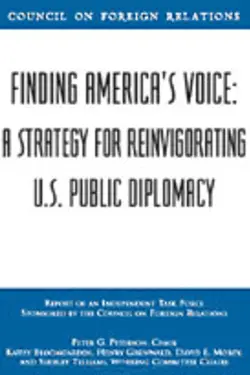 Task Force Report

Analysis and policy prescriptions of major foreign policy issues facing the United States, developed through private deliberations among a diverse and distinguished group of experts.
The world's opinion of the United States and of U.S. policy has plummeted in the wake of the war in Iraq. The resulting widespread anger, fear, and mistrust, warns this timely report of the independent Task Force on Public Diplomacy, are creating immediate and long-term problems for the United States that must be addressed.
The Task Force, which first issued a report after September 11, 2001, points to evidence that, despite administration efforts, anti-Americanism is more widespread and dangerous than ever before. The consequences are substantial, ranging from the difficulty faced by the Bush administration in forming a coalition for U.S. efforts in Iraq, to the increase in new terrorist attacks on American interests, to strained relations with America's transatlantic partners.
Among the recommendations of the Task Force are making U.S. foreign policy more sensitive to concerns of public diplomacy, improving communications strategies overseas, enhancing training for U.S. ambassadors, and building congressional support for public diplomacy. Failure to take these steps will make it more difficult for the United States to maintain the war against terror and other policy undertakings, the Task Force concludes.