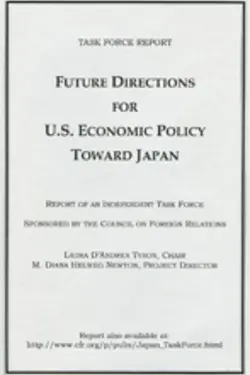 Future Directions for U.S. Economic Policy Toward Japan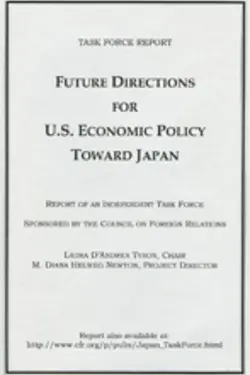 Task Force Report

Analysis and policy prescriptions of major foreign policy issues facing the United States, developed through private deliberations among a diverse and distinguished group of experts.
During the last ten years, Japan has undergone a difficult period of economic stagnation. Only now is the country showing preliminary signs of emerging from an economic slowdown. In response to its difficulties, Japan is gradually making changes to its traditional financial system—changes driven by Japan's desire to catch up with technological innovation and to resuscitate its economy. However, many of these reforms are controversial within Japan since they aim at the heart of traditional Japanese business practices. In a three-step conclusion, this Task Force outlines how the United States may integrate into and profit from Japan's transitioning economic framework.
Although the controversy of Japan's economic shift may cause the pace of reform to slow, this Task Force says that it also offers the United States an opportunity to sieze the intiative in its economic policy toward Japan. Chaired by M. Diana Newton  and directed by Laura D'Andrea Tyson, the Task Force examined structural reforms underway in the Japanese economy to determine whether they were fundamentally changing the way that business was being done in Japan. In assessing these developments, the Task Force came to three conclusions for U.S. economic policy toward Japan. First, the reforms that have been made are keeping with U.S. interests; second, by shifting its priorities from traditional bilateral trade targets to multilateral processes, the U.S. could better foster market liberalization in Japan; third, the U.S. must concentrate on economic issues that enable new ventures to bring value to the Japanese market.