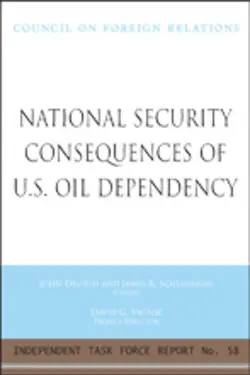 National Security Consequences of U.S. Oil Dependency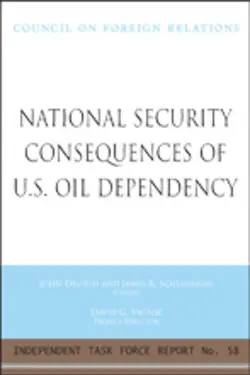 Task Force Report

Analysis and policy prescriptions of major foreign policy issues facing the United States, developed through private deliberations among a diverse and distinguished group of experts.
Through most of the 1990s energy supplies were plentiful and prices were low. The Economist speculated about the political consequences of a world in which oil declined to $5 per barrel. U.S. foreign policy generally accorded little attention to energy, except in special circumstances such as the location of strategic pipelines in Central Asia.
In recent years, energy prices have surged. President George W. Bush, in this year's State of the Union address, warned of an addiction to imported oil and its perils. Yet there is no consensus on what should be done to shake the addiction. Virtually everything concerning energy has changed—except U.S. policy.
The Council on Foreign Relations established an Independent Task Force to examine the consequences of dependence on imported energy for U.S. foreign policy. Since the United States both consumes and imports more oil than any other country, the Task Force has concentrated its deliberations on matters of petroleum. In so doing, it reaches a sobering but inescapable judgment: The lack of sustained attention to energy issues is undercutting U.S. foreign policy and national security.
The Task Force goes on to argue that U.S. energy policy has been plagued by myths, such as the feasibility of achieving "energy independence" through increased drilling or anything else. For the next few decades, the challenge facing the United States is to become better equipped to manage its dependencies rather than pursue the chimera of independence.
The issues at stake intimately affect U.S. foreign policy, as well as the strength of the American economy and the state of the global environment. But most of the leverage potentially available to the United States is through domestic policy. Thus the Independent Task Force devotes considerable attention to how oil consumption (or at least the growth in consumption) can be reduced, and why and how energy issues must become better integrated with other aspects of U.S. foreign policy.
To learn more about Independent Task Forces at the Council on Foreign Relations, click here.