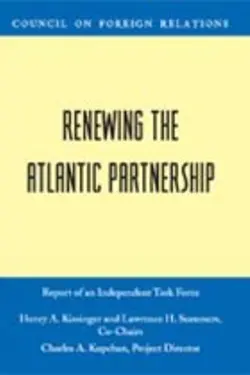 Renewing the Atlantic Partnership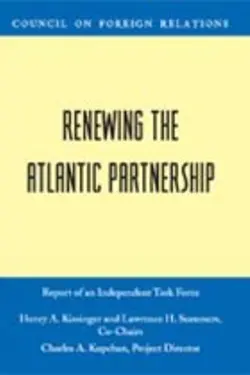 Task Force Report

Analysis and policy prescriptions of major foreign policy issues facing the United States, developed through private deliberations among a diverse and distinguished group of experts.
In the year that has passed since the war in Iraq, the United States and its European allies have done much to repair their relations. Nonetheless, the end of the Cold War, Europe's continuing integration, and the new array of threats confronting the West continue to test the strength of the Atlantic partnership. To revitalize the Atlantic alliance, Europe and America must forge new "rules of the road" governing the use of force, adapt the North Atlantic Treaty Organization (NATO) to meet today's threats coming from outside Europe, and launch a major initiative to bring about political and economic reform in the greater Middle East. These are the conclusions of an independent Task Force chaired by former secretary of state Henry A. Kissinger and former secretary of the treasury Lawrence H. Summers.
This report argues that the current rift in transatlantic relations is not solely a product of the war in Iraq, but that the war "brought these strains to a point of crisis. … What is surprising is the extent to which the terrorist attacks on the United States, and the reactions of Europeans to America's response to those attacks, have transformed these differences into active confrontation." The report sets out priorities for the transatlantic community, such as establishing new guidelines for the use of military force and developing a common policy toward irresponsible states that seek or possess weapons of mass destruction or that harbor or support terrorists. It also lays out guidelines for restoring and deepening transatlantic cooperation.