The U.S. Faces a Public Relations Crisis in the Arab and Muslim World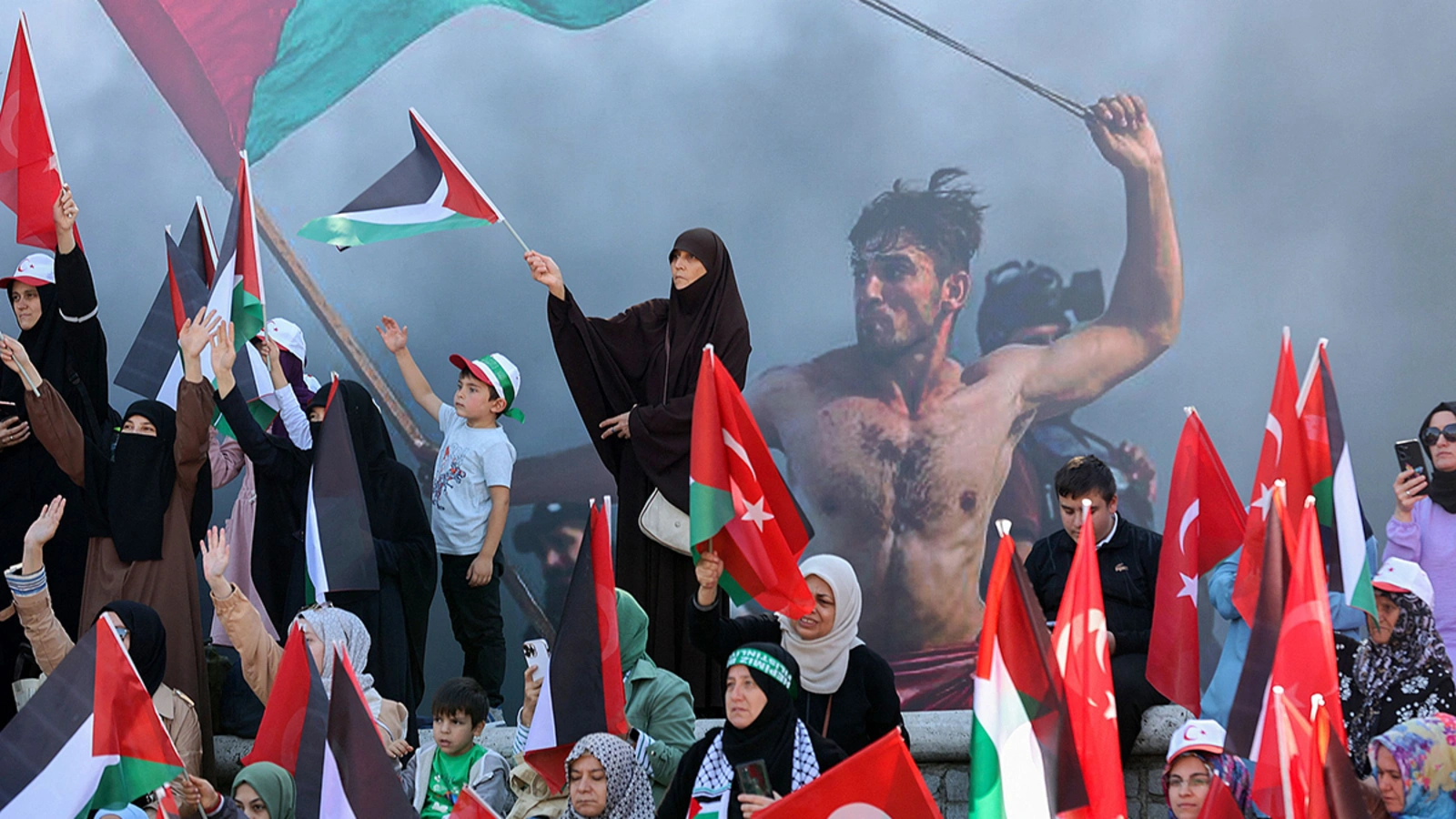 The Joe Biden administration's steadfast show of support for Israel in its war with Hamas has reignited a torrent of anti-American sentiment in many Arab and Muslim communities.
October 27, 2023 3:07 pm (EST)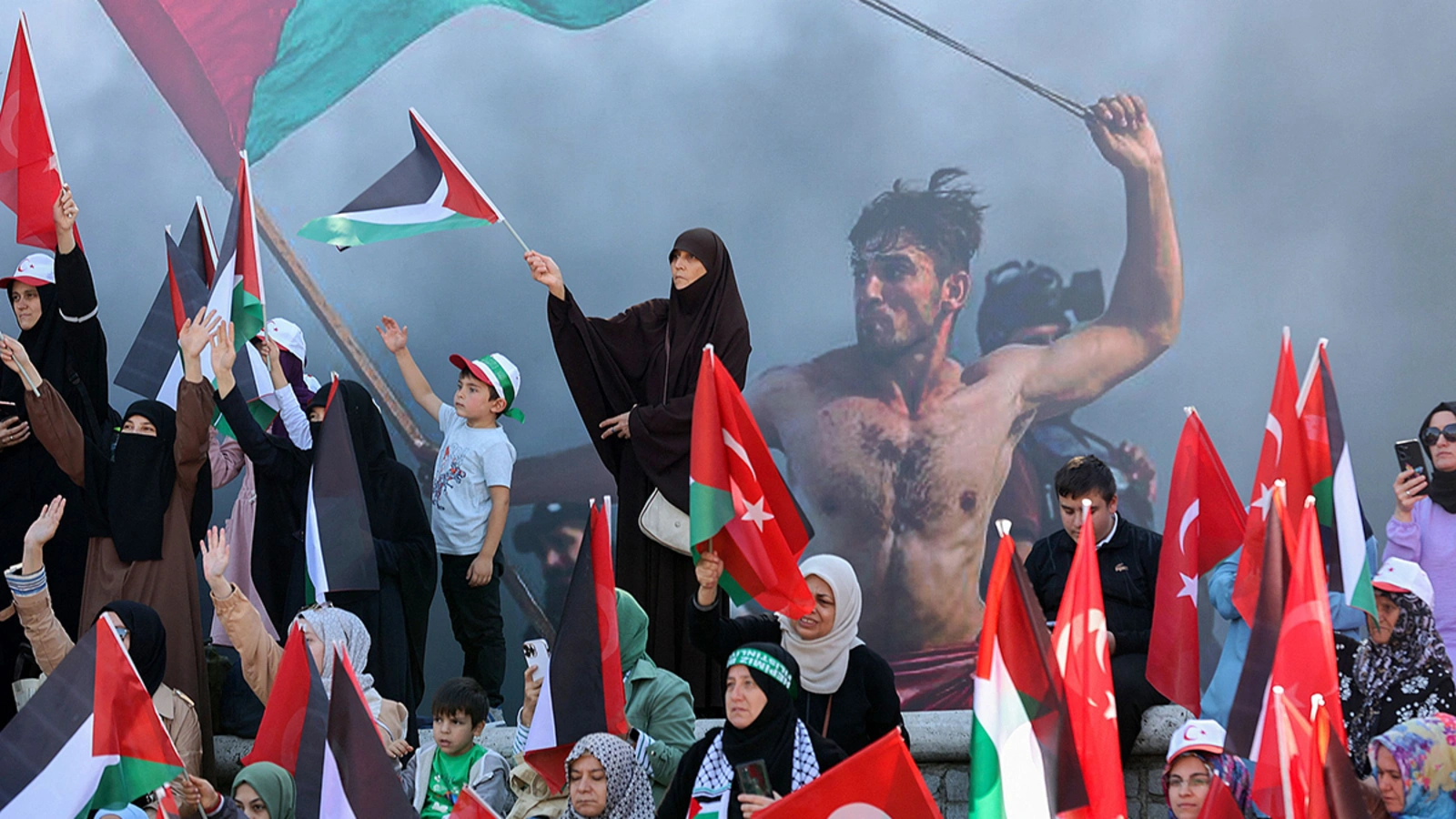 Article

Current political and economic issues succinctly explained.
How is the Israel-Hamas war affecting opinions of the United States in Arab and Muslim communities globally?
In the wake of Hamas's horrific terrorist attack on innocent Israeli citizens on October 7, much of the world is aflame with anti-U.S. rhetoric, particularly Muslim and Arab communities. Many in the Middle East see a seamless connection between the actions of Israel and the United States. The Joe Biden administration's declarations that "the United States has Israel's back" and its reaffirmation of the United States' "ironclad commitment" to Israel's security have further contributed to that perception, despite the fact that Biden has engaged robustly with a diverse array of faith communities.
Is there a divergence of opinion between regional leaders and publics?
In general, leaders and publics have been quick and united in calls for a cease-fire and increased humanitarian aid to Gaza. Yet, there has been little criticism of Hamas. Significantly, Saudi Arabia's initial official response to October 7 referred to Hamas simply as a "Palestinian faction" and displayed a shocking lack of leadership about terrorism given 9/11's impact on that nation. Some leaders, however, are meaningfully engaging with the United States. These include Qatar's prime minister, Sheikh Mohammed bin Abdulrahman Al Thani, who is negotiating with Hamas to release its hostages, and Egyptian President Abdel Fatah al-Sisi, who is working with the Biden administration to send humanitarian aid into Gaza.
But leaders' commitments and comments have varied depending on their countries' official ties with Israel. Some signatories of the 2020 Abraham Accords, which normalized relations between Israel and several Arab nations, have taken a relatively firm public stance, including the United Arab Emirates (UAE), which called Hamas's attacks "a grave escalation." But other states that haven't normalized relations with Israel, such as Kuwait, have yet to condemn Hamas.
Meanwhile, even though several leaders in the region are generally pro-West and have relations with Israel, their people remain strongly opposed to any diplomacy with the country and remain outraged over its military actions in Gaza. For instance, in Jordan—a U.S. ally that signed a peace agreement with Israel in 1998—only 3 percent of respondents in a 2020 Arab Barometer poll said they favored normalization between Israel and countries such as Bahrain and the UAE.
Now, many regional leaders feel an urgent need to support Palestinians, as well as try to build agency and domestic popularity—perhaps to fortify their un-democratic rule. Since 9/11, many regional leaders have become increasingly aware that, as high-profile Muslims, their words reach audiences beyond their own borders. Some have taken this opportunity to offer a clear distinction between Islam and Hamas's vile attacks. In a speech last week, Jordanian King Abdullah II stressed, "Our religion came with a message of peace. The Pact of Omar, issued at the gates of Jerusalem almost 15 centuries ago, more than a thousand years before the Geneva Conventions, ordered Muslim soldiers not to kill a child, a woman or an old person, not to destroy a tree, not to harm a priest, not to destroy a church."
How can the United States mitigate the damage?
Alarmingly, the country is in a similar predicament to the post-9/11 era. The United States does not have control of the narrative nor the capacity from a messaging standpoint to deal with this fast-paced, emotionally charged moment. Amid the initial U.S. counterterrorism response to al-Qaeda's 2001 attacks, U.S. officials were similarly confused about how to allay intensifying anti-American sentiments in Arab and Muslim communities, and frustrated about having to counter al-Qaeda's claims that the West was at war with Islam. While Hamas's charter specifically calls for the destruction of Israel and eradication of Jews, the al-Qaeda narrative that the West hates Islam is foundational to the ecosystem that enables Hamas's worldview. Thus, the post-9/11 period offers lessons and a potential roadmap for U.S. policymakers to meet this moment.
American leaders learned through that process that hard-to-swallow narratives coming out of Arab and Muslim communities were not only difficult to rebuff, but were entrenched across generations, genders, and geographies. The U.S. response was to create powerful White House–led initiatives and new mechanisms for civil society engagement.
Even though emotions are fierce and loud right now, the administration needs to remain active and clear in its engagement with these communities. In the coming weeks and months, that will require nuanced and deliberate language from administration officials and thought leaders outside of government. To broaden engagement with Muslims and Arabs globally, the administration should identify areas of common ground to connect with Generation Z (Gen Z) and Millennials and build relationships with these critical demographics despite the naysayers.
It is vital that the Biden administration draw comparisons between the terrorist acts committed by Hamas and the past actions of other groups such as the Taliban and al-Qaeda. In 1999, the Taliban's public execution of a mother in a Kabul, Afghanistan, sports stadium elicited fierce condemnation from Muslims worldwide. And in 2004, videos of al-Qaeda in Iraq's beheadings of civilians resulted in similar outrage—even from some al-Qaeda leaders and Islamic scholars. Al Jazeera, the highly influential Qatari news network, routinely broadcast those condemnations.
Yet, in the aftermath of October 7, Al Jazeera has yet to call Hamas a terrorist group. In many Arab and Muslim communities, public perceptions of Hamas differ from opinions on the Taliban and al-Qaeda. With delicate handling, the Biden administration needs to speak out about that hypocrisy and reassert an aversion to violence against civilians as potential, initial common ground. Because Al Jazeera has a powerful ability to drive narratives, the United States will need to develop an effective public diplomacy engine that can proactively disseminate information to make this happen.
The country needs to finally turn its attention to the work of influencing culture in a real way. Increasing the budget for public diplomacy generally, rebooting the Global Engagement Center, ramping up partnerships with private-sector experts on Gen Z and Millennials, and finding new ways to bring together authentic voices would be a start. The Biden administration will have to expand its thinking about the laws that prohibit domestic audiences from consuming the programming it creates for overseas ones. The 1948 Smith-Mundt Act, which still largely does that, is a Cold War–era relic designed for a different, less interconnected era.
The administration also has to address the teeming social media environment, where regular people are producing content, fueling emotions, and sustaining narratives on platforms as diverse as TikTok, Twitter/X, and WhatsApp. Social media's ability to rapidly spread information and disinformation across platforms will drive faster-paced, more sinister ripple effects from this war, with the potential to increase social discord and complicate policymaking. The U.S. government should demand that U.S.-headquartered social platforms take firm measures to enforce their terms of service and reduce the spread of hate ideology, and it should continue the pressure on foreign platforms to do the same.
U.S. leaders also need to think beyond this crisis and develop a multidimensional strategy that commits to building out long-term relationships with Arab and Muslim communities. The country needs a refreshed view of the Middle East that considers the new realities and possibilities for younger decision-makers and populations. Soft power's role here is important, and the United States' dedicated time, money, and interest will matter in diplomacy, dialogue, and development.
What might the consequences be for U.S. foreign policy if there is a broad, negative shift in how the United States is viewed in the Arab and Muslim world?
Based on the United States' ability to weather previous flare-ups in the Middle East, it's unlikely that there will be serious, long-term economic or diplomatic consequences for the United States and other Western democracies, but the situation in Gaza will complicate foreign policy efforts. It will now be on the agenda in any of the United States' regional engagements, as the "war on terror" was post 9/11. Entrenched viewpoints and beliefs will harden publics and make it challenging to engage with them.
The United States' enemies in the region now also have more political cover for anti-U.S. actions, and since October 7, there have been multiple attacks on U.S. troops in Iraq and Syria. While some look to push the United States out of the region, it's critical for the United States to redouble its engagements and not leave a dangerous vacuum that could be filled by China, Russia, or a dangerous nonstate actor.
There will also be new risks for the homeland. Populations across the world are building off of each other's emotions and ideas. The Department of Homeland Security has warned that targeted violence against Israelis, Palestinians, Jews, Muslims, and those who are sometimes mistaken for members of those religions, such as Sikhs, could increase in the United States as the conflict in Gaza progresses. The country has already seen a preview of this with the hate-fueled murder of a Palestinian boy in Illinois and bomb threats targeting synagogues. There is a real danger that extremists such as neo-Nazis could capitalize on this moment to carry out attacks and recruit people who see Muslims or Jews as a common enemy. Increased violence could also increase domestic support for hard-line political candidates.
All of this could affect the 2024 presidential election. Already, this conflict has exacerbated generational tensions between the Biden administration and young Americans, who are a key voting bloc for Democrats and tend to be more critical of Israel. Some college students are even labeling Hamas militants as freedom fighters. The harrowing images and stories coming out of the Middle East could spark further anti-Biden backlash among religious and diaspora communities in the United States, many of which are concentrated in swing states. As this conflict unfolds, the administration has a moral and strategic imperative to do more to counter anti-Muslim hate, anti-Arab hate, and antisemitism. Doing so will help it achieve both its foreign and domestic policy goals.