The 2022 Midterm Congressional Elections by the Numbers
History suggests that control of Congress will change after November's midterm elections.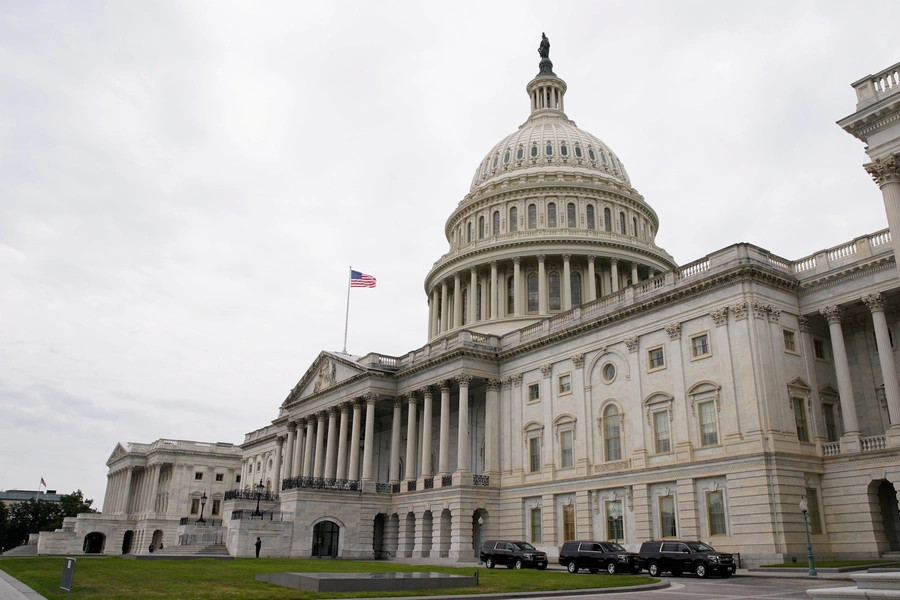 Eight months from today the United States will hold its congressional midterm elections. All 435 seats in the U.S. House of Representatives will be up for grabs. Thirty-five Senate seats will be as well: the standard thirty-four seats in this cycle plus a special election to fill the four years remaining in the term of Senator James Inhofe (R-OK). He announced last month that he will retire next January 3 to care for his ailing wife. In a twist, Californians will vote twice for the same Senate seat. One vote will be to fill the final two months left in what had been Vice President Kamala Harris's term. The second will elect someone to fill that seat for a full term.
The betting money is that the Republican Party will be the winner on Election Night, taking back control of one, if not both, houses of Congress. But eight months can be a lifetime in politics. So it's worth reviewing what we know about midterm elections generally, the 2022 midterm elections specifically, and the evolving debate over voting access and ballot security.
Things to Know About Midterm Elections
American politics has perhaps one ironclad rule: The sitting president's party almost always loses House seats in the midterms. Going back to Harry Truman's presidency, the president's party has lost, on average, twenty-nine House seats in each president's first midterm election. Focusing on a president's first midterm election here makes sense because 2022 will be President Joe Biden's first—and perhaps, only—midterm election.
Of course, averages can hide a lot. Looking at elections since the end of World War II, has the president's party ever gained seats during his first midterm? Yes. Exactly once. That's out of thirteen tries. It happened in 2002, when George W. Bush was president. The Republicans picked up eight House seats.
That unusual outcome twenty years ago highlights the fact that House midterm elections function as a referendum on the president. In the fall of 2002, Bush was benefiting from the lasting rally-round-the-flag effect generated by the September 11 attacks. His public approval rating stood in the low sixties.
That's a number that most presidents can only dream of heading into their first midterm. Since Truman's time, seven of thirteen presidents entered their first midterm with their public approval rating below 50 percent. Those presidents saw their party lose, on average, forty-three House seats. President Barack Obama, whose approval rating stood at 45 percent in 2010, took the biggest midterm shellacking. Democrats lost sixty-three House seats.
So much for House elections. What about the Senate? Here the numbers are less lopsided. The president's party sometimes gains Senate seats in a president's first midterm election. The president's party has picked up seats in five such elections. The most recent instance came in 2018. Republicans gained two seats during President Donald Trump's second year in office.
Why the difference in the outcomes of midterm voting for the House and Senate? Many factors are at play. One of the most significant is that only a third of Senate seats is up for grabs in any election. By the luck of the draw, that mix of seats may favor the president's party.
Why Republicans Are Optimistic
Republicans are feeling good heading into the 2022 midterms. It is easy to see why:  
Biden's current average job approval rating is 42 percent. To put that in perspective, only Truman in 1946 (33 percent) and Trump in 2018 (41 percent) had a lower approval rating at the time of the midterm election.  
Democrats hold 222 seats in the House, or four more seats than are needed to hold the majority. So Republican candidates could grossly underperform historical averages and still retake the House.
So far thirty-one incumbent House Democrats—or roughly one out of seven—have announced they will not run for reelection. It is generally easier to win an open seat than to defeat an incumbent.
Inflation is at a forty-year high. Nearly six in ten Americans say that inflation is causing hardship for them or someone in their household. (Republicans have already dubbed it "Bidenflation.")
More than 1,500 Americans a day continue to die of COVID-19.
Americans moved toward the Republican Party in 2021. Gallup found at the start of the year that Democrats led Republicans in party identification by nine percentage points. By the end of the year, Republicans led by five points. That fourteen-point swing is among the largest Gallup has ever recorded.
Why Democrats Still Have Hope
Democratic lawmakers and strategists have been warning for months that the November elections could be a debacle for the party. But Democrats might fare better than expected for several reasons:
The midterms are still eight months away. Again, that can be a lifetime in politics.
House Democrats lost thirteen seats in the 2020 election. That was a huge disappointment to the party faithful at the time. But in 2022 it means that many of the most vulnerable Democratic seats have already been lost. On the flip side, House Republicans have more marginal districts to defend.
The decennial redistricting of House seats has gone well for Democrats. Several state courts have thrown out or curtailed redistricting plans that would have disproportionately benefited Republicans. Conversely, several states have adopted plans that will benefit Democrats. New York State, for example, enacted a redistricting plan that could add as many as three Democratic House seats to the state delegation.
The Senate math favors Democrats. They are defending just fourteen Senate seats. Only three of those seats look to be at significant risk, and in each case the incumbent is running for reelection: Arizona (Mark Kelly), Georgia (Raphael Warnock), and Nevada (Catherine Cortez Masto). Conversely, Republicans are defending twenty-one Senate seats. Three of those races look to be very competitive. Two of them—North Carolina and Pennsylvania—are open seats with the incumbents (Richard Burr and Pat Toomey) having opted to retire. In Wisconsin, the incumbent (Ron Johnson) is seeking reelection.
The rightward drift of Republican voters means that the Republican primaries could nominate ideologically extreme candidates who will alienate the centrist voters needed to win in the general election. This risk is greater in Senate than House races because state-wide races are generally more competitive than those in gerrymandered House districts. Not surprisingly, Senate Minority Leader Mitch McConnell has tried to recruit more mainstream Republicans to run in the primaries against candidates he has privately called "goofballs."
Election Security or Voter Suppression?
A major issue in the run-up to the November vote will be the rules governing how ballots are cast and counted. Nineteen states enacted legislation in 2021 that tightens voter registration and curtails or ends procedures like mail-in and drop-off voting. More such laws are poised to pass this year. Democrats have denounced these changes as designed to suppress the Democratic vote. Republicans counter that Democrats are pushing legislation under the banner of expanding voting access that would actually make elections less secure.
It is unclear what precise impact these new voting laws will have. But the perception that they benefit one party or the other, or that they changed the outcome in specific races, will only deepen the polarization gripping the country.
Margaret Gach assisted with the preparation of this post.