Anand Panyarachun and The Making of Modern Thailand: A Review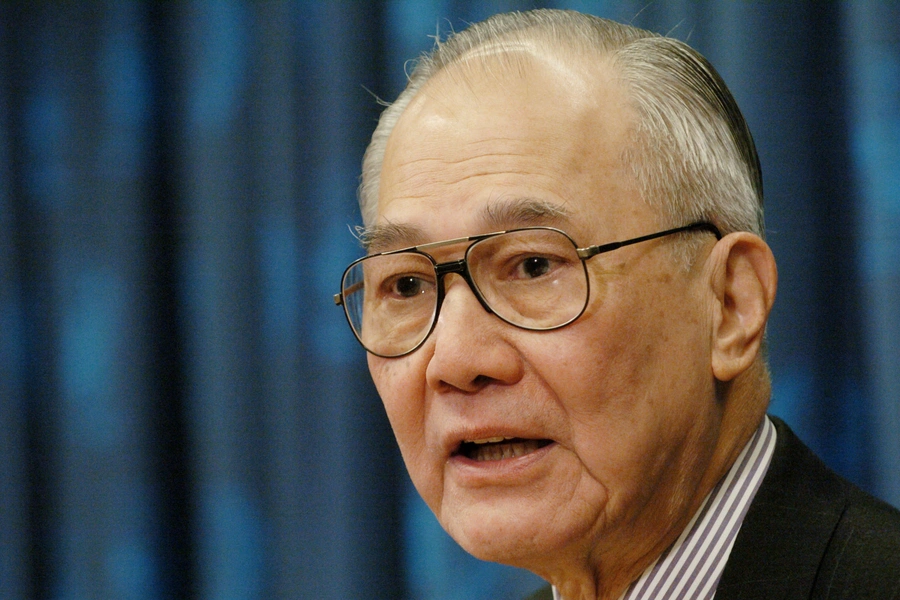 By Petra Desatova
Anand Panyarachun, the former prime minister of Thailand and a long-time central figure in Thai politics, belongs to an old generation of Thai technocrats, who shaped Thailand's economic and political developments between the 1960s and 1990s. This was an era of mostly military rule, but many of the military governments delegated significant authority over the economy, and to some extent politics, to the technocratic elite. Educated almost exclusively in Europe and the United States, these technocrats had stellar careers and many, like Anand, who is now eighty-six years old, continue to command immense social respect to this day, even as Thailand's political system has broken down, with little consensus left. The technocrats' careers were characterized by a strong sense of public service and willingness to work with whatever government was in power. Their dealings with the military were often more pragmatic than principled—but not all Thai technocrats pandered to military interests.

Anand, for one, despite generally conservative leanings, had thorny personal relations with many generals over the course of his technocratic career. This tension, however did not prevent him from accepting General Suchinda Kraprayoon's offer to be appointed Thailand's prime minister following the 1991 military coup. Anand's achievements in office earned him a reputation, among many Thais, of the best prime minister Thais have never elected—injecting some legitimacy to the narrative of traditional elites (the monarchy, military, and senior bureaucracy) that you do not necessarily need to win an election to be a wise leader, a point hammered home by the current military junta's creation of an upper house of parliament full only of appointed senators, for instance.

Dominic Faulder's new biography provides many fascinating insights into Anand's life as well as some of the major political developments in modern Thai history, in which Anand often played a central role. Faulder is a veteran journalist and foreign correspondent, who has been based in Thailand since the early 1980s. Particularly well documented in Faulder's Anand biography are the politically turbulent mid-1970s, which were marked by the end of the Vietnam War and withdrawal of all combat U.S. military forces from Thailand, which had been a primary staging ground for the war. The decade also was marked by the rise of ultra-conservative right-wing political forces—a rise that culminated in the infamous 1976 Thammasat University massacre. Another well-documented period in the book is the early 1990s, when Anand was appointed Thailand's prime minister twice within nineteen months, amidst another period of extreme political turbulence that included Suchinda's coup and Anand's service as his prime minister, mass antimilitary protests in Bangkok, a brutal crackdown on the protestors by the Royal Thai Army, an intervention by the late king Bhumibol Adulyadej, and then a return to civilian government with Anand as prime minister again.

Born in 1932 into a family of Chinese and Mon descent that was part of the Siamese non-royal titled elite (the country had not yet changed its name to Thailand), Anand's life was comfortable and full of privileged opportunities. At the age of sixteen, he was sent to England to study at Dulwich College followed by a degree in economics and law at Trinity College, Cambridge. Upon his return to Thailand in 1955, Anand joined the foreign service, which was one of the most prestigious career paths for aspiring young technocrats at the time. He quickly rose up the ranks due to his excellent command of English and his no-nonsense attitude and forthrightness. These traits are not normally associated with Thai culture, and have earned Anand a reputation as being "un-Thai" among some co-workers. At the age of twenty-six, he was made a secretary to the then powerful foreign minister, Thanat Koman. This was a significant career leap that helped to develop Anand's skills and experience. In 1964, Thanat posted Anand to New York to join the Permanent Mission of Thailand to the United Nations. By the age of forty, Anand had become an ambassador to Washington—the most prestigious diplomatic posting at the time in the Thai foreign service.

Anand's approach to diplomacy was very hands-on. He believed that the role of a diplomat was to "have your own mind and make [policy] inputs." This approach did not always sit well with some deep-seated Thai cultural norms, such as valuing seniority and deference. His approach landed him in trouble when he returned to Thailand in 1975 to become a permanent secretary at the Ministry of Foreign Affairs. His uncompromising stance on the lingering U.S. military presence in the kingdom made him particularly unpopular with Thailand's generals, who charged him with communist tendencies following the 1976 military coup and the Thammasat University massacre. Although exonerated within a few months, this experience had a profound impact on Anand and his family—it led to his decision to exit the foreign service in 1978 and start a second career in business.

Anand's rise to premiership in 1991 was unexpected. Readers might find it surprising that he was not General Suchinda Kraprayoon's first choice for the post. In fact, his name had to be suggested to Suchinda. Although Anand considered the coup a "national catastrophe," he agreed to take the job. Saying no and leaving the generals to drown in the political malaise they had created would, theoretically, be the principled option, but Anand believed it was not a good decision for Thailand. He formed a government full of capable technocrats and pushed through many impressive policies, such as trade liberalization and a highly effective anti-HIV/AIDS campaign that made Thailand a model for other developing countries, with staggering speed and efficiency. This has had a lasting political effect on Thailand as Anand essentially demonstrated what capable, civilian, and incorruptible leaders can theoretically achieve if they are not constrained by electoral politics. Every time there is a political crisis in Thailand, some Thais hope for another unelected leader with Anand-like qualities. What they usually get, however, is an ineffective military general with a narrow, pro-armed forces, and regressive agenda.

Anand's second term as Thailand's prime minister followed General Suchinda's short-lived elected government and the bloody crackdown on anti-government protesters in May 1992. Anand's second term was only 104 days long and had no legislative agenda. Anand chose not to launch a criminal investigation into the May 1992 events. Instead he secretly drafted a transfer plan to remove the military generals responsible for the violent crackdown from positions of power. This was a missed opportunity to hold the Royal Thai Army accountable for the May 1992 events, but Anand maintains to this day that any formal investigation was the responsibility of the elected governments that came to power after him.

Following his two premierships, Anand returned to work in the private sector. He also became involved in many activities with public-service elements, both in Thailand and abroad. Some of his most notable contributions include chairing the constitution drafting committee that delivered Thailand's widely-praised and progressive 1997 constitution, presiding over a United Nation's panel on global peace and security, chairing the commission on Southern Thailand, and chairing the National Reform Commission on Thailand's deep political and societal divides.

Faulder's book shows that Anand is by no means a typical Thai technocrat, but readers might be left with mixed feelings about Anand. Although Anand holds some fairly progressive views, within the context of Thai politics and society—Anand supports the devolution of power to Thailand's outer regions, and Faulder quotes Anand as saying that the draconian lèse-majesté law, which has stifled discourse, should be decriminalized and replaced with a system of fines—Anand is still very conservative. He donated fifty-thousand Thai baht to the ultra-royalist and conservative People's Alliance for Democracy (PAD) movement, part of the broader royalist "yellow shirt movement." The PAD played a role in ousting the elected government of Thaksin Shinawatra and paving the way for the 2006 military coup. Anand also attended a funeral of a yellow shirt protester in 2008. He does not regret either action. Described as "pale yellow"—sympathetic to the arch-royalist yellow shirt movement in Thailand—by a close friend, Anand is an unapologetic royalist.

Five hundred fifty-six pages long, the book can seem quite daunting, but Faulder's narrative style is highly readable. Many of his insights stem from his long personal relationship with Anand, and he provides a lot of rich detail on Anand's life and career, drawing on more than two hundred interviews with Anand and interviews with many other sources. His account of Anand is set within wider discussions of Thailand's political developments, regional and international affairs.

However, readers expecting a highly-critical assessment of Anand's role in these developments or explorations of the many controversies surrounding Thai politics might be disappointed. This is an authorized biography that presents a largely positive account of Anand and treads carefully around many of the controversial topics in Thai politics, including the country's multiple military interventions, and the role of the monarchy, often leaving it to the reader to join the dots in the narrative about these topics.

Nevertheless, this is a very informative and absorbing book, which will be of great interest to Thailand experts as well as anyone interested in the politics and diplomacy of a long-time, critical U.S. treaty ally.

Petra Desatova, PhD, is a researcher on the United States Institute of Peace project into Thailand's 2019 elections, at the School of Politics and International Studies, University of Leeds.