Anti-Corruption Campaign in China's Medical Sector: Unmasking the Hidden Agenda
While the Chinese government's new anti-corruption campaign has the potential to significantly advance China's healthcare reform, it may also have unforeseen and potentially dire consequences.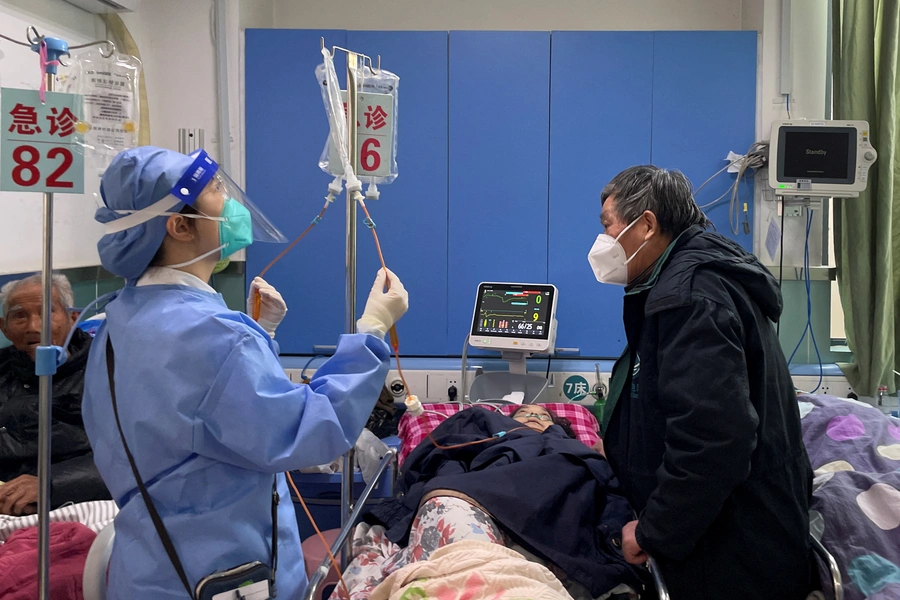 The perception of healthcare workers in China has undergone a dramatic transformation.  Just three years ago, they were heralded as "white angels" and "heroes in harm's way". Today, they found themselves ensnared in an unprecedented anti-corruption campaign.  Promoting "systematic governance" throughout the entire healthcare sector, the campaign seeks to uncover dubious ties between hospital managers, doctors, and medical representatives. As of July 31, investigations were launched against over 155 hospital chiefs, more than doubling the total from the previous year.  In August, hospital directors or party secretaries are sacked almost daily.  On August 7 alone, the crackdown wiped out a staggering 200 billion yuan ($27.9 billion) in market value for A-share healthcare stocks, once considered safe-haven assets.
While Chinese media are awash with discussions about the campaign, there is a noticeable absence of discussion about why the government is now intensifying its focus on corruption in the medical sector.  Medical corruption has long stood as a prime grievance in China. This becomes particularly intriguing considering the history of disclosed hospital corruption cases.  According to a study published in China Healthcare Management, corruption cases in public hospitals reached their zenith in 2017 and have been on a decline since 2020.  Bribery remains the dominant form of corruption in the medical field.  However, traditional practices, such as accepting "red envelops" from patients, have been largely replaced by commercial bribery, a process where pharmaceutical and medical equipment suppliers offer bribes to government officials and healthcare providers to secure a competitive edge.  Nonetheless, healthcare reforms and regulations, including the elimination of drug markups and collective procurement via medical insurance, have limited the scope for such commercial bribery. 
This begets the question: what is the underlying motive of the campaign? In John Kingdon's public policy model, even if a policy issue is recognized and requires intervention, a window for effecting change opens when the problem, policy solutions, and political "streams" converge. The timing of this anti-corruption drive coincides with the decelerating post-COVID economic recovery, underscoring the urgent need to stimulate domestic consumption.  As Cai Fang, a well-known Chinese economist, puts it, "the most pressing goal now is to stimulate consumer spending."  But anxieties related to healthcare and other long-term expenses, such as housing and education, have held back increased spending. Even the introduction of universal health coverage over the past decade has not significantly alleviated the economic strain of healthcare for many Chinese. The post-COVID economic downturn has further lengthened people's time horizon in making decisions regarding consumption.  
A more viable solution is to offer free medical care, or at the very least, drastically reduce out-of-pocket medical expenses. Li Ling, a health economist at Peking University, points out that China's healthcare expenditure last year amounted to seven trillion yuan ($975 billion). This amount, theoretically, should be ample to ensure free and quality healthcare.  However, the substantial funds directed toward implementing zero Covid for the past three years, combined with dwindling fiscal revenues amidst economic downtowns, have strained the country's ability to finance healthcare and other policy priorities. In cities like Wuhan and Dalian, cash-strapped local governments opted to curtail healthcare investments.  The decision triggered protests akin to the anti-lockdown demonstrations in November 2022, thereby questioning the government's legitimacy and threatening regime stability.  
Ordinary Chinese, of course, welcome such a government move. By directing its populist anti-corruption lens onto the medical sector, the government tactically shifts blame onto hospital managers, doctors, and medical representatives.  This deflective strategy shields the government from being the primary target of public dissatisfaction, which could challenge its authority and legitimacy. Furthermore, recuperating illicitly obtained funds could help bridge the fiscal gap.  An analysis of 3,546 corruption cases from  2013 to 2019 found that, although the average bribe stood at 783,000 yuan ($110,000), 468 instances involved officials or hospital directors receiving over ten million yuan ($1.4 million), with the highest bribe surpassing 100 million yuan ($14 million). The cumulative amount of corruption is believed to exceed two trillion yuan ($278.6 billion).  
It's no wonder that local governments are also rallying behind the campaign. By August 14, over ten provinces had publicly commenced year-long crackdowns on medical corruption.  Medical professionals are now required to repay any unjustified remuneration received from 2018 to May 2023, including fees from speaking engagements, training, seminars, and related activities.  The Beijing Municipal Health Commission recently introduced an "integrity account" for doctors, allowing them to return bribes and be absolved of past mistakes. In a proactive measure, the Shanghai municipal government has offered substantial rewards—up to one million yuan ($139,000)—to those who expose illicit transactions or regulatory breaches.  
The campaign has the potential to significantly advance China's healthcare reform. By breaking the corruption chain and ousting unscrupulous players, it could not only make healthcare more affordable but also pave the way for future overhauls in health insurance payment methods and doctors' compensation. However, the campaign does not address the primary culprits—public hospitals that provide approximately 90 percent of the country's inpatient and outpatient services. Labeling them "public" is misleading since only about 10 percent of their revenues come from government funds; they largely operate as profit-driven machines.  Also, the clampdown is far from complete—it remains to be seen whether it will shift its attention from the "usual suspects", like hospital managers, to health officials who have a final say in procuring costly and large-volume equipment and pharmaceuticals.  According to a study sponsored by the National Health Commission, 45 percent of the bribery incidents occur during decision-making phases, almost half of those implicated in bribery belong to administrative departments, and senior leaders making up 30 percent. During the COVID-19 period, decisions over the procurement of nucleic acid reagents or vaccines became hotbeds for corruption, sparking public outrage. 
The fervent anti-corruption drive may have unforeseen and potentially dire consequences.  One evident outcome is the vilification of doctors.  Sun Ningling, a prominent physician at Peking University People's Hospital, lamented: "Lately, both mainstream and independent media have zealously spotlighted anti-corruption in the medical realm… It is as though every doctor has abandoned their medical ethics, with necessary prescriptions and the use of imported medical equipment for tests and treatments all painted as mere kickback schemes." There are rising apprehensions that vilifying doctors might spur an exodus, undermining the healthcare system's capacity to meet the surging healthcare demands.  Those who stay might embrace a passive "lying flat" mentality.  Some reports suggest that doctors are now reluctant to participate in academic conferences or prescribe imported drugs. A top-tier hospital in a southern province observed a market decline in orthopedic and ophthalmic surgeries, with previously optional procedures now consistently avoided. This jeopardizes patient care, potentially preventing them from accessing critical medicines or essential healthcare services, further straining the patient-doctor relationship and exacerbating the problem of hospital violence against doctors. In the bleakest outlook, as cautioned by a director of a major hospital, "this might culminate in the complete unraveling of our nation's healthcare infrastructure." 
The hospital director's cautionary note brings to light the broader implications of using campaigns as policy instruments in China. In recent years, the government has rolled out multiple high-profile campaigns pledging to lighten the burden of the "three mountains"—housing, education, and healthcare.  Yet, attempts to rein in debt and speculation in real estate resulted in a property slump, compelling the government to take a policy U-turn amidst the post-COVID economic downturn.  The extensive crackdown on for-profit after-school tutoring led to the closure of many businesses without effectively tackling the societal inequalities it promised to rectify. Instead of drawing lessons from these campaigns, the government has now initiated another campaign centered on the "third mountain"—healthcare. The outcomes are unlikely to be any better than those of the previous endeavors.