Attacks on the Media Continue Unabated in Nigeria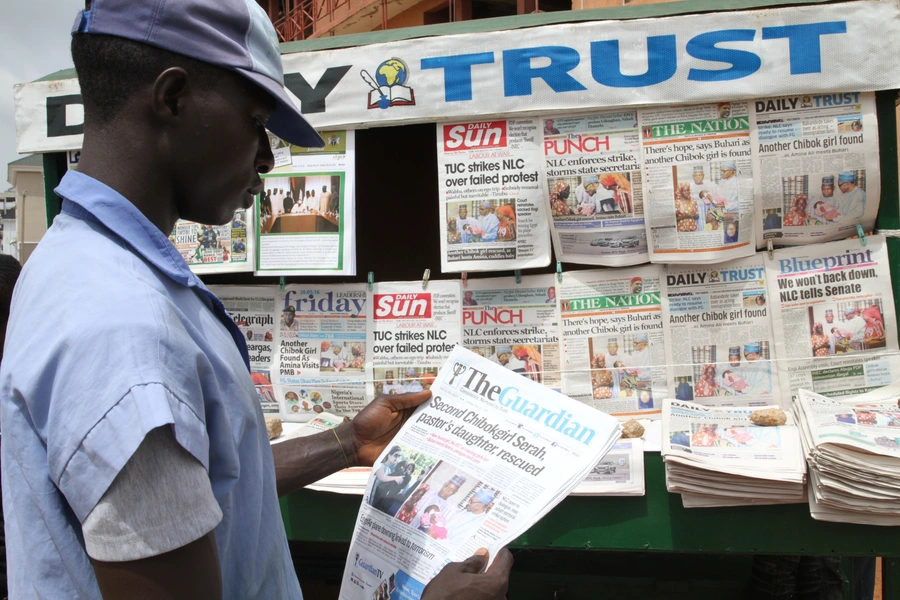 There has been a string of arrests of media personalities and suspensions of media outlets in Nigeria. Recently, some of the arrests have been related to support for a protest tagged "Days of Rage" and #RevolutionNow, against what supporters consider a failure of governance, but the harassment of media in Nigeria is nothing new. 
In January 2019, Nigerian Security Services raided multiple offices across the country of the Daily Trust, one of Nigeria's largest circulation newspapers, apparently angry at its published reports about upcoming army operations against Boko Haram. President Buhari quickly ordered the military to leave the newspaper's offices, raising questions at who exactly had ordered the raids. In April, an activist known as IG Wala was sentenced to seven years in jail for organizing a peaceful demonstration and for making "unsubstantiated allegations" against a public official, the chairman of the National Hajj Commission. He is in the process of appealing the ruling. He had been denied bail, which he requested on health grounds until his appeal could be heard. He was then transferred to a remote prison.
In June, DAAR Communications, owner of African Independent Television and RayPower FM radio, had its license suspended indefinitely, allegedly for failure to pay licensing fees and for the presence of hate speech and suspect information from social media in its programming. The following day a Federal High Court judge ordered the reopening of the networks. The owner of DAAR communications had accused the director general of the National Broadcasting Commission of editorial interference and political bias. 
On August 2, Abubakar Dadiyata Idris, was apparently kidnapped. Family and friends are saying that he has been arrested by the SSS. Known as Dadiyata, he was a fierce critic of Governor Umar Ganduje of Kano state. The next day, the SSS arrested Omoyele Sowore, editor of Sahara Reporters, ostensibly for supporting the #RevolutionNow Lagos demonstration. He was also the presidential candidate for African Action Congress in the 2019 elections. His support for the demonstration was, according to the police, grounds for arresting him for advocating violence. There is a national and international campaign by some human rights advocates for his release.
Allegations against those arrested appear to be a mixture of the mundane, such as the failure to pay licensing fees, and various forms of incitement or criticism of government officials. It is worth noting that in at least some cases, courts have reversed arrests and suspensions.
The specifics of each case are obscure, at least for someone based outside of Nigeria. But people in authority are clearly nervous. The country is facing serious challenges ranging from Boko Haram to Middle Belt conflict over water and land use that falls along ethnic and religious lines. Amid these crises, social media in Nigeria, as elsewhere, can be irresponsible. Governor El-Rufai of Kaduna state has made explicit reference to the role of "fake news" to the Rwandan genocide. Nevertheless, what appears to be an acceleration of media arrests and intimidation must be cause for concern.