Bahar Dutt: U.S.-India Climate Change Cooperation Needs a Revamp
India has made ambitious pledges to reduce its emissions. The United States can help it transition to green energy.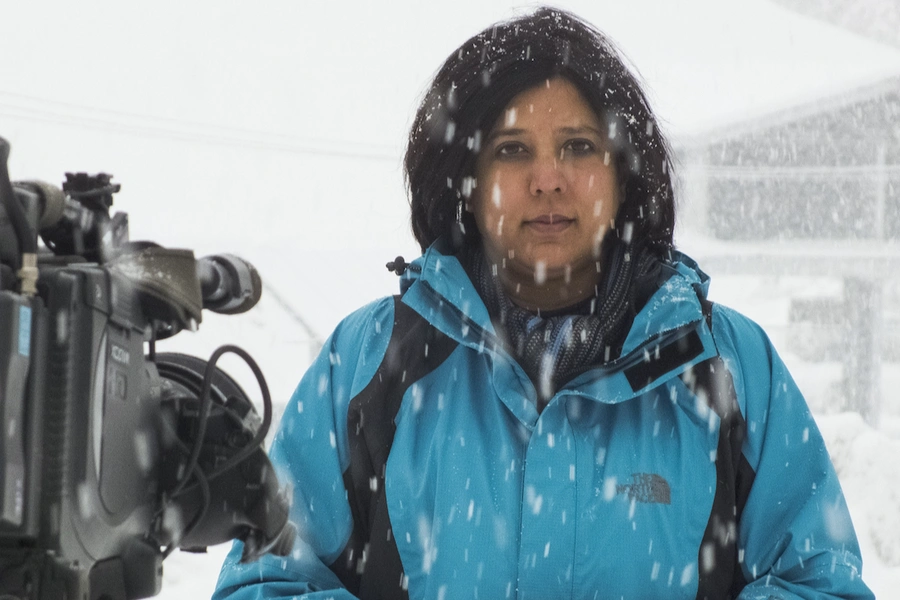 This interview with Bahar Dutt is part of the Asia program's Women's Voices From the Indo-Pacific Project, produced by Senior Fellow Manjari Chatterjee Miller and Research Associate Zoe Jordan, featuring influential women in India's political, economic, technological, and social fields whose work matters for the U.S.-India bilateral relationship and India's relationship with the world. 
Bahar Dutt is a trained conservation biologist who has worked for over fifteen years as an environmental journalist in India, and won more than twelve national and international awards. She is the author of two books, Rewilding in India (Oxford University Press 2019) and Green Wars–Dispatches From a Vanishing World (Harper Collins 2014).  She has curated a podcast for the Observer Research Foundation, 'Earth Talks,' and made films for a number of United Nations agencies such as the UN Environment Program in Bangkok and the United Nations Convention to Combat Desertification in Berlin. She currently teaches a course on media narratives and climate change at Shiv Nadar University.
Ms. Dutt was inspired to become a journalist through her work in villages across India, and believes in shifting reporting narratives on the environment from cute cuddly stories of panda cubs born in zoos to hard-hitting impactful investigations on the diversion or misuse of natural resources by the powerful.  
What do audiences in the United States commonly misunderstand about environmental issues in India? 
Many opinion makers in the developed world, and especially in the United States think that countries like India with large populations have high consumption patterns, and therefore are the bigger contributors to climate change. That is not true.
If we compare the electricity consumed at home by an average American, it is thirty-four times more than an average Indian. Or if we compare the number of cars—186 Americans per 1000 population own cars as compared to just thirty-one Indians per 1000. This is because in spite of having a huge population, large sections of India's population still do not have access to even basic sources of energy—electricity, or cooking fuel. So I think that is an important myth that needs to be busted. Populations numbers do not have as great an impact on the environment as consumption patterns.
It is also not well-known in the United States that India has some of the most extensive and pioneering environment laws in the world including a dedicated judiciary (the National Green Tribunal) which hears cases related to the environment and pollution. India is not given enough credit for that, and forget others, I think we as a country do not give ourselves enough credit for that.
Of course, as India develops, it is true its emissions will increase.[1] And that is a challenge, how does India develop while pursuing low-carbon growth?
What are the most consequential factors in your field of environmental issues and conservation that will play a role in India's relationship with the United States or world in the next 3-5 years?
Climate change will be a big issue for U.S.-India collaboration. India is already doing a lot when it comes to climate change mitigation. Yes, we have coal-fired power plants but we are also the nation that committed at Glasgow to meeting 50 percent of our energy needs from renewable sources of energy by 2030. For a coal-based economy, this is a massive shift. We have done this all on our own with no outside money. But the money that could create more opportunities for working on clean technologies and transitioning to a low-carbon economy is still lagging behind.
U.S.-India cooperation on such issues is happening with interactions between John Kerry and Bhupender Yadav [Indian Minister for Environment]. India has taken the lead in the International Solar Alliance (ISA), and at Glasgow, the United States officially joined ISA.
I asked Minister Yadav while reporting from Glasgow how the United States signing on benefited India, and he said it was symbolically beneficial, but it was not clear what this means in terms of access to funding.
Air pollution is also a potential area of cooperation. India has extensive environment laws but lacks enforcement. After passing the Clean Air Act in 1970, the United States was able to decrease the pollution from six major pollutants by 70 percent within the next two decades.  But while India also passed a Clean Air Act in 1981, enforcement has lagged behind.  It took a New York Times journalist pointing out the pollution problem in Delhi for air pollution to become an issue of national pride—it was very embarrassing for India's politicians. Now, pollution is in the newspapers every day.  There maybe some lessons that the United States can share that are relevant for India.
What inspired you to pursue your career path? How does your personal background inform your work?
I found that India had passed a number of wildlife laws that affected the livelihood of communities. There was one particular community—snake charmers—whose livelihood and identity revolved around the handling of snakes as entertainment. This was in violation of India's Wildlife Protection Act—which is a great law for preserving wildlife but did not take into account that the livelihoods of at least 300,000 people were being destroyed. I worked with many such communities in villages across India facilitating a dialogue between them and the politicians to come up with a solution that would provide them an alternative means of earning. They were able to access loans for setting up small enterprises. We even organized a musical band called 'A Hundred Charmers' that has performed in Edinburgh and Rome celebrating their musical talents (without snakes of course!) My work with the snake charmer community was like a boot camp for life. It taught me how to discern the centers of power within a community, how to manage conflict, and find solutions to complex issues.
While I was working on this project in the 1990s, India was also opening up its economy. This meant large tracts of forests were now being diverted for roads and mining projects in the name of development.
This is when I decided I wanted to be an environmental journalist because I wanted to tell the unknown story of India's rich biodiversity being exploited, my reporting enabled me to make a difference.
Can you speak to the status of women in the work that you do?
There is gender diversity and yet there is not. Here is what I mean: there are a lot of women reporters out there doing fantastic, intrepid work. But those women are not necessarily at the senior levels of decision-making in news rooms. Some national media like NDTV, Hindustan Times have women at the senior level. But is that happening in smaller towns and cities? Not really. Gender stereotyping also occurs because women tend to be in front of the camera, and men tend to be behind it. In my eighteen years of journalism, I have met only three camera women.
At the village level, you may come across small communities like women who have been trained to handle a camera by a grassroots group called the Deccan Development Society in Andhra Pradesh. But is that typical? No. But then again, such stereotypes stretch across borders, and exist even in the United States.
When you look at the state of journalism/environmental protection, what concerns you most or brings you hope? What are the most pressing priorities for you and your colleagues?
Climate change is the biggest story of modern times, but the media is still not telling the story well. Which part of the world you are in should impact how you tell the story of climate change. India has to imagine, for example, Michael Soulé's rewilding differently. In the United States, there are large tracts of uninhabited protected land. But in India, biodiversity exists in a sea of humanity, and it cannot have large tracts of land devoid of human beings. So our approach to conservation and protection also must be different.
People who may not have power, or much education, but are still fighting for their land and their forests make me optimistic. It is all very well for me and other citizens sitting in Delhi to complain about pollution. But the person living right next to a coal-powered plant polluting their river, and they therefore take on a battle to fight the system? That gives me hope. There are many such battles happening on the ground, and we in the media—whether Indian, American, or European—do not talk about them enough. 
My editor used to say that people like me are anti-development, and we are preventing India from entering the developed world. But being pro-environment does not mean you are anti-development. I believe how we think about development must change.  I would like to know when the [Indian] prime minister presents the budget in Parliament how many rivers we have cleaned up, how many households we have given clean water to, how many cities have cleaned up their air. I think if we could implement and uphold our existing laws better, we have a solution. If we see biodiversity and forests as a part of our development process we have a solution.