The Belt and Road Initiative: Forcing Europe to Reckon with China?
In addition to undermining European unity, BRI may also work to cleave the transatlantic alliance. To head off these dilemmas, Europe will need to provide clear alternatives to Chinese infrastructure spending.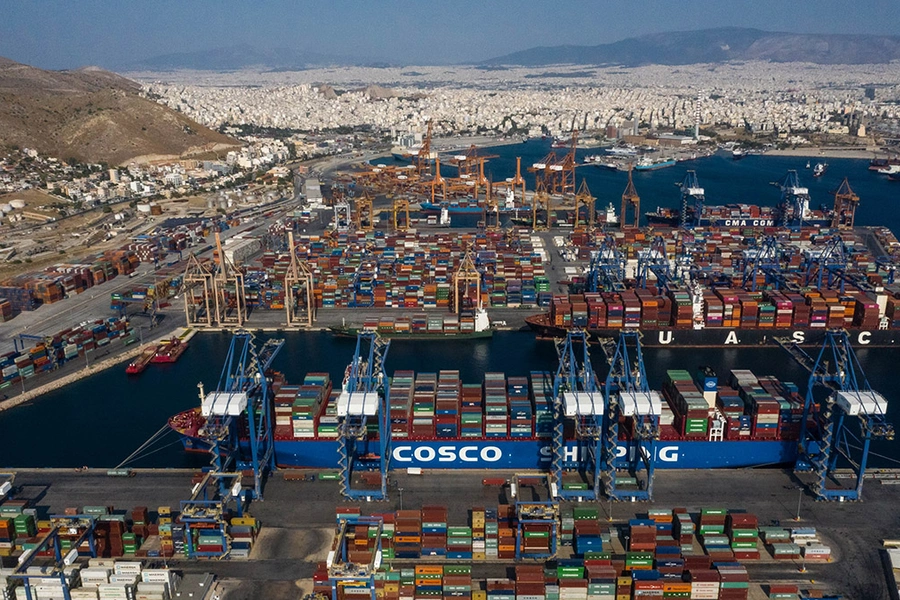 The following is a guest post by Jennifer Hillman, senior fellow for trade and international political economy, and Alex Tippett, research associate for international economics, at the Council on Foreign Relations.
Jennifer Hillman and David Sacks are codirectors of the CFR-sponsored Independent Task Force on a U.S. Response to China's Belt and Road Initiative, which is co-chaired by Jacob J. Lew and Gary Roughead.
When the small nation of Montenegro approached the European Union (EU) for help paying off a nearly $1 billion loan to China's Export-Import Bank (EXIM), borrowed to finance the construction of a large highway project, alarm bells were raised across Europe. The request presented the EU with a problem that members of the World Bank may soon find themselves grappling with—what to do about large loans for economically unviable projects already under construction as part of China's Belt and Road Initiative (BRI). The European Commission ultimately decided to reject Montenegro's request, raising fundamental questions about the EU's willingness to reckon with BRI's expansion.
While China's BRI is commonly associated with Central and East Asia, as explained in a new CFR-sponsored Independent Task Force report, it has a growing footprint in Europe, with two-thirds of EU member states now signed on as formal partners. Prominent BRI investments have occurred in Greece, where the port of Piraeus has been refurbished and expanded by firms associated with the Chinese state, Portugal, which has had large Chinese investments in both the energy sector and in its port of Sines, and Hungary, which is home to a section of the troubled Budapest-Belgrade railway, one of BRI's flagship European projects.
Outside of the EU proper, China has funded numerous projects in the Western Balkans and Eastern Europe. All together, these investments reflect China's desire to tie itself to Europe through the expansion of railroads, airport hubs, and ports. Thanks to these investments, and European demand for medical supplies, in 2020, trade in goods between China and Europe was larger than trade in goods between Europe and the United States for the first time. Many products moved along expanded and heavily subsidized rail lines connecting China and Europe, with more than 12,400 freight trains traveling between the two last year.
Strong economic ties between China and Europe have contributed to European leaders' reluctance to embrace Washington's more hawkish posture towards China. The EU's decision to complete negotiations with China on the Comprehensive Agreement on Investment (CAI) earlier this year and the decision by several European countries to join the China-backed Asian Infrastructure Investment Bank in 2015 are some of the starkest examples of Europe's willingness, at times, to forge stronger ties with China despite U.S. concerns.
In 2019, Italy became the first (and currently only) Group of Seven member to join BRI. Italy's decision, made over the objections of European and U.S. leaders, pushed the EU to outline a new strategic approach to Beijing, which branded China as "an economic competitor in the pursuit of technological leadership and a systemic rival promoting alternative models of governance." It also accelerated the adoption of an EU-wide set of regulations for screening foreign direct investment and highlighted how the decline in European infrastructure spending after the Great Recession helped open the door to Chinese investment.
The precise policy implications of Europe's new approach to China, however, are still the subject of debate. Some members of the European Parliament, for instance, are threatening to sink the CAI, arguing it fails to reflect Europe's commitment to the transatlantic alliance or human rights, while the European Commission continues to press for its approval.
BRI's push into Europe has made it harder for the EU to craft a united approach to China or to keep some aspiring Eastern European entrants to the bloc on board. European BRI beneficiaries like Hungary and Greece have pushed back on EU attempts to criticize China as a bloc. Austria, Hungary, and initially Greece resisted efforts to ban Chinese 5G provider Huawei. In Serbia, a candidate for EU membership since 2012, China has been funding projects that reportedly violate EU environmental regulations.
In addition to undermining European unity, BRI may also work to cleave the transatlantic alliance. Addressing China's unfair trade practices and countering China's growing influence abroad will require willing partners on both side of the Atlantic. A European reliance on Chinese funds for infrastructure development, and tighter economic links between China and Europe, will make aligning American and European interests more difficult.
To head off these dilemmas, Europe will need to provide clear alternatives to Chinese infrastructure spending. Reforming the EU's budget rules to permit member states to spend more on infrastructure without running afoul of the EU's fiscal policy pact requirements is one place to start. Roughly 80 percent of the decline in infrastructure investment after 2008 reflected reduced public spending by EU member states, with the European Investment Bank (EIB) recently warning that government investment is approaching a twenty-five-year low. The EU already has suspended and is now considering renegotiating its budget rules to give greater leeway for deficit spending due to the COVID-19 pandemic. As EU Economics Commissioner Paolo Gentiloni has suggested, similar reforms should be made to facilitate greater government investment. Efforts should also be made to bolster existing pan-European investment vehicles, like the EIB, so that they better meet the infrastructure needs of European states.
Increasing transatlantic cooperation now could also help mitigate the long-term risks of BRI, and not simply in Europe. Such joint efforts could include steps to:
strengthen the World Bank and International Monetary Fund to provide developing countries, including those in Eastern Europe, with alternatives to BRI financing;
increase participation in international standards setting organizations, to ensure that product and services standards are not written solely for the benefit of Chinese technology;
promote the global use of environmentally friendly and transparent financing practices;
enhance collaboration among development finance agencies on both sides of the Atlantic to support the development and promotion of critical technology;
better understand, through strategic mapping, where Chinese control of ports or undersea cables could threaten the ability of U.S., European, or NATO forces to access critical infrastructure;
combat global corruption, particularly in relation to government procurement;
launch technical training initiatives to increase developing countries' ability to evaluate debt and environmental sustainability of infrastructure projects;
bolster and safeguard the rules-based trading order, including through the U.S.-EU-Japan tri­lateral project, with an eye to creating new disciplines on subsidies and forced technology transfer and reviving efforts to reform the WTO.
While the United States and Europe are unlikely to agree on every issue, there is increased recognition on both sides of the Atlantic that, when it comes to China, collaborating more often and more effectively is essential. The longer Europe waits to rise to this challenge, however, the more hardwired the connections between China and Europe will become, and the more difficult it will be to coordinate a joint U.S.-EU response to the risks posed by the Belt and Road.