Breaking Down the Barriers: A Call to Drop the Forty-Eight Hour PCR Test Requirement for Inbound Travelers to China
China's maintenance of the forty-eight hour pre-departure PCR testing requirement has been primarily driven by geopolitical considerations rather than public health concerns.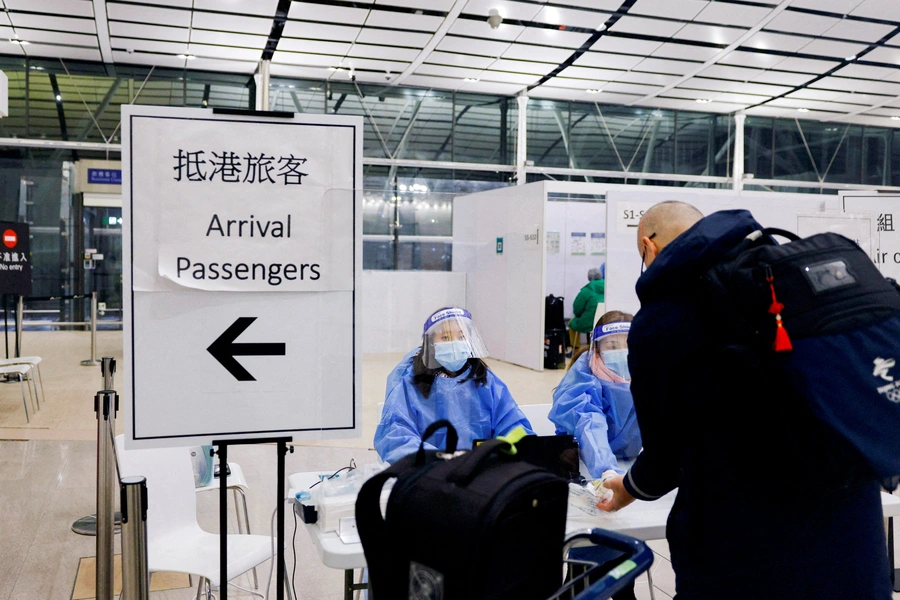 Although the COVID-19 pandemic is not yet officially over, it appears to be tapering off worldwide. Earlier this month, the Director General of the World Health Organization (WHO) stated that he anticipated being able to declare an end of the pandemic as a public health emergency of international concern. The chief epidemiologist of the China CDC echoed this assessment, acknowledging that the COVID-19 pandemic is "coming to an end".
At present, most countries have reopened for tourism without any travel restrictions or additional entry requirements. According to Travel Off Path, one of North America's largest travel news websites, as of April 13 a total of 164 countries no longer require vaccines or tests before, upon, or after arrival. This number would be even higher if we include countries that only require vaccinations, such as the United States and Japan. However, China remains among the few countries that require air passengers to present negative PCR test results taken within forty-eight hours prior to departure. Other countries with similar requirements include Angola, Myanmar, Turkmenistan, Tuvalu, Comoros, and the Solomon Islands.
The question arises: has the institution and maintenance of pre-departure testing been primarily driven by public health concerns? Not really. There is a lack of evidence that such measures are effective in preventing potential new variants or limiting the number of cases. In the case of China, with over one billion people infected by late January, one may wonder if the government even cares about the number of infections per se. Moreover, the measure appears unnecessary and unwarranted, considering the low estimated COVID mortality rate in China (0.068 percent to 0.11 percent ) and that 80 to 90 percent of its population has acquired herd immunity during the recent outbreak. 
Indeed, even the government itself is not convinced that the COVID test requirement is either scientific or necessary. Beginning on January 8, China officially abolished mass testing and centralized quarantine for inbound travelers. Although travelers were asked to take a COVID test forty-eight hours prior to departure, the rule was not enforced, and they only needed to include the negative results in their health declaration form. The test requirement only became mandatory after January 17, in response to "a small number of countries" that required air passengers originating from China to show a negative COVID-19 test amid the rapid surge of cases in the country. China's foreign ministry spokesperson expressed "firm opposition" to these measures, saying they were "disregarding for science and facts" and "discriminating against China," and threatened to "take reciprocal measures." Therefore, the decision to make the forty-eight hour PCR testing requirements mandatory was not primarily a public health measure but rather a geopolitical decision. 
Public health concerns also cannot explain the variation in implementing the pre-departure test requirements for different countries. For instance, starting from March 1, China has allowed Antigen Rapid Test (ART, including ART home testing kit) results for air passengers travelling from  seventeen countries, apparently to reward these countries for not targeting travelers from China to produce a negative COVID test. By April 11, the relaxed requirements had been extended to thirty-five countries, including Italy and France. It is important to note that in practice, the ART requirements are not enforced, as airlines there do not verify the ART test results from passengers but rely on passengers to self-report their COVID status on the health declaration form.
The predominance of geopolitical considerations behind the enforcement of the travel restriction measures means that the forty-eight hour PCR test requirement remains in place unless there is any significant improvement in China's relationship with its geopolitical rivals. Given the continued or escalating tensions between China and many Western countries, China does not have strong incentives to lift the restrictions. This might explain why, in light of the spat with the United States over issues like the balloon incident and the origins of COVID-19, China has failed to reciprocate the United States' decision in March to rescind the mandatory pre-arrival COVID test requirements for travelers from China.
Unfortunately, the PCR test requirement is proving to be a significant barrier for those who wish to travel to China, including international students, business travelers, and Chinese immigrants abroad. According to a February survey of forty-three American companies, 50 percent of chief executives planned to visit China in the first half of 2023. However, before embarking on their trip, they must spend time locating a test center that provides PCR test services and calculating when to get tested. This can be particularly challenging due to the sharply curtailed non-stop flights to China, which often require connections in a third location, adding to the confusion in scheduling the test. The test is also not cheap; with insurance, the author was charged a discounted price of $135 to get tested at an urgent care center in March. Implementation of the test requirements also varies among airlines, with U.S. airlines generally enforcing the requirements more strictly than Hong Kong or Taiwan-based airlines. When checking in for United flights to Shanghai (with a connection in San Francisco) in Newark, the author had to convince the airline representative that the test had been taken within the forty-eight hours before the departure of the flight from San Francisco and was a PCR test. In contrast, those who connected their flight in Hong Kong or Taiwan reported that the airlines barely checked their test results.
For the millions of overseas Chinese in North America who have been unable to return to China to see sick parents or visit loved ones, the PCR test requirement is not only excessive but unfair. Many fellow Chinese Americans express frustration, questioning why they should be penalized for the conflicts between China and the United States. The policy not only alienates overseas Chinese but also discourages Chinese citizens from travelling to North America since they are  subject to the same test requirement when returning to China. As a Chinese media outlet noted: "The current situation has caused significant problems for many people who intend to travel abroad for business, visiting relatives, or tourism. Whether or not to undergo PCR has become an important factor for them to decide whether or not to travel abroad."
The travel restriction measures have unsurprisingly hurt China's tourism industry, despite the reopening of its borders. Not only have foreign visitors yet to arrive in large numbers, but the number of outbound Chinese tourists remain far below pre-COVID levels. The lack of people-to-people exchange has already contributed to misunderstandings, misperceptions, and misinformation toward each other, raising the risk of conflict between the United States. and China. According to a March 2023 Pew survey, 38 percent of Americans now perceive China as an enemy of the United States, a 13 percent increase since last year. The persistence of travel restrictions also raises questions about China's seriousness in opening up to the outside world. At a March meeting with foreign business leaders, China's premier Li Qiang pledged that "the door to China's opening will become wider." However, at the Canton Fair, the largest trade fair in China, many Westerners did not show up, and compared to pre-pandemic years, there were fewer European buyers and almost no new U.S. customers. Although there were more buyers from Latin America, Africa, Southeast Asia, and Russia, they did not provide as high profit margins as buyers from the United States and Europe. Hu Wei, a leading political scientist in China, is blunt in citing an adviser of the late paramount leader Deng Xiaoping: "Without opening up to the United States, opening up to any other country is useless."
To summarize, the forty-eight hour PCR test requirement cannot be justified on public health grounds, and it is alienating the Chinese diaspora overseas, impeding China's tourism industry, and hindering China's post-COVID reopening efforts.  It is imperative that this requirement be abolished, and the time to do so is now.