Cambodia Draws Closer to Outright Authoritarianism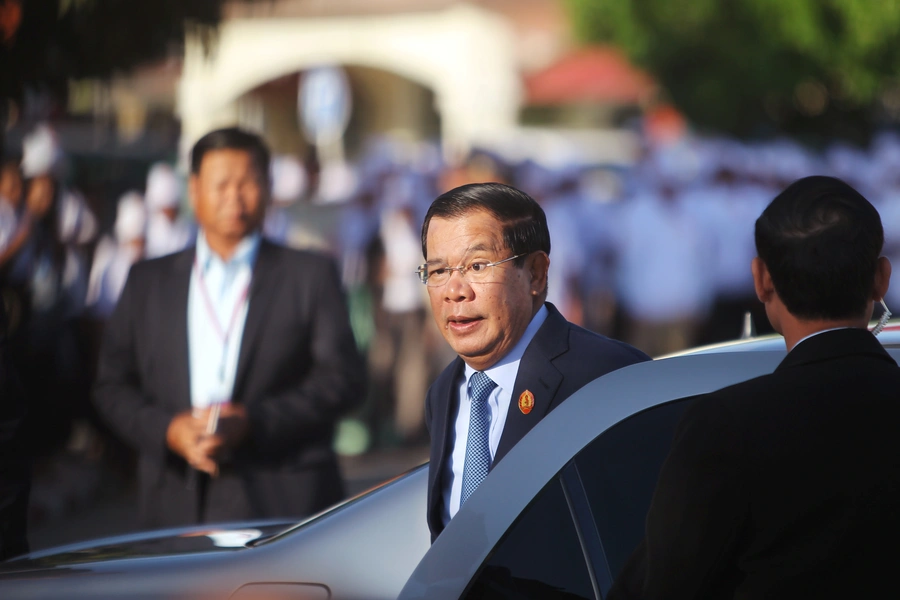 For decades, Cambodian Prime Minister Hun Sen, the longest-serving nonroyal ruler in Asia, has played a delicate political game. While using a wide range of tactics—co-option of opposition party leaders, the use of state funds to promote the ruling Cambodian People's Party (CPP), laws and lawsuits to reduce the influence of civil society and political opponents, and reportedly sometimes outright election fraud—he also has tried to maintain at least an appearance of some political freedom in Cambodia.

As a result, for decades Cambodia existed as a kind of pseudo-authoritarian state, but one in which there were greater freedoms than in neighboring nations like Vietnam, Laos, and even to some extent Thailand. The country held contested elections, even if the electoral process was highly biased against opposition parties, and the CPP used a wide range of threats and other tools to try to divide and harass the opposition. Civil society, which had been rebuilt in the 1990s, continued to flourish despite the CPP's tough tactics toward environmental groups, some media outlets, campaigners for fairer electoral processes, and other NGOs. Foreign civil society organizations like the National Democratic Institute (NDI) and the International Republican Institute continued to operate in the country. Reporters faced harassment—and worse—but in the 1990s, 2000s, and 2010s a young generation of Cambodian journalists emerged, and tough, independent radio, online, and print outlets investigated government activities and posed tough questions to policymakers. In 2013, the main opposition party even nearly won national elections—the true result will never be known, although some opposition figures believe it did actually win, but the election commission did not allow the CPP to lose.

In the past year, however, Cambodia's politics have slid farther backwards than probably any other country in East Asia. (Thailand is a close competitor, but the Thai military took power in 2014, not 2017.) Hun Sen and the CPP this year have launched an all-out attack on political opposition and civil society. The prime minister seems to have decided to take no risks ahead of 2018 national elections—no repeat of the possibility that his party could lose. He also appears emboldened by a new geopolitical situation in Southeast Asia in which the United States government, which historically had been one of the major critics of Hun Sen's abuses, has chosen to mostly ignore human rights issues.

Most recently, last week the Cambodian government filed papers that seek to dissolve the main opposition coalition, which would leave the opposition shattered before national elections in 2018.

The proposed dissolution of the opposition is just the capstone on a year of turbulence. One of the main opposition leaders, Sam Rainsy, remains in exile. If he returns to Cambodia, he will have to face defamation charges. The other opposition leader, Kem Sokha, was arrested in September on dubious charges of treason and is reportedly now in prison.

The crackdown has extended more widely as well. The Cambodia Daily, one of the most important media outlets, shut down in September. NDI had its program shuttered earlier this year, and top Cambodian government officials are now warning other NGOs that their events could be shut down if they do not get government permission in advance. Hun Sen's government also has closed a number of independent radio stations, and is reportedly eying an even broader crackdown on politicians and civil society.

The Los Angeles Times reports that about half of the opposition's members of parliament have fled the country. With good reason: As the Los Angeles Times reports, earlier this month Hun Sen warned that "rebels" in Phnom Penh were supposedly plotting to overthrow the government, and suggested action needed to be taken against them.

Hun Sen, in fact, has been issuing dire warnings all year of how bad it could get. In June, he delivered a speech in which he warned opposition politicians and other critics to "prepare coffins" if his party happened to lose in 2018. The prime minister is certainly using every tool possible to make sure his party wins.