Cambodia's Sham Election and What Comes Next
Cambodia will hold a national election on July 23, but long-serving Prime Minister Hun Sen has eroded his political opposition and a once-vibrant media and civil society.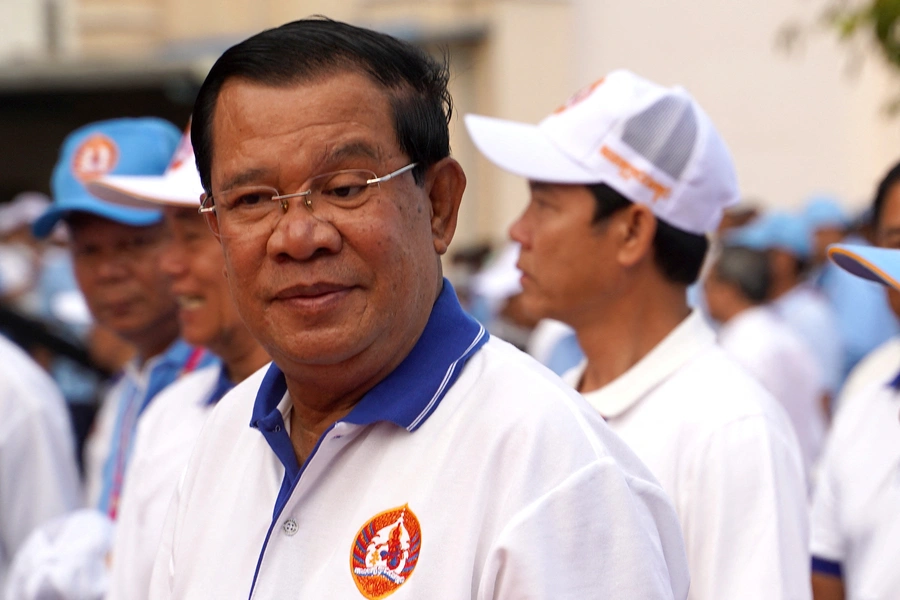 Later this month, Cambodia will hold national elections for parliament. However, compared to some previous periods like the early 2010s when there were credible opposition parties—albeit with the deck stacked against them—and opposition parties won considerable numbers of seats in parliament, this time around the election looks more like what you would see in Saddam's Iraq. The government has banned the main opposition party, the Candlelight Party—an earlier iteration of which had actually seriously threatened the government's hold on parliament in prior elections.
While there are a few obscure opposition parties contesting the election, they are just there for show. Major opposition leaders like Kem Sokha are in jail or house arrest, as are other members of the leading opposition party, along with prominent dissidents, activists, and others who have challenged the government and Prime Minister Hun Sen. There has simultaneously been an intensive crackdown on Cambodia's once quite vibrant media and civil society, which had been fairly open even in an authoritarian environment.  (The other leading opposition leader, Sam Rainsy, has not returned to the country because he faces life in prison on trumped-up charges if he returns.)
Opposition media have been forced out of the country, as have many civil society groups, and the last real independent media, Voice of Democracy, was closed in February. Hun Sen also has forced out some foreign organizations designed to promote civil society and democracy, even as he benefits from Chinese largesse, giving him power over any democratic critics.
In fact, Hun Sen has become so autocratic—a shift from earlier periods in which he was authoritarian but allowed some degree of public discussion and protest, and some opposition parties—that he has now barred Meta's oversight board. He has done so after he was suspended from Facebook for making violent threats on the platform.
In a posting, the prime minister put up a "video [that] was one where Hun Sen said those who accused his Cambodian People's Party (CPP) of buying votes in a 2022 local election should file a legal case, or face a beating from CPP's supporters," according to Reuters. Hun Sen claims he is now going to abandon Facebook for Telegram.
In reality, Prime Minister Hun Sen, now the longest-serving non-royal leader in Asia (five decades and counting) and his ruling Cambodian People's Party, is almost surely going to win every one of the one hundred and twenty-five seats in parliament (thus the comparisons to Saddam and Iraqi elections), as the CPP did in the last election in 2018.  Hun Sen's son, Hun Manet, is running for parliament and will surely win a seat. Hun Manet is supposedly going to be Hun Sen's successor, although pulling off a dynastic succession is not easy, and there are many powerful Cambodians opposed to the move, as I will discuss in a post-election CFR In Brief.
As I previously noted, the regional organization Association of Southeast Asian Nations does not seem to care—most of its members are autocracies anyway—and Cambodia benefits from the world focusing on other issues from global economic challenges to the war in Ukraine to China-U.S. rivalry, among others. So, Cambodia's long-ruling party is almost surely going to dominate the election, with minimal response from much of the world.