Can Suu Kyi Break Myanmar's Ceasefire Deadlock?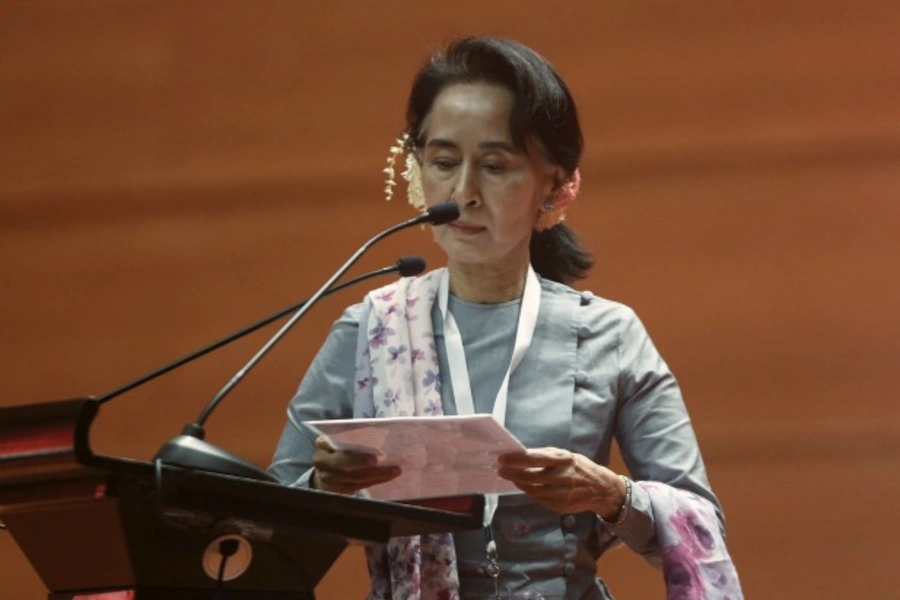 Last week, Aung San Suu Kyi, whose party will control Myanmar's next parliament, participated for the first time in the government's ongoing peace negotiations with ethnic minority insurgencies. As the Associated Press reported, Suu Kyi declared that she would push for a complete peace accord, one that includes the insurgent groups that did not sign an initial peace framework last autumn.
The National League for Democracy (NLD)'s leader's participation in the peace negotiations has raised hopes that the government can reach a final, permanent resolution with the holdout militias. Some of the holdout insurgent groups may trust Suu Kyi and the NLD more than the previous government, which was dominated by former military men, including some who had led firefights against the ethnic armies.
Suu Kyi now could take other steps to reassure ethnic minorities that their interests will be represented in an NLD-led government, and to promote peace deals with the holdout groups. The NLD swept an overwhelming majority of seats in the November general elections, leaving ethnic minority parties with few seats in parliament; most of the incoming NLD MPs, even those representing minority-dominated areas, will be ethnic Burmans (Bamars.) Suu Kyi and the NLD could assure ethnic minorities that the NLD will listen to their concerns by appointing ethnic minority politicians to positions in the incoming administration and the new Cabinet. Suu Kyi also could make clearer her vision of a future federal Myanmar. The ethnically and religiously diverse country can only be governed successfully under some form of federalism, as politicians from nearly every Myanmar party now recognize. As Kachin leader Tu Ja told The Irrawaddy last week, "We are heading toward a federal union. The president [Thein Sein] said it in his Independence Day speech recently. Daw Aung San Suu Kyi has also mentioned this. The only question is what kind of federalism this is going to be."
Suu Kyi understandably wants to focus on achieving permanent peace deals first, since the most basic job of any government is to control its territory and have a monopoly on the use of force. But as Tu Ja notes, Suu Kyi and the NLD need to simultaneously offer some clearer hints about how a federal Myanmar would operate under their government.
Yet a final, comprehensive peace deal may remain elusive. Some of the challenges to a nationwide, permanent peace deal remain so intractable that it is hard to understand how even a popular, popularly elected leader could address them. The United Wa State Amy (UWSA), the most powerful holdout group, has an estimated 20,000 to 30,000 men under arms, heavy weaponry, a powerful friendship with Chinese leaders in Yunnan province, and control of a de facto autonomous mini-state in northern Myanmar. According to many reports, the primarily ethnic Wa organization also has under its control one of the biggest opium and methamphetamine operations in the world. The UWSA has basically been let alone by the Myanmar army for two decades, and it runs most of the functions of a state in Wa-controlled areas in the north. If the UWSA were to sign a permanent peace deal, it probably would eventually have to give up its total control over the functions of a state, and it likely would eventually have to wean the area off of production of drugs, by far the biggest industry in Wa country. What financial incentives could the national government, and international donors, give the UWSA to eventually hand over control of Wa regions and give up its drug business? Even a gusher of foreign aid, and the promises of investment in Wa areas, probably would not bring as much revenue into the Wa region as drugs currently do. Perhaps unsurprisingly, the United Wa State Army's representatives did not attend the meeting with Suu Kyi.