Child Marriage, Family Planning, Population, and Development
Voices from the Field features contributions from scholars and practitioners highlighting new research, thinking, and approaches to development challenges. This piece is authored by Quentin Wodon, lead economist for the World Bank's Education Global Practice.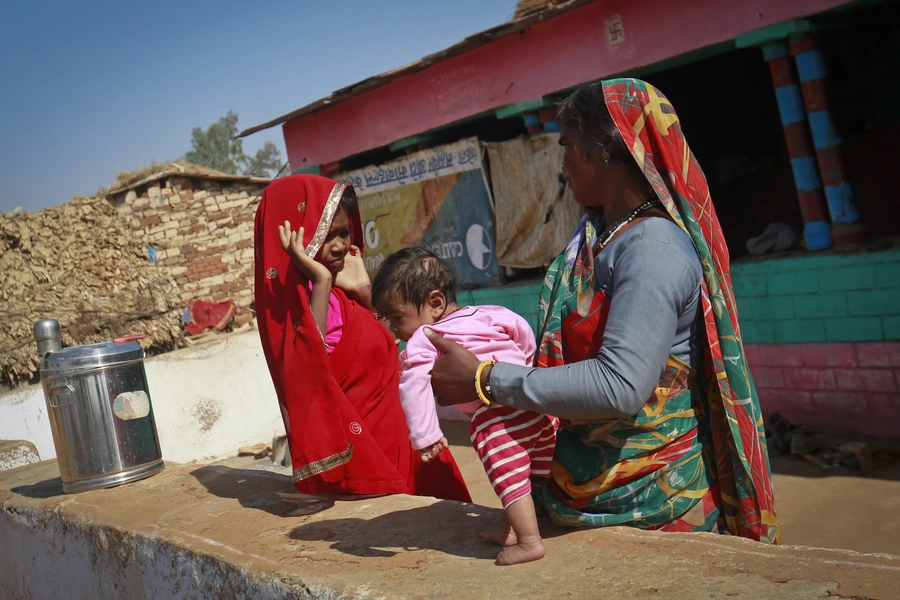 As World Population Day is celebrated tomorrow, the emphasis will be on the role of family planning in empowering people and developing nations. Lack of access to family planning constrains women's empowerment and contributes to high fertility rates which, in turn, lead to higher risks of poverty for many households. High fertility rates also contribute to high rates of population growth that limit countries' development. 
    At the Family Planning Summit on World Population Day organized in London by UNFPA, the United Kingdom, and the Bill & Melinda Gates Foundation, global leaders have an opportunity to discuss the complex relationships between access to family planning and other critical goals included in the 2030 Agenda for Sustainable Development.  
    One of these goals is ending child marriage. Today, 15 million girls marry every year before they turn 18.  Two weeks ago, the World Bank and ICRW released a study—funded by the Bill & Melinda Gates Foundation, the Children's Investment Fund Foundation, and the Global Partnership for Education—on the economic impacts of child marriage. Background estimations by the Bank team show the negative impacts of child marriage on a wide range of development outcomes and the economic costs associated with these impacts are massive. Modern contraceptive use, fertility rates, and population growth are among the topics considered in the study. 
Child Marriage, Fertility, and Population Growth
Child marriage contributes to higher total fertility as women marrying earlier tend to both have children earlier and bear more children over their lifetime than if they had married later. Analysis across fifteen countries shows that, toward the end of their reproductive life, women who married at age thirteen have on average 26.4 percent more live births than if they had married at eighteen or later, all other things being equal. Even marrying at age seventeen versus marrying at age eighteen or later has important effects on total fertility in all the countries evaluated. 
    If the harmful practice of child marriage were ended, national fertility rates across the fifteen focus countries would be reduced by one-tenth. Results for annual rates of population growth are of a similar order of magnitude in many countries: In Niger, for example, the population growth rate would be reduced from 3.9 percent to 3.5 percent if child marriage and early childbearing were avoided (across countries, most early childbirths are linked to child marriage).
    Furthermore, the economic benefits from ending child marriage in terms of the improvements in standards of living that would result from lower population growth are large, and would rapidly grow over time. If child marriage were ended today, these economic benefits would run globally (for 106 countries) in the trillions of dollars by the year 2030. 
Child Marriage and Modern Contraceptive Use
Thus child marriage is deeply connected to the focus of tomorrow's meeting in London— family planning. Ending child marriage has a role to play in national strategies to promote family planning since the practice may affect the use of modern contraception directly as well as indirectly (through other variables such as educational attainment). 
Data do not suggest large and systematic direct impacts of child marriage on contraceptive use: In quite a few countries included in the child marriage study, ending child marriage could help increase contraceptive use slightly. But in other countries, these effects are not observed. 
    However, child marriage is associated with lower contraceptive indirectly through its impact on girls' educational attainment. Indeed, a higher level of education is typically associated with a higher likelihood of using modern contraceptives, and child marriage clearly has a large negative impact on educational attainment for girls. Furthermore, marrying very early (at or before age fifteen) is typically associated with a lack of decision-making for women within the household later in life, which may also affect contraceptive use. Overall, it seems clear that child marriage contributes to a lack of family planning.
Policy Options to End Child Marriage and Empower Women
What can be done to end child marriage while also promoting family planning and reducing national fertility and population growth rates in countries that have yet to undergo demographic transition? There is no unique recipe for success, as the practice of child marriage and the lack of access to family planning are often rooted in social norms and patterns of gender inequality. Still, there are solutions. Research suggests that keeping girls in school and providing reproductive health services can make a major difference. 
At the World Bank, one of the flagship projects in this area is the Sahel Women Empowerment and Demographic Dividend project (SWEDD), a regional multi-sector project prepared by six countries in partnership with UNFPA. The project aims to expedite the fertility transition in the Sahel and usher in benefits from the demographic dividend, the accelerated economic growth expected from declines in birth and death rates with gains in educational attainment and standards of living. The largest budget allocation under the project is dedicated to female empowerment interventions implemented by NGOs and other partners. Examples include "safe space" programs for girls in-school and out-of-school, efforts to deliver contraceptives through community health agents, and the inclusion of sexuality education in curricula. Apart from such interventions, campaigns are being launched to promote social and behavioral change that could delay child marriage and early childbearing, with messaging developed in consultation with religious and traditional leaders. Finally, the project also supports efforts and incentives to keep girls in school. 
The prevalence of child marriage is decreasing, but too slowly and not in all countries. We hope that the findings of the Economic Impacts of Child Marriage study will help convince policymakers and donors—including those at tomorrow's summit in London—that investing in ending child marriage and, more generally, empowering women is not only the right thing to do, but also a smart investment for growth and development.