As China Punishes Taiwan for Pelosi's Visit, What Comes Next?
U.S. House of Representatives Speaker Nancy Pelosi became the first speaker in twenty-five years to visit Taiwan.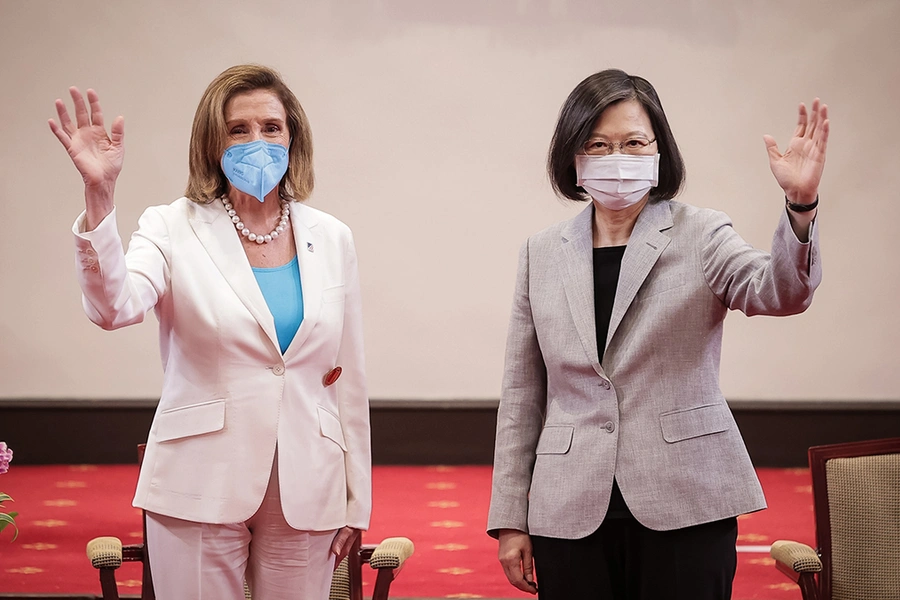 Over 700,000 people tracked U.S. House of Representatives Speaker Nancy Pelosi's flight as she approached Taiwan, becoming the first speaker in twenty-five years to visit the island. Pelosi explained the purpose of her trip in an op-ed for the Washington Post, arguing, "We cannot stand by as the CCP proceeds to threaten Taiwan — and democracy itself." She continued, "As Russia wages its premeditated, illegal war against Ukraine…it is essential that America and our allies make clear that we never give in to autocrats."
Pelosi was warmly greeted in Taiwan; Taiwanese gathered outside the airport and recorded videos of her plane landing, while a crowd assembled outside Pelosi's hotel to cheer on her delegation and Taiwan's tallest building was lit up with messages welcoming Pelosi. Despite scattered protests, there was a sense that Pelosi's visit was an important moment for Taiwan, which rarely hosts senior U.S. officials.
During her 19-hour stay, Pelosi met with President Tsai Ing-wen, visited Taiwan's legislature, and met with democracy and human rights activists. The image of the first woman Speaker of the House of Representatives, standing next to Taiwan's first woman president, was a powerful one. In her meeting with President Tsai, Pelosi underscored that she "came to Taiwan to make unequivocally clear we will not abandon our commitment to Taiwan." She argued, "the world faces a choice between democracy and autocracy. America's determination to preserve democracy here in Taiwan and around the world remains ironclad."
Chinese Foreign Minister Wang Yi forcefully condemned the visit, stating that it proved "the United States has become the 'biggest destroyer' of peace across the Taiwan Strait and for regional stability." The spokesperson for China's Ministry of Foreign Affairs warned, "China will definitely take all necessary measures to resolutely safeguard its sovereignty and territorial integrity in response to the U.S. Speaker's visit. All the consequences arising therefrom must be borne by the U.S. side and the 'Taiwan independence' separatist forces."
China has already announced a host of measures intended to punish Taiwan for Pelosi's visit. It has blocked thousands of food imports from Taiwan, covering everything from citrus fruit to certain types of fish and biscuits, and halted exports of natural sand to Taiwan. Cyberattacks, presumably launched from China, temporarily took down Taiwan's government websites, and some Taiwanese stores and government facilities also reported cyberattacks.
The most serious measures to this point, however, involve the major military exercises that began on August 4 and effectively encircle Taiwan. Notably, some of these live-fire exercises are taking place to the east of Taiwan, and there are indications that missiles have flown over the island. In addition, some of the areas China has designated for the exercises overlap with Taiwan's territorial waters and missiles could land within ten miles of Taiwan's coast. The exercises are also taking place close to Taiwan's major ports, which could impact commercial shipping. These activities are set to far surpass the scale of exercises that occurred during the 1995-96 Taiwan Strait Crisis.
China also sent 27 military aircraft into Taiwan's air defense identification zone, with some crossing the median line, an important demarcation in the Taiwan Strait that both militaries are supposed to avoid crossing in order to avoid incidents and miscalculation.
These steps, however, are likely just the beginning of China's response. Over the coming weeks and months, China can be expected to continue to increase its military pressure on Taiwan, potentially through more frequent incursions into its air defense identification zone that feature more aircraft and additional crossings over the median line. China could also choose to escalate by flying military aircraft into Taiwan's territorial airspace or over the island of Taiwan. China will likely also ban additional Taiwanese products and make it more difficult for Taiwanese businesses to operate on the mainland. Diplomatically, China could attempt to poach some of Taiwan's few remaining diplomatic partners and try to exclude it from various international organizations.
Taiwan will bear the brunt of China's response to Pelosi's visit, and Beijing's heavy-handed response will in turn further alienate Taiwanese people and make China's goal of "reunification" more remote. As Beijing's stated preference for "peaceful reunification" drifts increasingly out of reach, it raises the question of whether Chinese President Xi Jinping will change tack and rely even more on coercive measures or even contemplate the use of force.
As Taiwan pays a price for Pelosi's visit, the United States will have to make efforts to alleviate this pain. It can do so by joining with its allies to purchase Taiwanese goods now banned in the mainland and working with Taiwan to shore up its relationship with its diplomatic partners. In her press conference with President Tsai, Pelosi alluded to a potential trade agreement, which is worth pursuing and would help Taiwan diversify its economy away from China. As the military pressure on Taiwan increases, the United States should expedite delivery of critical arms such as Harpoon, Stinger, and Javelin missiles, while Congress should provide security assistance to Taiwan in the form of a foreign military financing program. Congress should also hold hearings on the question of which Chinese actions would trigger the invocation of the Taiwan Relations Act, which states that "The President is directed to inform the Congress promptly of any threat to the security or the social or economic system of the people on Taiwan and any danger to the interests of the United States arising therefrom."
Pelosi's visit will also contribute to the continuing deterioration of U.S.-China relations. Despite the Biden administration's repeated insistence that it had nothing to do with Pelosi's visit, China will nonetheless blame the administration. As Wang Yi stated, "The U.S. side claimed that it cannot restrain the Congress due to the separation of powers. But the basic norm of international law is that the United States must fulfill its international obligations, and key politicians should not misbehave."
It is too soon to say that we have entered the fourth Taiwan Strait crisis, but that is where we are heading. Unlike the last Taiwan Strait Crisis, which occurred in 1995-96 after the United States granted a visa to Taiwan's president and allowed him to travel to his alma mater to deliver a speech, the risks of a fourth crisis would be far greater, owing to China's vastly stronger arsenal of military and economic tools, its increasing tolerance for risk, and the precarious state of U.S.-China ties. It will take deft diplomacy to avoid such an outcome.