China Steadily Pivots Towards Promoting Marriage and Childbirth
After decades of attempting to limit births, Beijing is steadily pivoting towards pro-natalist state policies.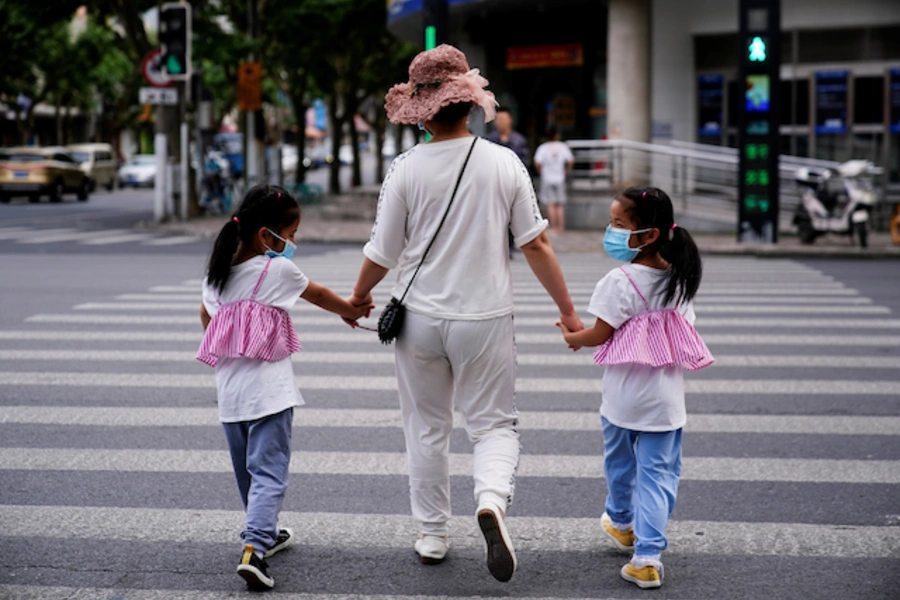 After decades of attempting to limit births, Beijing is steadily pivoting towards pro-natalist state policies. Central authorities formally eliminated the one-child policy in 2016 in favor of a two-child one; replacing it five years later with a three-child one. 
In 2021, central Chinese Communist Party authorities set out a comprehensive nationwide pro-natalist policy framework. Sub-national authorities since have followed suit with implementation measures, such as the pilot projects aimed at building a "marriage and childbearing culture for a new era" launched in dozens of Chinese cities since spring 2023 by the China Family Planning Association.
Some of these efforts contain laudable measures—promoting the idea that young couples should share childcare responsibilities and pressing employers to create a more conducive work environment for families with children. But others contain worrying signs that Beijing's pivot is steadily morphing into a more coercive pro-natalist approach aimed at mobilizing people to do the state's bidding at the expense of individual rights.
As part of the 2021 Decision of the Central Committee of the Communist Party of China and the State Council on Optimizing Fertility Policy and Promoting Balanced Long-term Population Development, Chinese authorities set out several key propaganda goals:
Promoting the traditional virtues of the Chinese nation (弘扬中华民族传统美德)
Respecting the social value of childbearing (尊重生育的社会价值)
Advocating marriage and childbearing at the appropriate age, bearing and educating better children (提倡适龄婚育、优生优育)
Encouraging couples to share childcare responsibilities (鼓励夫妻共担育儿责任)
Eliminating outdated concepts such as high bridal/dowry prices (破除高价彩礼等陈规陋习)
Building a new type of marriage and childbearing culture (构建新型婚育文化)
These Party directives are steadily being translated into state law and policy—ranging from the 2021 amendments to the Law on Population and Family Planning to the 2023 pilot projects sponsored by population planning authorities.
Some elements of these reforms are aimed at reducing the economic costs of raising children – costs that might dissuade young couples from having children. Such efforts—like parallel ones elsewhere in the world—are aimed at expanding options for individuals to have children, should they so choose.
But other elements of official efforts are worrying, precisely because they have a more coercive tinge. Pilot projects in Fuzhou explicitly promote the idea that "marriage and childbirth are not only family issues tied to personal happiness, but major issues affecting national survival and development." And the Party directive that state authorities should advocate "marriage and childbirth at an appropriate age"—added to national law in 2021—reflect official fears that declining marriage rates, and steadily rising age of childbirth—particularly for women—are core problems that state authorities must aggressively tackle in order to address China's looming demographic challenges.
The real risk is that the coming years will see such efforts ramped up in ways that align state power and social pressure even further to limit the ability of Chinese women to freely make personal decisions about marriage and childbirth. 
Indeed, local Chinese authorities once charged with limiting births in their jurisdictions during the era of China's anti-natalist One-Child Policy have now begun calling newlyweds to inquire and prod them about their plans to have children. Judicial approval rates of first-time petitions for divorce have dropped dramatically over recent decades. Proposals to amend China's Marriage Law, lowering minimum marriage ages from 22 for men and 20 for women set back in 1980, have begun to circulate. And at least one Chinese county has offered cash rewards for all marriages in which the bride is 25 years or younger, as a means of encouraging "age-appropriate marriage and childbirth."