Chinese Domestic Protests Go International
Chinese students on more than a hundred college campuses across the world joined anti-Xi Jinping protests, following the "bannerman" protest in Beijing right before the 20th National Congress of the Chinese Communist Party.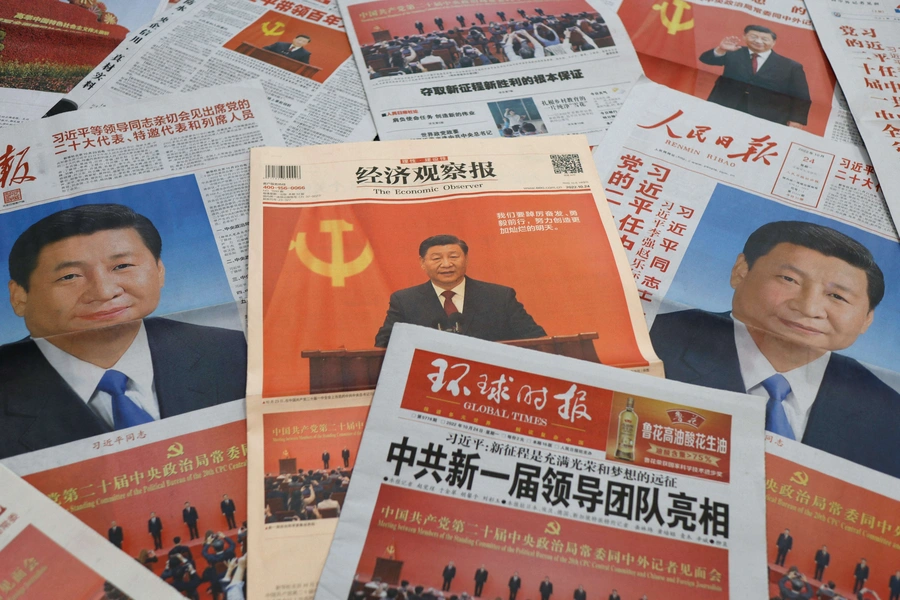 On the morning of October 13th, two days before the opening of the 20th National Congress of the Chinese Communist Party, a protestor disguised as a construction worker walked up Beijing's Sitong Bridge, lit a fire, and hung a banner that read, "Life NOT zero-covid Policy; Freedom NOT Lockdown; Dignity NOT Lies; Reform NOT Regression; Elections NOT Dictatorship; Citizens NOT Slaves," and another calling for Xi's removal from the office.
Inside China, the reaction was predictable and fast: the scene was cleared in a few hours, and censors moved in quickly, with up to 600,000 WeChat accounts blocked as part of the effort to scrub the images from the public consciousness
What was unusual, were its international echoes. Chinese students on more than a hundred college campuses in the United States, the United Kingdom, Canada, Australia, Japan, South Korea, and others joined forces in distributing the protestor's demands through posters and handwritten notes, and social media platforms such as Twitter and Instagram. The momentum of the protests grew as the congress culminated this past weekend.
Chinese students on U.S. campuses have often been categorized as supporters of the Communist Party, a charge sometimes used to justify policies that aim to contain their presence on U.S. campuses. Many have been accused of conducting espionage on U.S. soil, or at least being under the control of Communist Party loyalists who monitor their moves. Partly as a result of these suspicions, Chinese student visas to the United State plummeted by fifty percent between 2019 and 2022.
The protests in support of the Beijing "bannerman," however, show that Chinese students abroad are not as monolithic as often portrayed.
While many are apolitical or cautious, many others use their unique set of tools to support protests inside China.
Fluent in both Chinese and foreign social media, they can quickly gain information from their connections back in China, pack them into digestible content, and disseminate them efficiently on Instagram, Twitter, and other foreign media platforms using hashtags such as #SitongBridge and #newtankman. These kinds of tactics were vital for information diffusion and for the protest to gain international momentum quickly.
Although Chinese students abroad have participated in political protests before, the scale this time is noteworthy. Two concerns likely drove such widespread and passionate responses: their accumulated frustration towards the rigid zero-Covid policy over the past two and half years, and the urgency for change they felt right before Xi secured his unprecedented third term at the party congress.  
It helped that the original protest in Beijing was designed to help spread information. The location, the Sitong bridge in Haidian District, is surrounded by top Chinese universities and close to Zhongguancun, Beijing's technology hub. It also had a large on-site audience, making it probable that someone would record the scene.
The person thought to be behind the protests was also tech savvy. He was suspected to have posted a twenty-three-page PDF file titled "A Toolkit for Student Strike, Business Strike, and the Removal of Xi Jinping" on oversea Chinese and English websites right before the protest, which helped sustain the momentum of subsequent international responses.
Skeptics might argue that few in China know about this or other protests. Although true, part of the strategy is longer-term—a desire to mobilize foreign support in hopes of keeping the protest alive in ways that might reverberate back home.
The Hong Kong democratic movement started in 2019 demonstrates a case for the importance of the international community support on domestic movements. Protestors in the United Kingdom, Australia, Taiwan, the United States and were able to rally international attention, evoking foreign governments to advocate their support for Hong Kong's democracy.
Pro-democratic movements in China tend to have short lifespans, and this one is likely no exception. As the Party Congress concluded on Sunday and Xi Jinping secured his third term, unrest will likely diminish and Chinese life domestic and abroad will return to normal. Xi Jinping's continuous prioritization of stability and security will further curtail any remaining space for dissent in the upcoming years.
Nonetheless, this series of protests is a lesson on how international ties can play a powerful role in democratic movements in China. As China grows increasingly inward under Xi's concentration of power, Chinese students abroad, holding diversified political opinions, will become more crucial than ever in bringing China back to the international stage. Although a rare occurrence, the protests advocate for a positive case of student-to-student, people-to-people exchange in a time of escalated tension and isolation.
Attribution: Kathy Huang is a research associate at CFR's Asia Program. Mengyu Han is a fall intern at CFR's Asia Program.