Chinese Parents, Pharma Industry Worried Sick After Latest Vaccine Scandal
In a society that cherishes health, longevity, and continuation of the family line, there is a lingering and growing fear that the existing system is broken.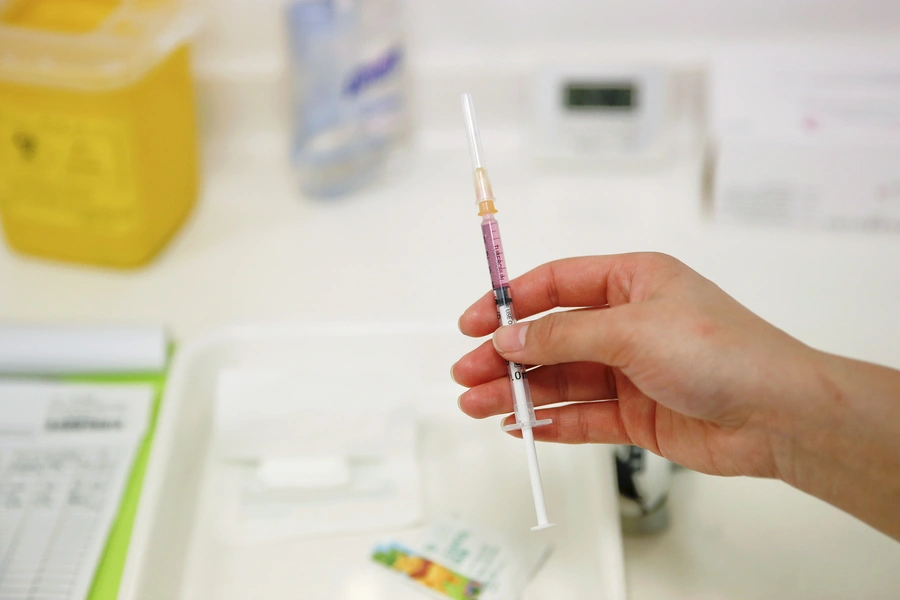 Viola Rothschild is a research associate in Asia Studies at the Council on Foreign Relations. You can follow her on Twitter @vrothsch. 
Earlier this week, a government investigation revealed that China's Changchun Changsheng bio-technology corporation had sold over 250,000 substandard DPT vaccines that were administered to inoculate infants as young as three months old against diphtheria, whooping cough and tetanus. The investigation also discovered that the company had forged data pertaining to the production of over 100,000 rabies vaccines. The latest in a litany of food and drug safety scares, the Changsheng case has sparked both intense criticism of the Chinese government's ability to regulate the space at home, and concerns about China's recent push to market pharmaceuticals abroad. Indeed, implications extend well beyond the immediate fallout of the scandal:
1. It energized Chinese civil society.
In the days after the scandal broke, #ChangchunChangshengFakeVaccines (#长春长生造假疫苗) was trending on the Chinese microblogging site Weibo, and quickly racked up over 120 million views. In the most "liked" comments on the thread, one netizen remarked that "China has no rule of law. Only party governance." Another pointed out that "it's clear that the Chinese market is monopolized by four major vaccine manufacturers. As long as they can get in with the director of the provincial CDC, they have massive financial resources. How can we say that it is the vaccines that are the problem?" Yet another lamented that "we already have to drink imported milk powder. Now we have to import vaccines? What's next?" In an unusually candid editorial, even the state-owned China Daily acknowledged that "it is obvious that this incident could become a public health crisis should it not be handled in a reasonable and transparent manner."  
The widespread dissatisfaction China's healthcare system is also playing out on the big screen. Dying to Survive, a low-budget film based on a true story about a cancer survivor who illegally imports generic drugs from India to help fellow patients that cannot afford treatment in China, became a cultural phenomenon, taking in over 2.5 billion yuan ($375 million) since its opening earlier this month and becoming the sixth-highest grossing movie in Chinese history. A rare mainstream social critique, Dying to Survive clearly tapped into very real anxieties regular people are having about access to quality medical care. Interestingly, a few weeks after the movie's release, the Chinese State Medical Insurance Bureau gathered representatives from foreign and domestic pharmaceutical companies to discuss reducing cancer drug prices.
Although there have yet to be any illnesses reported as a result of the substandard vaccines, the situation doubtless dredges up the fear and uncertainty of the 2008 tainted milk powder crisis and any number of recent vaccine scandals.
2. It marked yet another setback for China's ambitions to become a global pharma powerhouse.
The Changchun Changsheng scandal jeopardizes Beijing's efforts to push domestically made pharmaceuticals on the international market. Under China's "Made in China 2025" plan, pharmaceuticals are a target industry: President Xi has identified China's reliance on imported drugs as an issue that can be resolved by overhauling the pharmaceutical industry and ultimately creating globally competitive firms. As the world's second-largest national pharmaceutical market— worth $122.6 billion—China seems well-positioned to be a contender.
To this end, China has initiated a series of reforms geared towards restructuring and improving the industry. In turn, both foreign and domestic money has poured into the pharmaceutical sector—biopharma was the second largest investment market in China in 2017, behind only information technology. But in the wake of the Changsheng scandal, shares in Chinese vaccine makers and biotech firms fell precipitously across the board. To make matters even worse, the Changsheng incident also comes hot on the heels of another unsettling revelation: just a few weeks ago China's Zhejiang Huahai Pharmaceutical recalled a heart and blood pressure drug sold in the United States and Europe after finding that it was tainted with an impurity linked to cancer.
Chinese manufacturers (across all sectors) have worked hard to shake the conception that "Made in China" is synonymous with "low quality," but incidents like these undermine trust and are a reminder that despite recent reforms and advancements, safety and testing requirements in China are not up to international standards.
3. It highlighted inefficiencies within China's leadership.  
In response to the scandal, the government revved up the censorship machine and moved quickly to address the incident. Premier Li Keqiang came out with a strongly worded statement that the Changchun Changsheng had "crossed a moral line" and called for immediate action. However, online Li's words were juxtaposed with a similar statement he made after a previous vaccine scandal in 2016 and circulated widely online, indicating people were not satisfied with government action—or lack thereof. Indeed, veteran China-watcher Bill Bishop even suggested that the vaccine crisis could be the "pretext to remove Li Keqiang as Premier."
Troublingly, online reporting also brought to light that Sun Xianze, the former director of the State Information Center of the Food and Drug Administration who was demoted as a result of his involvement in the 2008 tainted milk powder scandal, had subsequently been promoted in 2014 to take charge of the vaccine safety department. Understandably, revelations like this further stoke public outcry and undermine confidence in the state's leadership.        
As testament to the gravity of the situation, President Xi Jinping took time out of his tour of several African nations to issue a statement emphasizing that "drug safety is the unshirkable responsibility of the party committees and governments at all levels" and promising the immediate opening of a follow-up investigation and severe punishment for those found at fault. The stakes are high for Xi, too. He took office pledging to "make protecting people's heath a priority," and in 2013 during his first year of presidency, said "if our party can't even handle food safety properly while governing China, and this keeps up, some will wonder whether we're up to the job." In so doing, Xi himself linked the government's capacity to protect the people's well-being to the legitimacy of the Party.
In a culture that cherishes health, longevity, and continuation of the family line—where the elderly greet each other with the common refrain of "is your health still good?" and parents constantly remind their kids that "health comes first"—there is a lingering and growing fear that the existing system is broken. A rare area of Chinese society where people are easily mobilized, and both the government's domestic legitimacy and international ambitions are at stake, the health system is one place Xi and his government cannot afford to lose.