Chinese Politics -- Not an Oxymoron!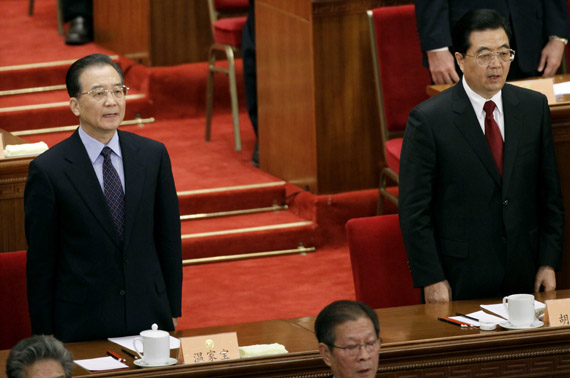 I have a Ph.D. in Chinese politics—which means I have an abiding faith in the idea that, yes, China actually does have politics. That's always been true, even in the authoritarian depths of the Mao Zedong era. And it's been true in nearly every aspect of Chinese life, including atop the commanding heights of the economy.
Ten years ago, I wrote a book about how contending networks of generals and technicians fought pitched battles in China's defense industry at the height of the Mao era. They fought over everything from budgets to weapons designs to procurement priorities to whether China should invest in basic or applied research. And the outcomes of those debates determined China's trajectory in strategic weapons and, for awhile, in other strategic technologies. Even one-party states have politics. And those politics can get pretty intense.
So, why does this matter?
Well, first, it matters because so much of the debate about China these days presumes that Beijing has grand plans, coherent strategies, unity of purpose, and an ideologically coherent development model (take, for example, the arguments about a "Beijing consensus"). But contending interests and views have emerged around nearly every economic and foreign policy debate in China today.
And it also matters because interest groups can shape Chinese decisions in meaningful ways.
I was reminded of this last weekend when China's central bank initiated a revaluation of the renminbi by oh-so-cautiously breaking the yuan's peg to the U.S. dollar. As Gady Epstein notes over at Forbes.com, "the biggest political winner from the People's Bank of China's statement Saturday is the People's Bank of China, which has been pushing for more flexibility on China's exchange rate against some entrenched interests, notably those who fear for China's export sector."
The Chinese government drives Americans and Europeans bananas at times, and for a host of different reasons. Some in Washington ask, "With all those economic challenges (from drags on growth to fears of inflation), why doesn't China reform farther or faster?" Others (including me) vent their frustration, "Why won't China react more strongly to North Korean provocations?"
Actually, China's leaders are willing to make reforms and do diplomatic deals. But they're cautious—incredibly cautious. And they aren't in much of a hurry, in part because they have to trade off the interests of so many groups amid the growing complexity of Chinese politics.
China was willing to break the dollar peg, for instance, but it is doing so incrementally. China cut a deal with the United States at Copenhagen, but a very modest deal indeed. China worked with the United States on new Iran sanctions, but contested the designation of Iranian entities and, ultimately, watered the sanctions down. China sent Kim Jong-il home from Beijing disappointed, but hasn't proved willing to strongarm North Korea.
On these and other issues, Chinese leaders have proved themselves amenable to reforms and diplomatic deals—but on their own time, in their own way, and in a manner that reflects how they, not others, define Beijing's self-interest.
So, as I've written on this blog before, even when Chinese and American interests converge, turning common interests into complementary policies can be difficult because, among other things, Chinese leaders have diverging assessments of the scope and urgency of threats. But it is also clear that the growing complexity of the Chinese political scene has something to do with China's reticence. The current crop of senior Chinese leaders is innately conservative. And especially with a political succession looming, they're fostering balance among the many interest groups that now contest economic and foreign policy issues.
There's a debate in China about North Korea, for example. But the winners, thus far, just haven't seen the issue Washington's way. There has been a difficult debate about yuan revaluation, but, unlike the case of North Korea policy, Chinese reformers advanced a self-interested case for change that meshed in broad strokes with the arguments from Washington, Brussels, Brasilia, New Delhi, and elsewhere.
Here's the point: politics among a wider array of views and interests matters more than ever in today's China. But Chinese leaders have responded to this complexity with a heaping dose of caution. We're seeing least-common-denominator outcomes and much less decisiveness. And I bet we keep seeing this until at least 2012, when the Chinese Communist Party replaces the country's top leaders. Succession politics is, I'm afraid, making an innately cautious leadership even more conservative.